Utah Jazz: Is Dante Exum in the Doghouse?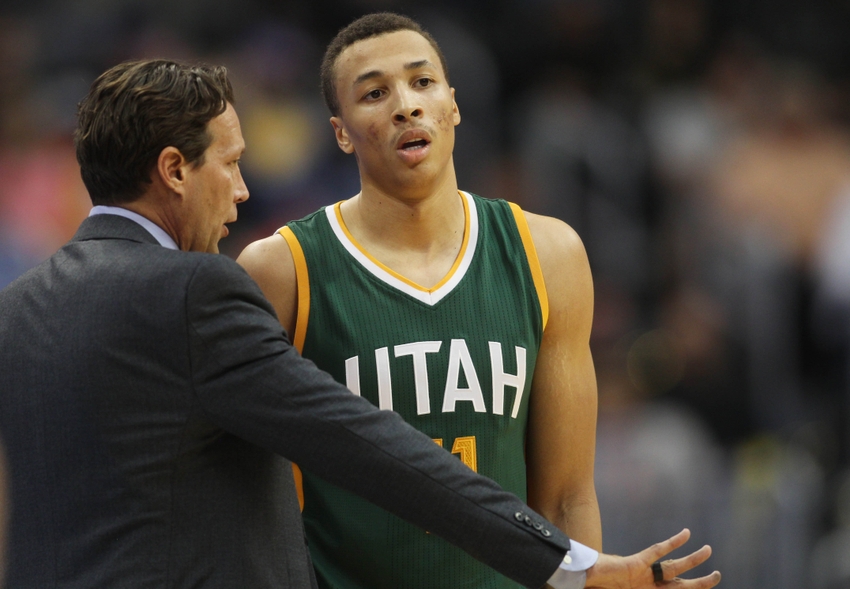 Since George Hill's return to action, Dante Exum has seen a drastic decrease in playing time. Has Coach Snyder seen something to lower his confidence in the young guard?
It wasn't long into George Hill's recent eight-game absence that Dante Exum found himself moved from the bench into the starting point guard role. Shelvin Mack was coming off a frustrating 3-of-11 performance in Utah's loss to the Charlotte Hornets so Coach Snyder made the decision to move Exum into the starting line up the following game.
And although the Jazz went just 2-4 during Exum's six starts this year, the blame surely didn't rest on the young Australian's shoulders as he averaged 9.5 points per game during that stretch including a season-high 14 points against the Chicago Bulls.
He did unfortunately shoot just 37 percent from the field during those games, but Exum looked much more aggressive than he had earlier in the season and at times appeared to be ready to take over duties as the back-up point guard once George Hill returned to action.
However, Hill now has two games back in action under his belt and Exum has found his way back to the end of the bench as Shelvin Mack has effectively reclaimed (or kept, depending how you look at it) his back-up point guard duties.
In his last two games, Exum has logged just 13 minutes total and hasn't scored a point. Mack, meanwhile, has logged 30 minutes and has clearly been Snyder's pick for the position.
This has been a bit mind-boggling considering that Exum appeared to be improving in every game he played in. Supposedly the whole idea behind signing George Hill was to allow Exum to have a low-pressure and comfortable environment in which he could develop. Dante came to the Jazz with star potential and it would be nice to get to see him log the minutes he needs in order to continue to improve.
And while Hill has been undoubtedly the deserving starting point guard for the Jazz, there's no clear reason why Dante Exum hasn't continued to log meaningful minutes as his back-up in Hill's return.
It would make more sense if Mack was just filling it up, but that definitely hasn't been the case. In the past two games, Mack has scored just four points on 2-of-9 shooting. Fans have been continually frustrated with Shelvin's tendency to dribble too much, stagnate the offense and make poor decisions on the floor.
Mack did have five assists and four steals in the win over Atlanta on Friday, but he also turned the ball over three times. Turnovers have been an area where Mack has struggled considerably throughout the year. Considering all these things, it's a real head scratcher why Quin Snyder hasn't given Exum a chance lately to show what he can do.
It almost makes one wonder, is Dante Exum in Coach Snyder's doghouse?
There isn't really any evidence to support that being the case other than the fact that it seems odd that now that Hill has returned it's Mack taking the lion's share of minutes over Exum. However, something has to be going on that has made Snyder feel more confident in Mack than in Exum.
Mack is certainly the more experienced of the two, but when looking at both players' stats, there isn't really a lot that stands out separating them from one another. They shoot nearly the same percentage from the field (Mack – 40.9 percent, Exum 41.0) and from deep (Mack – 29 percent, Exum – 27.9) and are nearly identical in points and similar in assists and rebounds (Mack – 6.5 points, 2.7 assists, 1.9 rebounds, Exum – 6.7 points, 1.5 assists, 2.4 rebounds).
Shelvin does turn the ball over quite a bit more as he averages 1.7 turnovers compared to Exum's 0.9 but Exum also has a much worse plus/minus as he sits at -4.4 while Mack is at 1.6.
Yet that stat may just shine some light on why Mack is being awarded with minutes over Exum. While Exum is considered (and I believe has proven to be) a better individual defender than Mack, his plus/minus this season has shown that the Jazz as a team aren't quite as solid on defense when Dante is on the floor.
While it can be a bit of a misleading statistic, what I can gather from it as well as from watching Exum on the court is that perhaps Snyder feels that Mack simply fits in better with the other guys in the second unit than Exum does. Rather than being a statistic or performance issue, it's likely that Mack's abundant playing time has more to do with bench chemistry than anything else.
Nevertheless, it still would be nice to see Exum log more minutes. Perhaps there is a bit more cohesion in the second unit with Mack on the floor (though it hasn't necessarily appeared that way consistently either), but he still hasn't made enough of an impact by any means to justify his playing time hindering Exum's development.
Some mistakes and rustiness are to be expected from Dante Exum as the young player is still learning the NBA game and is coming off a major injury. Yet there's not really any other way for him to overcome those obstacles unless he's on the floor.
Plus besides, Mack hasn't exactly been free of mistakes himself and it's hard to believe that any growing pains experienced due to having Exum on the floor would be much worse than the simply infuriating play displayed by Mack at times.
Not to mention, that at this point we already know pretty well what Mack's ceiling is going to be. Exum on the other had has an unfilled potential that could make him, and future Jazz teams, among the elite in the league.
Developing Dante Exum and reinforcing the Jazz's future seems exceedingly more important than a possibly perceived boost in chemistry for the few short minutes that the back-up point guard logs on the court.
So while Exum isn't necessarily in Snyder's doghouse based on what we know for sure, he surely isn't getting the minutes many thought he would once Hill returned.
However, in Mack's previous starts, he was replaced by Exum after two subpar performances. In Utah's last two games, Mack has looked less than formidable, so it is possible that once again, Exum will be rewarded with a spike in playing time.
If not, with so many valid reasons to put Exum on the floor, one will have to wonder if something else is going on behind the scenes or under the radar that is preventing Quin Snyder from having confidence in and playing his young Australian guard.
All stats courtesy of NBA.com
This article originally appeared on