Utah Jazz: Gordon Hayward Officially Has Star Cred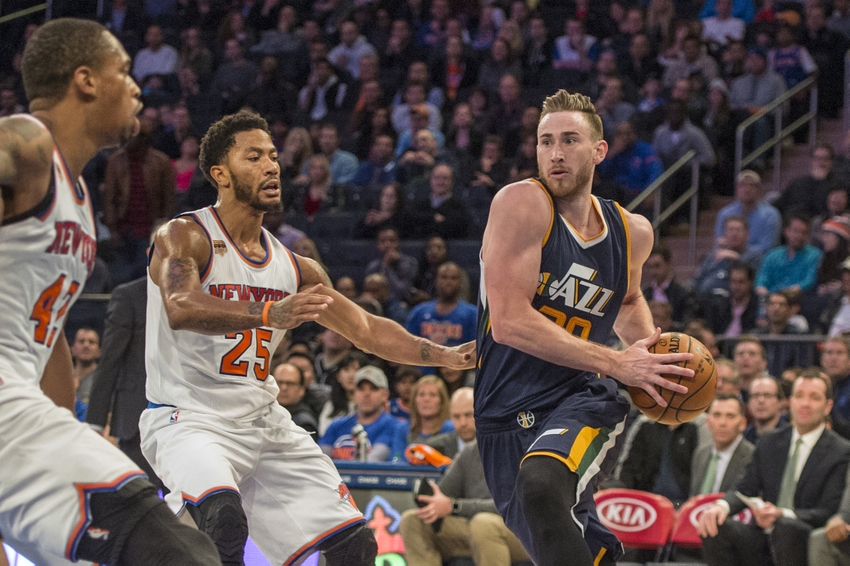 Gordon Hayward is more than just a good player in the league. He's the bona fide star the Utah Jazz need to win at a high level.
It's not a unique concept around the NBA, but it's one that's been particularly prevalent in discussion about the Utah Jazz. In order to win big in the league, having a legit star player — an alpha dog — is a prerequisite.
Even the 2004 Detroit Pistons, the club that is most often cited as an exception to the rule had big-time stars. Chauncey Billups could end up in the Hall of Fame, Ben Wallace was a Defensive Player of the Year and both Richard Hamilton and Rasheed Wallace were All-Stars.
Since Deron Williams was traded away five years ago, Utah's lack of a star player has been a popular talking point. Although Gordon Hayward has clearly been the team's go-to guy for several years now, his viability as the driving force for high-level, winning basketball team has been debated.
Newsflash — that debate is officially over. Or at least it should be.
Hayward's evolution as a player has reached a tipping point. He's no longer just a good player on a bad team. He's the bona fide star the Jazz need to rejoin the ranks of the league's elite.
Despite mounting injuries and a difficult schedule, the Jazz are currently tied with the Portland Trail Blazers with the West's fourth-best record at 7-4. Since his recent return from a broken finger, Hayward's play has been key in keeping Utah near the top of the conference.
The 26-year-old is playing the best basketball of his life and the Jazz have been a different team since his return. When Hayward is on the floor, the Jazz are outscoring opponents by 15.2 points per 100 possessions. That number is good for ninth in the league among rotation regulars (at 24-plus minutes per game).
It also places him just ahead of reigning MVP Stephen Curry. Not too shabby for a guy who has been labeled by some as unfit to carry a club.
Even with fellow starters George Hill and Derrick Favors unable to stay on the floor, the Jazz have continued their upward trajectory thanks to Hayward's steady hand. He's scored 20-plus points in all five of his games this season and is putting up the kind of line that warrants All-Star nods and All-NBA selections.
For the year, G-Time is averaging 24.4 points, 7.6 rebounds and 4.2 assists while making 97 percent of his 6.6 free throw attempts per game.
Statistics aside, Hayward just looks like a star on the court. In every game that he's played, he's been the focal point for both teams. He's controlling the rock in the clutch, taking the big shots and routinely drawing the most difficult defensive assignments.
So far this season, all gameplans go through him.
Jazz coach Quin Snyder is depending on G-Time to carry the load and he's delivering. Even on the deepest roster Hayward has ever been a part of, he's looked more dominant and been more productive. He's got more help, but is somehow doing more than ever before.
More from Purple and Blues
It's early yet, but mark my words — the time to get onto Gordon's bandwagon is now. This isn't a hot streak. It's the new normal. Said Snyder during the team's recent road trip: "He's just a really good player. He's going to continue to have good games."
He's 5-for-5 so far. With Utah's schedule softening and 12 out of their next 16 games coming on their home floor, you can expect the hits to keep on coming.
Joe Average may not be hip to what's happening, but ask any hoops pundit worth their salt and they'll tell you — the Utah Jazz are really good and Gordon Hayward's got star cred.
This article originally appeared on