Utah Jazz: George Hill Named Western Conference Player of the Week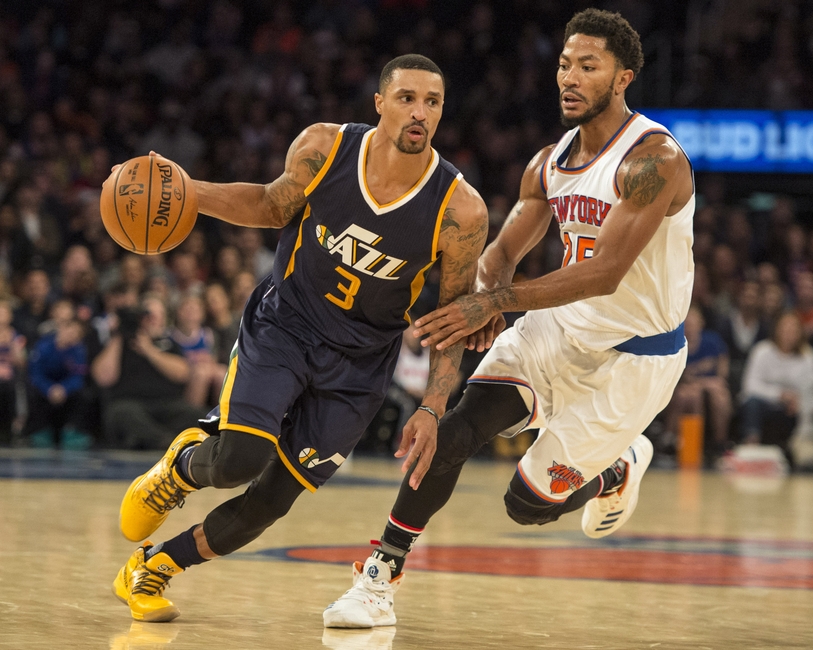 George Hill led the Utah Jazz to a 3-1 record last week, consistently putting up big numbers.
The NBA announced on Monday that Utah Jazz point guard George Hill has been named the Western Conference Player of the Week. Hill averaged 20.8 points, 5.8 assists and 3.3 rebounds over the course of four games last week while shooting 58.5 percent from the field.
Meanwhile, LeBron James was named the Eastern Conference Player of the Week.
Hill led the Jazz to victories over the Spurs in San Antonio, the Dallas Mavericks at home and the New York Knicks at Madsion Square Garden last week. The only loss the Jazz took was in a home rematch with the Spurs. Hill is now the first Jazz player to be named the Western Conference Player of the Week since Al Jefferson in 2013.
It's nice to have a guy like Hill, who has so much experience, out there in the fourth quarter of close games. He brings veteran leadership and experience to this young team. He also manages to play at a calm, methodical pace in every situation. Plus, the guys love playing with him.
If this team wants to get back into the playoff mix this season, Hill is going to have to continue his strong play. Hill is being counted on right now to score and defend, two things he does very well. He is certainly an upper-tier defensive point guard in this league.
Jazz fans have to be happy with his production early on this season. On the year, Hill is averaging 20.4 points, 5.0 assists and 2.9 rebounds per contest. I'm very confident that Hill will keep up this very strong play.
More from Purple and Blues
Utah has looked good recently and hope to continue playing well as they resume their road trip Monday night in Philadelphia. Hill is questionable to play in the game due to a sprained thumb. He suffered the injury against the Knicks after Derrick Rose hit his hand while going for the ball.
This article originally appeared on