Utah Jazz: Dante Exum Is Progressing Slowly, But Surely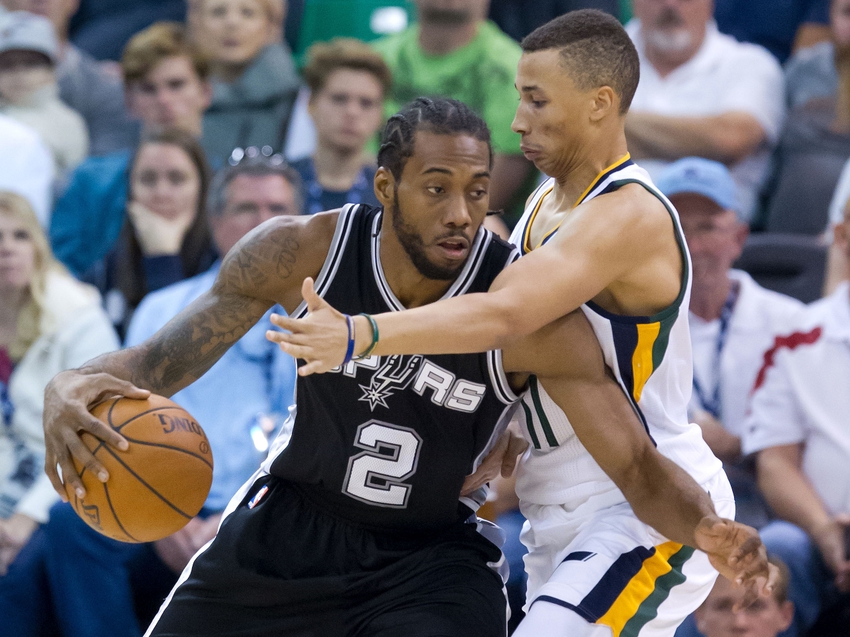 Utah Jazz combo guard Dante Exum is finding his feet again after missing the entirety of the 2015-16 NBA season with a torn ACL.
When you're a top-five NBA Draft pick on a team that rarely selects higher than the mid-to-late first round, you're inevitably going to face some lofty expectations. Such has been the case for Utah Jazz guard Dante Exum. And while a devastating knee injury in 2015 altered his trajectory, the 21-year-old is starting to come around.
After missing the entirety of last season, the Aussie phenom is showing flashes of the potential that warranted his top-five selection. They may not be coming as fast or furious as some fans would like, but it's still a night-and-day difference from when he entered the league as a 19-year-old.
As a first-year player, Exum was timid with the ball, unwilling to attack the rim and unsure of his jump shot. Not so this season. The 6-foot-6 combo guard is routinely using a combination of size and speed to get to the rack. As a result, he's getting to the line at an increased rate, averaging 2.5 free throw attempts Per 36 minutes.
There's still work to be done, but compared to a rookie season when his Per 36 number was 0.6 FTAs, the growth is evident.
He also manages to score the ball occasionally, something he rarely even attempted in year one.
Exum's jumper has also been much-improved. After making less than 35 percent of his shots as a rookie, he's connecting at a 50 percent clip this season. Moreover, he's become a legitimate deep threat for the Jazz, hitting 41 percent of his three-point shots.
Says Gordon Hayward: "He's finding his spots, he's getting his feet set and he's knocking them down. That's huge for us if he can continue doing that. It means the defense can't suck in. He's definitely helping spacing for us."
Given the fact that he reportedly spends hours after Jazz practice working on his shooting form, it should come as no surprise.
The one thing he could always do, even as a rookie, is guard. As much as Rudy Gobert is credited with spearheading the team's historic defensive efforts in the latter half of the 2014-15 season, Exum's ability to neutralize opposing point guards with his length was equally important.
He and his teammates are still getting reacquainted with one another, but his individual defense has often been stellar this season. Perhaps no one play illustrates that point like this gem from the season opener against C.J. McCollum and the Portland Trail Blazers —
The Jazz dropped that contest, but Exum's defense has helped the team in some early victories.
Utah's most impressive performance this season was their road win over the San Antonio Spurs. Exum's defense played a big role in that game as he harassed the Spurs perimeter players to the tune of four blocked shots. As a result, the Jazz were able to outscore San Antonio by 11 points in his 14 minutes of action.
On the whole, players defended by Exum are more than 11 percentage points worse from the field when attempting shots within 10 feet of the basket. Even when he's beaten off the dribble, his length allows him to alter shots and cut off driving lanes.
During the team's recent road bout with Joel Embiid and the Philadelphia 76ers, Exum's play on both sides of the ball was key in capturing a win. He scored 11 points in the game, hitting three three-pointers, and the Jazz outscored the Sixers by 13 when he was on the floor.
It was probably his best offensive performance of the season. Even then, Exum's teammates credited his defensive intensity as an igniting force after the game —
Although his play has picked up through nine games, Exum has a long way to go before he meets expectations. He's still very young, inexperienced and finding his feet after a lost season. The important thing is that he continues to progress, even if it's not at the rate some have come to expect.
It's a long season, but two weeks in, there's no denying that Exum is getting better.
Greatness can wait.
This article originally appeared on