Utah Jazz: A Dozen Games, A Dozen Highlights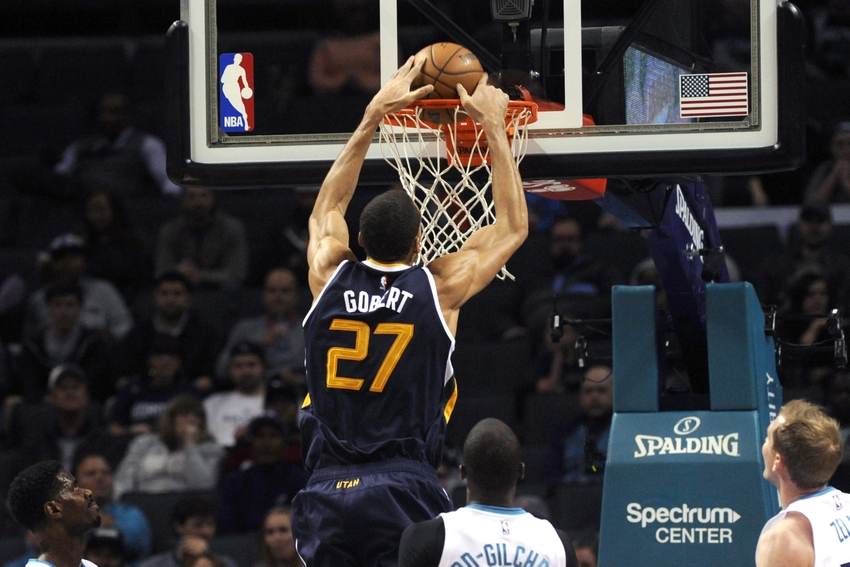 With a dozen games under their belts, the Utah Jazz have already provided fans with a slew of highlight-worthy plays this season.
We're now twelve games into the NBA season and the Utah Jazz currently hold a respectable 7-5 record. While there have certainly been a handful of disappointments, I'd say that overall it's hard to not be impressed with Utah's early results.
And win or lose, this team has already given Jazz fans plenty to get excited about in this young season. So much so, that I thought it would be fun to look back at the top highlights from each Jazz game so far this year.
From dunks to clutch shots and everything in between, the Jazz have done a little bit of everything to get fans jumping out of their seat. As the year continues, hopefully they'll add more impressive clips to the highlight reel resulting in more games in the win column.
So grab some popcorn and enjoy the show, Jazz fans, here's a look at top highlights from Utah's first dozen games.
Week One
10/25 Utah at Portland
Despite the fact that this game ended in an unfortunate 113-104 loss, Jazz fans got a good look at what Joe Johnson can bring to this Jazz team as he led all scorers with 29 points.
But perhaps more importantly and certainly more memorably, Jazz fans got an even better look at just what Rodney Hood can do to the rim. This incredible dunk was the highlight of the night and definitely one of the best of the early season.
10/28 vs. Los Angeles Lakers
The Jazz came away with a 96-89 win in their home opener thanks largely to a big game from George Hill. He had highlight after highlight all night long, but the one I particularly enjoyed came on the defensive end where he blocked Lou Williams then threw the ball off his leg out of bounds to give the Jazz the possession.
The videos don't quite do it justice, but for those that watched the game and just judging by the crowd's reaction, you know that this was a big play.
10/30 at Los Angeles Clippers
This was without a doubt one of, if not THE, most disappointing Jazz performance of the year as they fell 88-75 to the Los Angeles Clippers, but at least it gave us this beauty from Rudy Gobert that will make you wonder what that poor rim ever did to him.
Week Two
11/1 at San Antonio
Honestly, this entire game could have been one amazing highlight all in itself as the Jazz rolled into San Antonio and put up an impressive 106-91 win. But if I had to choose just one play, I'd go with this awesome quick-step, and-one layup by Dante Exum.
11/2 vs. Dallas
There was a lot to love about this game as the Jazz cruised to a 97-81 win over the Mavs, but my personal favorite had to be George Hill's deep three buzzer beater to end the first half. Right on the money!
11/4 vs. San Antonio
San Antonio took easy revenge over the Jazz in the two teams' next match-up as the Spurs notched a runaway 100-86 victory. There wasn't a whole lot of good things happening on the court for the Jazz on this one, but they did force Popovich to take an early timeout with this nice ball movement that led to an easy Favors jam.
11/6 at New York
In the game which saw Gordon Hayward make his 2016-17 NBA debut and the Jazz beat the Knicks 114-109, there were a slew of good highlights to choose from. Gordon passed Bryon Russell to move into second place for three-pointers made in team history, Rudy had some sweet dunks, and George Hill was his usual crafty self.
However, my favorite play was this one where Joe Johnson's "shooter's touch" created an incredibly lucky made three.
Week Three and (Part of) Four
11/7 at Philadelphia
The Utah Jazz were unquestionably dominant in their 109-84 win over the Sixers as the weak opponent helped the Jazz produce a number of highlight worthy plays including this sweet Hayward dunk.
11/9 at Charlotte
In Utah's sole loss of the five-game road trip, they found themselves outmatched in the fourth quarter by Kemba Walker and the Charlotte Hornets as they fell 104-98. However, that didn't stop Joe Ingles and Gordon Hayward from connecting on this sweet high-flying alley-oop in the first quarter.
11/11 at Orlando
The Jazz's performance in the fourth quarter of this game was likely their most remarkable defensive period of the year as they held Orlando to just ten points to stroll to a 87-74 win. Rudy Gobert played some defense himself then honed his inner point guard by taking this baby coast to coast.
11/12 at Miami
Utah finished out their recent road trip with a solid 102-91 win over Miami. Utah was clicking on all cylinders throughout the contest and Rodney Hood had one of the most impressive makes of the game with this deep three from another area code.
11/14 vs. Memphis
The Jazz's 102-96 loss to the Grizzlies was a bit of a letdown after such a solid road trip, but the squad fought hard on tired legs and narrowly missed coming away with the victory. Dante Exum's cut to the hoop and throwdown was definitely my favorite moment of the night.
Hopefully as Exum gets more and more confident, we'll see a lot more of these kind of aggressive attacks at the basket.
More from Purple and Blues
So there you have it, just 12 games in and the Jazz have already treated us to these and so many more memorable moments. With the season just getting started, you can practically guarantee that the Utah Jazz highlight reel is just barely heating up.
Stay tuned, Jazz fans, because I'm sure there's still much more to come.
This article originally appeared on