Udonis Haslem wants Dwyane Wade back with the Miami Heat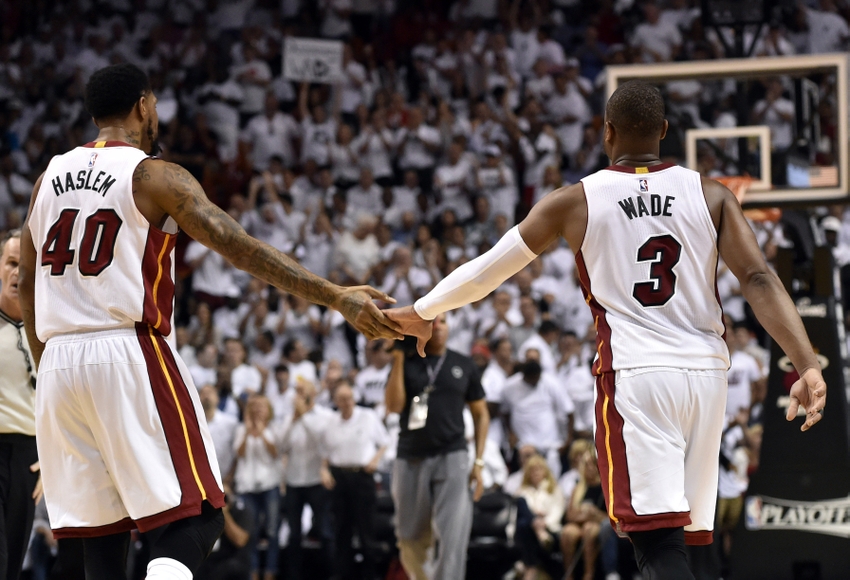 Can Miami Heat lifer Udonis Haslem convince Dwyane Wade to return to South Florida?
For their 13 years in the NBA, Dwyane Wade and Udonis Haslem had never played a season away from each other. That will change this season after Wade left the Miami Heat to sign with the Chicago Bulls, and Haslem re-signed with the only team he's known.
Still, the relationship between the two remains strong, and Haslem isn't ready to shut the door on them playing together. Via the Miami Herald:
So is there a realistic chance Haslem and Wade could be reunited?

"I'm going to damn sure try," Haslem told me. "I mean, I don't know. I guess I've got to wait until next summer to see how that goes. But, I never give up without a fight. So there's ain't no time to start now."

Would Haslem consider leaving the Heat to do so?

"I didn't say that," Haslem said. "I was thinking more him of him coming here. I never said that. I won't ever say that. When I said play with him again, I never said leave.

"He's trying to sell his house down here. I might just buy it and hold it for him."
The breakup between the Heat and Wade wasn't pretty, as the relationship between Wade and team president Pat Riley crumbled over the last few years. It will take more than Haslem's words to one day bring Wade back to South Beach. It will almost certainly also take the effort of Riley, who reportedly did not make Wade feel wanted by the organization.
And since money was an issue, a Wade return wouldn't likely happen next summer. Wade can opt out of a $20 million salary next season so, if he were to leave the Bulls, it would likely have to be for more money. If the Heat weren't willing to give him that this summer, they won't next summer when Wade is a year older.
However, there is always three years from now–but that would also mean that Haslem would be in the league three years from now. He would be 39 years old.
More from All U Can Heat
This article originally appeared on