Trail Blazers: Who Will be the Breakout Player This Year?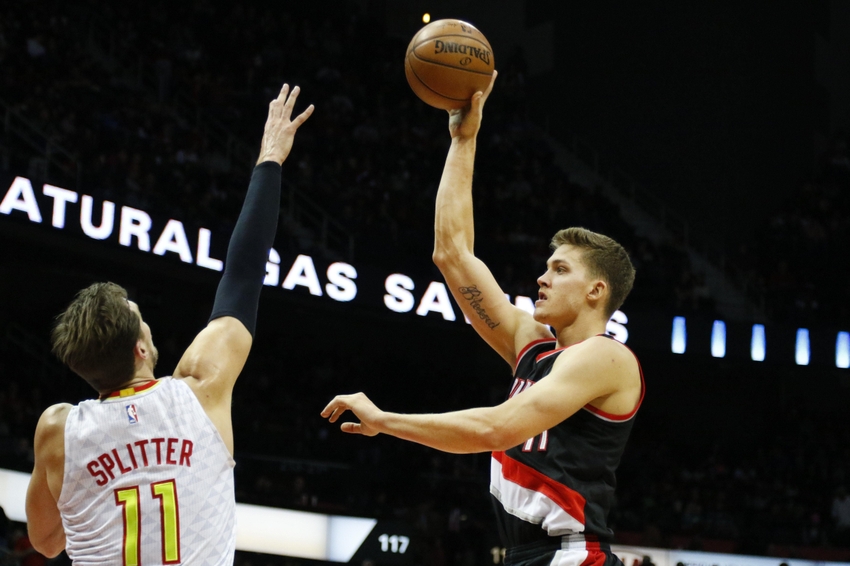 Trail Blazers: Who are the candidates to breakout and have a career year this season?
Last season, the Trail Blazers had multiple breakout players. Allen Crabbe went from warming the bench one season to a $75 million man the next. C.J. McCollum upped his points-per-game from 6.8 to 20.8. Even Maurice Harkless' last two months of basketball is considered a huge breakout.
So who will make the leap this year?
More from Rip City Project
Portland is a tremendously deep team this year. With the additions of Evan Turner, Festus Ezeli, and Shabazz Napier – It's going to be a tough for role players to earn consistent minutes. The Trail Blazers' starting lineup are well established commodities in the NBA now and do not really qualify for a 'breakout player' distinction.
More than likely, the Trail Blazers breakout player will make the biggest impact off the bench. Whether it's offensively or defensively, this player will make his mark on the game. Come playoff time, Terry Stotts rotation will likely trim down significantly. Which bench player will seize the opportunity and see a large leap in performance this season?
Plenty of Trail Blazers' fans have given up on the notion that Meyers will take the next step. He's shown flashes of brilliance – followed by shooting slumps, terrible defensive awareness and injuries. However, Leonard is the most likely player to take the next step.
His game is made for the modern NBA. He has proven the ability to hang with back to the basket centers on defense. When Leonard's shot falls, he is a nightmare to guard on offense. Not many centers/power forwards are able to guard him 20+ feet from the basket.
A healthy season from Leonard will provide a huge boost for the Trail Blazers. His ability to play alongside any of the three non-shooting Trail Blazers' centers is crucial. And if Stotts wants to really stretch things out for the opposing team, he can put Leonard at the center position.
Sure, Leonard has probably been at the top of the potential breakout players for Portland the last four seasons… but maybe this is the year.
You might be thinking Maurice Harkless broke out last year – and you'd be right. But it's important to remember that Harkless is somehow only 23 years old. Although he became a very important member of the Trail Blazers last season, his game has plenty to improve upon.
Harkless has been inconsistent with his three point shot thus far, which seriously limits him as an offensive threat. The Trail Blazers will be incredibly potent offense with an improved shooting Maurice Harkless. If the shooting improves, it will be very difficult to keep Harkless out of the lineup. He would bring too much versatility and toughness to deny.
Over the last two or three months of the season, Harkless proved adept at finding open space when the opposing team falls asleep. Because defenders do not need to guard him at the three point line, he makes the opposing team pay with his movement off the ball – whether it is a cut to the basket or an offensive rebound. His back cuts against the Clippers were a catalyst for the Blazers offensive explosion after game 2.
Harkless took a mini-leap last year – and he can take a full leap this season with improved outside shooting. He is such a confidence-based player as it is, just imagine the type of player he might be if he starts knocking down corner threes.
The season hasn't started out in ideal fashion for Festus Ezeli. Whether or not his knee injection was just precautionary, it's never a good sign to receive knee injections.
If the knee holds up, Ezeli has a great shot to be a breakout player this season. The Trail Blazers ranked 21st in team defense last season – a stat that needs to change if they fancy themselves as contenders. The defensive improvements will start with Ezeli.
He is an elite rim protector that will provide energy off the bench. The guards on Portland will have freedom to play their man tight on the outside and not give up threes. Having a rim protector waiting in the paint will instigate improvement of the perimeter defense.
If Ezeli is healthy, he should make a huge impact to Terry Stotts' defensive scheme.
Vonleh is the least likely to break out of the bunch. It might take an injury or Terry Stotts to confess his undying love for the 3rd year forward to receive consistent minutes.
However, if Vonleh does earn a consistent spot in the rotation, he could very well make a leap. Vonleh is immensely talented, but has yet to put it all together. Last year, he was not quite big enough to battle down low and not yet a sharpshooter to play outside the key.
It's very important to remember, not unlike the reasoning for Harkless, Vonleh is barely 21 years of age. He was likely still growing into his body during his first two years of service in the NBA. The Trail Blazers have some of the top assistants among NBA coaching staffs – If anyone can get Vonleh's game to click, it's Portland.
This article originally appeared on