Timberwolves' Karl-Anthony Towns: 'We've got to make the playoffs'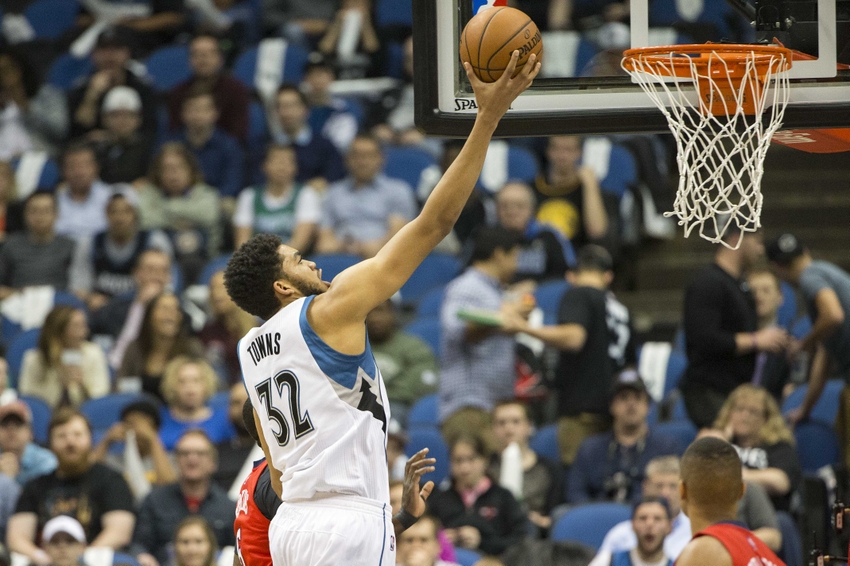 Reigning Rookie of the Year and Timberwolves big man Karl-Anthony Towns gave a lengthy interview to the NBPA, and was blatantly honest about his expectations for the 2016-17 season.
Karl-Anthony Towns' busy summer continued with a long question-and-answer session with Jared Zwerling of the National Basketball Players Association.
The interview started with an in-depth discussion of the video game Call of Duty, as Towns was at the Call of Duty World League Championship over Labor Day weekend, along with former NFL star Marshawn Lynch and Olympic gold medalist Michael Phelps.
Towns tweeted the below over the weekend.
If he could only wear that Kevin Garnett jersey, circa 2003-04, that would be outstanding.
After answering a number of questions about the video game and Towns' interest in the competition side of that world, the conversation shifted to Towns' off-season.
Indeed, KAT has made appearances on network television (Jimmy Kimmel Live! and The Tonight Show Starring Jimmy Fallon), kids cable shows, Foot Locker commercials, and even NBA TV's draft special back in June.
Towns, on his favorite cameo thus far:
Definitely I would say the Disney show. I love acting. I had a lot of fun doing it, and it was a huge honor to just be part of that show. Cameron Boyce is awesome, everybody was great. From there, I think probably just doing the Foot Locker commercial with some of my best friends, D'Angelo Russell and Devin Booker, was awesome.
He also says that his dream acting role would be in a potential Space Jam 2, and that he'd act for free if they asked him to…his agent won't love that one.
After discussing his workout routine and his personal evolution as a player, Towns addressed the team and his new boss, coach Tom Thibodeau, and what he's expecting out of the Timberwolves in 2016-17.
NBPA: The Timberwolves are being viewed as one of the biggest breakout teams for next season. How would you describe that excitement brewing in Minnesota?

KAT: We've just got to go out there and work. It's excitement because people feel that we have a chance to do something special, and we've got to deliver. So it's about us working and constantly finding ways to get better.

NBPA: In your short time with Tom Thibodeau, what have you learned about him so far?

KAT: It's awesome. He's taught me a lot so far. He's really smart, he's a great guy. I look at him not even as my coach, but as a good friend of mine, and that's how it has to be. If we want to be able to go to another spot to something greater, we have to always be on the same page and have a good rapport. That's what we do have.

…

NBPA: What are your personal and team goals for next season?

KAT: Personal goals are based on team. We've got to make the playoffs. We've got to do something special, and it's up to us to continue to work and to make that happen.
Towns seems to be appropriately ambitious. And while Thibodeau and general manager Scott Layden have not publicly admitted to having a goal of making the playoffs come spring, it would certainly be a disappointment if that somehow didn't happen.
Towns closed the interview by discussing his desire to be involved in assisting cancer research off the court, as he's lost both grandfathers to cancer. He also mentioned the Boys & Girls Club of the Twin Cities as an organization for which he will be supporting.
Timberwolves fans, you have a class act representing your squad — and he's not too shabby of a player, either. Now, carry on with enjoying Karl-Anthony Towns, everyone…
More from Dunking with Wolves
This article originally appeared on