The Washington Wizards Are Bad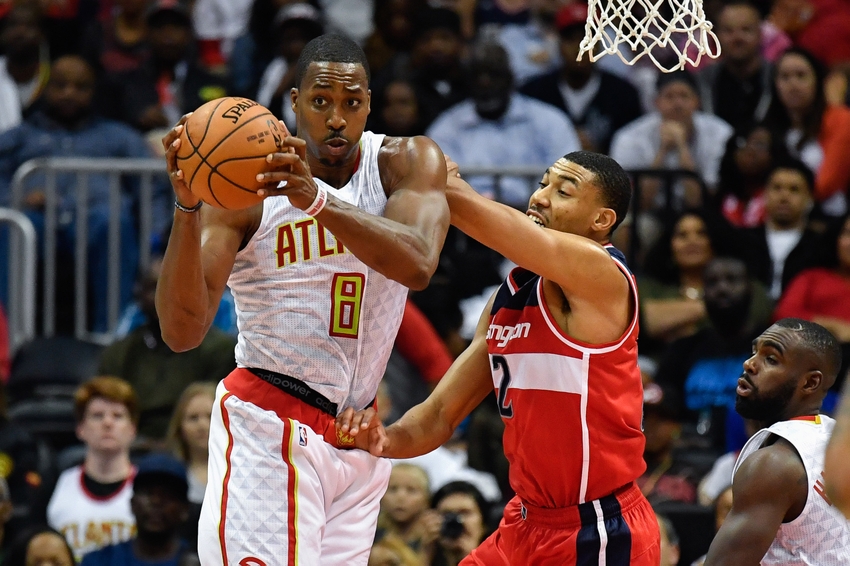 The Washington Wizards are just bad right now; can they fix things before it's too late?
After an offseason that saw the culmination of a years-long semi-covert courtship of Kevin Durant fall flat in embarrassing fashion, the actual season hasn't treated the Washington Wizards well thus far, either.
They're really depressing right now. It's early and they play in the East and they still have one truly fantastic player on the roster, so their early season problems will self-correct to some extent, but there are disconcerting trends that suggest there are some real problems here.
The Wiz have spent the past few years clumsily trying to figure out how to optimize a roster that has added rental player after rental player that end up becoming long term rotation players on .500ish teams.
More from Sir Charles In Charge
After an ill-fated attempt to try and speed up their pace of play last season, the Wizards haver fallen back down to 22nd in pace factor so far this year. Wall, despite being one of the three or four fastest and most athletic players in the NBA, has been forced to play at plodding paces like this most of his career.
Maybe that's not the worst thing in the world, but they're 20th in offensive efficiency and it doesn't seem like they have that much room to improve.
Hiring Brooks was never going to make Washington into a seven seconds or less team, but the hope was that the iso-heavy, slow developing half court offenses over which he presided in OKC were the result of having two ball dominant superstars more than anything else.
It's discouraging, then, that Washington is 26th in assist rate despite the fact that Wall is averaging 9.2 a game.
There isn't a clearly discernible system here, and that's going to be a problem for a team that isn't really well suited for one-on-one offense. Marcin Gortat can do some work in the post, Wall is skilled enough to get to the rim, Bradley Beal exists in a weird space between Ray Allen Lite and Danny Green, and you don't really want the ball in anyone else on the roster's hands for too long.
This team's offense moves similarly to Randy Wittman's offenses of old, which is to say it doesn't, really. Wall, as he is wont to do, will slash toward the basket and look to finish or dump off, but there doesn't ever seem to be much rotation behind him. To extent that they run anything at all, it's pretty much the same rudimentary motion that Brooks would run in OKC, which will not get the most out of this roster.
Ironically, Wall and Gortat seem to be the only Wizards that share a good rapport. Their skill sets clash – they both want to occupy the paint, just in diametrically opposed fashions – but they're both good enough to overcome that set of problems to be a pretty effective pick and roll tandem.
For now, the Washington Wizards are just kinda bad
Still, everything slows down around Gortat, and Wall's freakish ability to split defenders often end in baby hooks from Gortat, which is generally fine, but not ideal.
After that and the emergent Otto Porter Jr. (16 points and 8 rebounds per game so far), things aren't so generally fine. Beal is already gimpy and is shooting atrociously (36.6% on two point field goals and 29.4 percent beyond the arc, good for an effective field goal percentage of 41.6%), which is not exactly the start one would hope for after Beal's big pay day caused some problems between him and Wall during the offseason.
Also, Marcus Thornton is playing close to twenty minutes a game while Kelly Oubre Jr. can't get off the bench, which is grim.
We probably shouldn't be surprised, then, that Wall isn't happy. Anger with no-calls and the refs got him kicked out of two games this week, but that seems superficial. His general frustration is pretty evident here:
That does not seem like a man who is enjoying playing basketball right now. Again, maybe this will all self-correct and the Washington Wizards will be fine and sneak into the playoffs on the backs of a superstar point guard and an experienced coach with a good track record.
Or maybe it doesn't and the Wizards play the plodding hero ball that got Brooks in trouble in OKC and Wall keeps unraveling as the roster around him remains aggressively mediocre. For now, the Washington Wizards are just kinda bad.
This article originally appeared on