The Stretch 4: Hassan Whiteside, Dwyane Wade's return and a tough start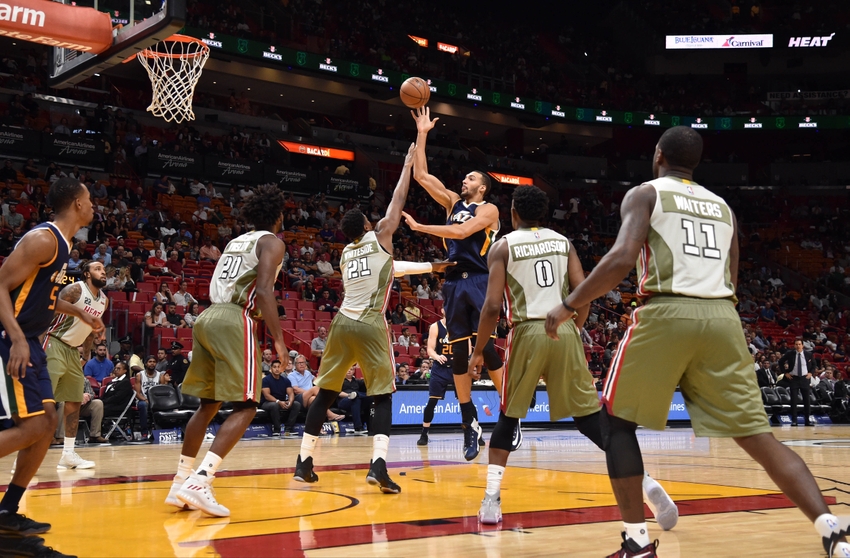 It's time for another edition of The Stretch 4, covering the best and worst of the Miami Heat's past week.
Somehow another week of Miami Heat basketball has come and gone, once more providing plenty to talk about. The team may not necessarily be on the league's radar like it was once was, but you best believe Heat Nation is still going hard for their men in South Beach.
Yes, even despite their 2-6 start.
(I'll get to that later.)
Since I last jumped on here, the Heat lost three in a row to the Oklahoma City Thunder (97-85), the Chicago Bulls (98-95) and the Utah Jazz (102-91). Two of these were home games, and one loss they took on the road.
Read More: Goran Dragic's injury could make room for the Miami Heat's future
Sigh.
However, like the saying goes, there's always a lesson to be learned.
The thing I appreciate about our losses is how much we can still learn about the team from them.

— Allana Tachauer (@AllanaTachauer) November 13, 2016
And what's more, is there were still plenty of positives that went down surrounding the team this week.
Like Hassan Whiteside's continuing efficiency.
The big man has been killing it lately.
Averaging 17.5 points, 14.6 rebounds and 2.5 blocks a game this season, he is proving to be a monster on both ends of the court. And every bit worth the maximum contract Miami signed him to.
Although he had a shaky night against the Thunder, finishing with only 5 points (but still 12 boards), he more than made up for this versus the Bulls when he totaled 20 points, 20 rebounds and 3 blocks.
He also stayed palming balls, against the Jazz.
Offense. Defense. This 27-year-old does it all.
No matter what your favorite part of Whiteside's game is though, one thing is certain: he is definitely a silver lining in an otherwise rough 2016-17.
Josh Richardson seems to have found his groove again, too.
Having returned from a MCL injury last week, many were worried that it would be a while until Richardson got his stroke back.
In his first game of the year against the Toronto Raptors, Richardson found himself only getting 12 minutes on the court and recording just 1 rebound.
However, things have been only uphill from there.
In fact, the youngin even started in place of an injured Goran Dragic on Saturday against Utah, finishing the night with 12 points, 3 rebounds and 4 assists in 33 minutes of play. Sure, he shot 6-of-16. But when you look at his first half performance and compare it to the second… it's clear JRich is on the up-and-up.
"I'm just trying to take it a step at a time, 12 minutes and then 25," Richardson said of his progression, via the South Florida Sun-Sentinel. "Maybe I'll get a larger workload. I might be a little bit more aggressive. A lot of it is just getting back into the flow of it."
"I think it's just I'm just getting back. First game, I was moving fast. The other day, I was feeling fast. At the end of the game, I found a little bit of rhythm. I almost felt like myself again."
Phew.
And then there was the relief of getting Dwyane Wade's return to the AmericanAirlines Arena over with.
Look, don't get me wrong. I, just like the rest of Heat Nation, were hyped over getting to see Wade step foot in South Beach again. However, I'm also glad it's finally over.
I think Wade put it best when he described the game as "weird."
Between fans applauding every time he made a shot, his tussle with Justise Winslow and well… the fact that the Heat lost, it was one of the strangest matchups I've probably ever seen.
With that said though, it certainly was entertaining. And not only because of Wade.
It was a close game, full of changing leads, exciting plays and just generally good basketball all around.
Besides Whiteside's 20 and 20, Winslow recorded 15 points, 5 rebounds and 6 assists, while Richardson had 16 points, Dion Waiters finished with 16, 4 and 6 and Tyler Johnson with 14, 8 and 4.
As for Wade? A seemingly easy 13, 7 and 4.
(But no three-pointers.)
However, the team's tough start is hard to swallow.
2-6 hurts. Plain and simple.
Especially when the upcoming schedule includes going against the San Antonio Spurs and the Atlanta Hawks. Back-to-back.
Of course it's still early. And yes, Dragic's injury is an unavoidable potential challenge. But head coach Erik Spoelstra needs to keep playing around with his rotations, until he finds what works. And that includes giving guys like Derrick Williams more of a chance. After all, now is the time to experiment.
Because truth be told, the talent is there. It's just a matter of utilizing guys in the best way possible.
Onward and upward, Heat Nation.
This article originally appeared on