Takeaways from the Spurs 86-81 preseason win over the Pistons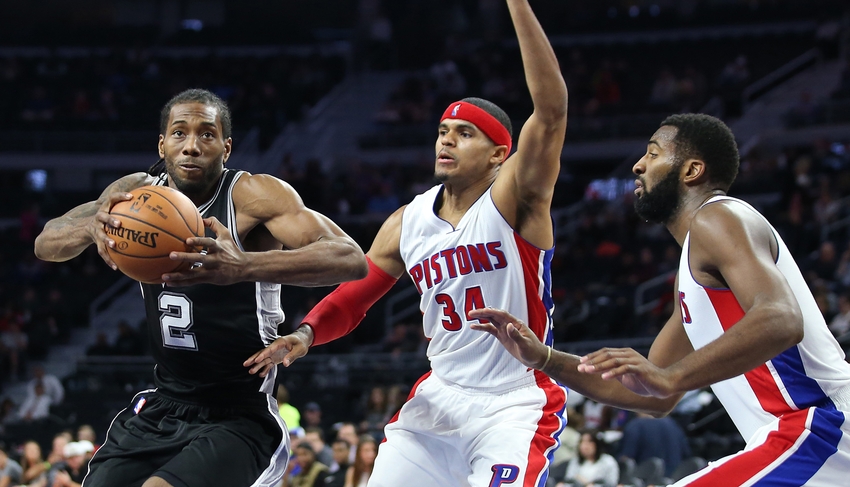 The San Antonio Spurs won their second preseason game with an impressive 86-81 win over the Detroit Pistons on Monday. Kawhi Leonard led the way with 20 points in just 24 minutes of play.
Leonard looked to be in mid-season form over his first three games of the preseason for San Antonio. Though he has not logged many minutes, his scoring in the amount of time played is pretty frightening for teams around the league.
17 points, 6-for-10 field goals, in 20 minutes against the Suns
14 points,  6-for-13 field goals, in 25 minutes against the Hawks
20 points, 7-for-11 field goals, in 24 minutes against the Pistons
In the first half, Spurs basketball was alive as they possessed what makes them one of the leagues best, ball movement. San Antonio moved the ball around the perimeter to find the high-percentage shots.
Defensively, Spurs did not miss a beat their either as they held Detroit to 14 points in the second quarter.
In the second half, the Pistons came storming back but it would be too much Leonard and company.
Outside of Leonard, the new 'Twin Towers', Pau Gasol and LaMarcus Aldridge provided a much needed spark for the Spurs. With the skill set that they both posses, it gave open looks to one Danny Green.
The two were plenty dangerous Monday night at the Palace of Auburn Hills.
Aldridge scored 10 points, grabbed nine rebounds and added three steals.
Gasol finished with 11 points, two rebounds, one assist and one steal in 21 minutes.
Another preseason game in the books! Here's the best from tonight's #SpursWin pic.twitter.com/ABd0J8zOWq

— San Antonio Spurs (@spurs) October 11, 2016
David Lee had his best game as a Spur as he finished with 10 points while going 5-for-8 from the field in 13 minutes of play. Lee will be key for the Spurs this coming season. Against the Pistons, he gave an outlook to what he will bring to the team.
One player on the Spurs roster that is fighting for a spot on the team is Bryn Forbes. He made an impact against the Pistons and helped lead the Spurs to victory.
Bryn Forbes drilled two 3-pointers with under three minutes remaining to help the Spurs pull away.
The undrafted rookie finished with eight points on 3-of-4 shooting in only 13 minutes of play, making a strong case in the competition for the Spurs' final roster spot.
With the win, San Antonio moves to 2-1 in preseason. Their next game will be against the Orlando Magic (0-2) on Wednesday.
This article originally appeared on