Suns Thanksgiving History and What VotS is Thankful For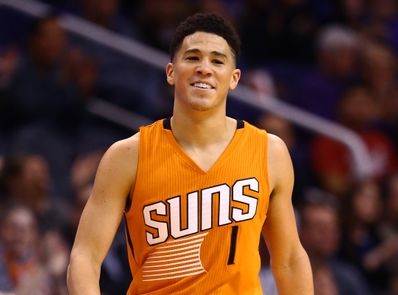 The NBA doesn't play games on Thanksgiving much anymore, but they used to.
And not since the 1970's have the Suns played a game on Tirkey Day, something they did do five times in that decade.
Having not played on Thanksgiving since 1978, the Suns do not have any recent memories on holiday to share.
However, the writers of Valley of the Suns do. And while we would first like to wish you all a Happy, and safe, Thanksgiving, we would like to share a few of the things that we are thankful for regarding the Suns, and our personal lives.
Note: A brief history of the Suns on Thanksgiving will be on the next page.
What the Writers of Valley of the Suns are thankful for with the Suns, and our families.
Brooks Ohman – Contributor
For the Suns – I am thankful for the youth and excitement provided by the Suns. They are one of my favorite league pass teams. No matter what the final result might be a Suns game is always exciting to watch and the glut of young talent they have provides a ton of hope for the future.
Personal Thanks – Outside of basketball, I am very thankful for my family and friends, they give me the support and confidence I need to go out and make the best of everyday. I am also thankful for all the opportunities I have and the chance to write for Valley of the Suns. Lastly, I am thankful for NBA League Pass which is a true gift.
---
Robert Neal – Contributor
For the Suns – On this Thanksgiving, it's easy to be thankful for my 47-years as a Phoenix Suns Fan.  What a ride.
I saw my first game as an 8th grader, in 1969 – just before the Suns played the Los Angeles Lakers in the Western Conference Playoffs.  I'll never forget that battle between the Wilt Chamberlain/Jerry West/Elgin Baylor Los Angeles Lakers, and that team from Phoenix with Connie Hawkins, Gail Goodrich, and Dick Van Arsdale.  I knew I was hooked for life.
I was fortunate enough to spend some time covering the Suns as a journalist during the 1993 run to the NBA Finals.  And I was privileged to see how Phoenix Suns Charities are so hugely helpful to the community.   
But I think I'll be most thankful for the times my youngest daughter and I enjoyed following the Suns during the Steve Nash era.  She was his biggest fan.  (She loved Raja Bell and Grant Hill too.)  We also went to all the off court events like Celebrity Waiters and the other fan appreciation events.  I think she has more Steve Nash autographs than anyone in Phoenix.  How many fathers can say they've spent that kind of quality time with their teenage daughter?
Thanks, Suns.  And thanks to the Phoenix Suns fans who have shown the patience to wait, and wait, and wait for that first Championship.
Personal Thanks – As we all take some time off to remember family, friends, and good times this Thanksgiving, I want to give thanks for my family.  My mother and father raised me as a football fan.  And I've been lucky enough to have two daughters – one a football fan, the other loves basketball – in my life for so long.  How can any father of two great girls be any luckier than that?  And to top it all off, my wife tolerates it all.  How did that happen?   My parents also taught me to be thankful for the gifts we receive, even if they don't include a Suns championship (yet).  Seriously, I give thanks for being an American, a father and husband.  And I give thanks for having the privilege – thanks to those who served – of being able to cheer my favorite teams in the safety of a well-protected arena or stadium, without fear.  The fact that I can still stand for the National Anthem of the United States is reason enough to always give Thanks.
---
Kory Miller – Contributor
For the Suns – As a Suns fan, I am thankful first and foremost for Devin Booker. He is the future of the franchise and we should all be thankful that he's on the Phoenix roster. I am also thankful that the last 5 years of struggles are outside the norm for this organization. As Suns fans, we have to remember that franchises like Minnesota, Orlando, Denver and others have had a few successful years and memorable teams, but have largely been lottery teams for their existence. We've been very fortunate to have sustained success over the years, and we will get there again.
Personal Thanks – On a personal note, I am thankful first for my Lord and Savior, Jesus Christ. Followed by my family, my friends and the veterans who keep us safe and free in this country. I'm thankful for the NBA and for basketball, for its ability to bring us all together, no matter our background or beliefs. Did I mention I'm thankful for Devin Booker? Happy Thanksgiving!
---
Adam Maynes – Site Editor
For the Suns – Even in this extended period of regular season struggles and non-playof berths, I am thankful for all wins and excitement this franchise has provided the Valley with over the last 49 years. I will never forget the first game I ever attended (and in all honesty ever watched. I did not follow baketball until this particular night). I was nine years old, and my Dad took me to the brand new America West Arena on December 27, 1992.
The Suns won by 41, 129-88. I was hooked.
My Dad likes to tell the story that several weeks later I was supposed to be in bed, and I had a little radio under the covers with me as I was listening to Al McCoy and Cotton Fitzimmons call a game. He tried to say something to me as he peaked his head in my door, but I shooshed him saying "Sshh! The Suns are winning!"
Thanks, Suns!
Personal Thanks – First and foremost I am thankful for God's kind blessing that is the health and well-being of my perfect little two-year old son. I am eternally in His debt. My son is already a sports fan, loves bouncing a basketball, hitting a baseball, throwing a football, or taking a slapshot at…well…just about everything. I do everything for him, and I cannot wait for what good the future holds for he, my family, and all my friends.
I am truly blessed in innumerable ways.
And color me cliche, but we are thankful for you, the avid readers of Valley of the Suns. It is because of rabid fans like us that makes this website possible. We thank each and every one of you for clicking on our stories, reading our previews and reviews of every game, and leaving us your opinions. Our staff contributors love the Suns and love writing about the Suns, and we are incredibly thankful that you are eager to read it.
Thank you all, and from all of us at Valley of the Suns, have a very Happy Thanksgiving.
Gobble gobble.
Follow Valley of the Suns on Twitter at @ValleyOfTheSuns and on Facebook at facebook.com/PhoenixSunsBlog
Phoenix Suns Thanksgiving History
While the Suns have never made any roster moves on Thanksgiving Day (i.e. trades, signings, waives, etc.) they did play five games on Thanksgiving Day back in the 1970s.
Below is a quick summary of those games, with the accompanied box scores:
11-25-71 – Suns defeat the Detroit Pistons 122-103.
Note: The win was the second in a row, and the second of what would be an eight-game win streak, the longest in the franchise's history to that point. (That very season, the Suns would win nine in a row breaking the very same record).
The Suns recieved double-doubles from Paul Silas and Neil Walk. Silas' 21 points and 13 rebounds were both game high's (Lamar Green also had 13 rebounds for the Suns), and Walk had 20 points and 10 rebounds of the bench.
Bob Lanier recorded a 12 point and 11 rebound double-double in the loss.
11-23-72 – Suns defeat the Detroit Pistons 128-122.
Note: For the second Thanksgiving in a row the Suns played the Pistons on Thanksgiving. General Manager Jerry Colangelo had relieved Head Coach Butch van Breda Kolff a little over three weeks prior, and the Suns were still trying to find their footing. The Suns used a 43 point third quarter to break away from the Pistons after a 58-56 Detroit halftime lead.
This was the Suns' six win in eleven games, a period that included both a five-game win streak, followed by a five-game losing streak that this Thanksgiving victor snapped.
Charlie Scott feasted on the Pistons, recording a triple-double of 42 points, 15 assists, and 10 rebounds.
Bob Lanier recorded a double-double with 22 points and 15 rebounds.
11-28-74 – Portland Trail Blazers defeat the Suns 88-85.
Playing without rookie Bill Walton who was recovring from a sprained ankel, the Blazers took advantage of several close calls by the officials late in the game, and off nights by two Suns guards.
A no-call goaltend on Portalnd and a ticky-tack fould on Dick Van Arsdale kept the Suns from putting themselves over the hump in the final 90 seconds of the game. Whereas Van Arsdale had a poor shooting night going 2-13 for only eight points, with two assists and rebounds each.
Charlie Scott scored team-high 27 points, and Curtis Perry and Dennis Awtrey recorded double-doubles.
Sidney Wicks of the Blazers recorded game highs of 29 points and 17 rebounds in the victory.
11-25-76 – Suns defeat the Washington Bullets 104-98.
Broadcast to a nationally-televised audience, the Suns found themsleves down 60-48 with 6:30 remaining in the third quarter.
Then they woke up.
Using an 18-2 run, the Suns took the lead for the first time in the game, and found them selves up 66-62 with 2:26 remaining in the quarter. Guard Paul Westphal scored 15 points in that corner, and the team credited a swarming defense to the quick turn-around, and the eventual victory.
Paul Westphal and Ricky Sobers combined for 51 points, 10 assists, and 7 steals. The two were also a collective 17-17 from the free throw line.
Curtis Perry recorded a double-double for the Suns with 19 points and 14 rebounds, while Elvin Hayes scored 31 and grabbed 10 in defeat.
11-24-77 – Cleveland Cavaliers defeat the Suns 97-82.
Tied at 38 at half, the Suns controlled the third quarter until Cavaliers, led by Walt Clyde "the Glide" Frazier and company put their football M the gas petal and unleashed an offensive attack the Suns were unable to counter.
24 Suns turnovers led to 27 Cleveland points and proved to be the Suns' downfall.
Paul Westphal led the Suns in scoring with 22 points, adding 4 assists and 3 rebounds. Walter Davis and Alvan Adams combined for 30 points, 13 rebounds, and 5 assists. Gar Heard led the Suns in rebounds with 11.
Cleveland's Campy Russell led all players with 25 points. Point guard Foots Walker recorded a double-double with 10 points and 11 rebounds.
Walt Frazier, who returned from an injury absence against the Suns scored 18 on 9-18 shooting, grabbed 6 rebounds, and dished out 4 assists.
Follow Valley of the Suns on Twitter at @ValleyOfTheSuns and on Facebook at facebook.com/PhoenixSunsBlog
More from Valley of the Suns
This article originally appeared on