Suns Lose Heartbreaker on Election Night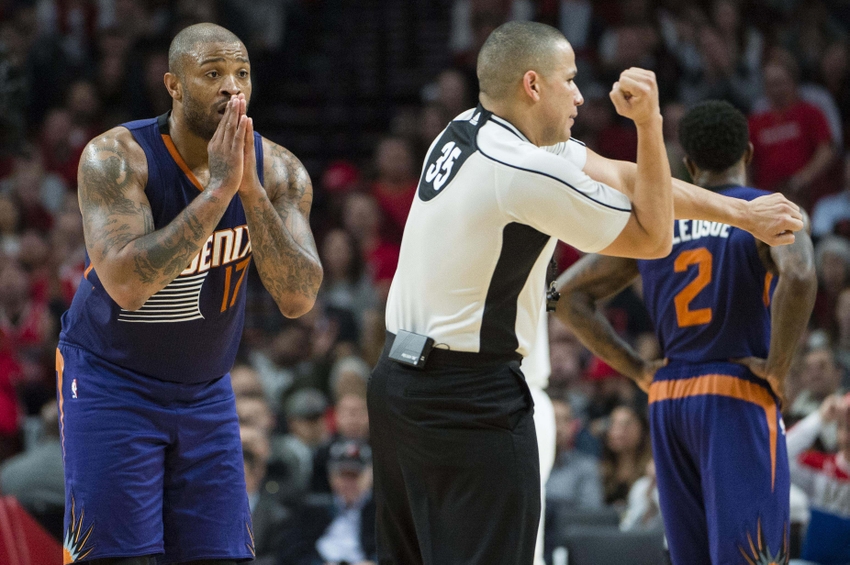 Politics and government is real life. Sports is fantasy.
VS.
| | | | | | |
| --- | --- | --- | --- | --- | --- |
| | 1 | 2 | 3 | 4 | T |
| Trail Blazers | 42 | 21 | 26 | 35 | 124 |
| Suns | 25 | 30 | 27 | 39 | 121 |
Unfortunately sometimes sports and politics conflict with one another. Last night was one of those nights, and the sixth time in franchise history.
November 8, would happen to be a day of change in more ways than one as the Suns shook up the lineup by placing veteran Jared Dudley on the bench and moving rookie Marquese Chriss to the starting lineup. Jared Dudley ended up playing two more minutes than Chriss, but the rookie finished with a balanced 7 points, 4 rebounds, 1 block, and 4 fouls. An average night for the 19-year old so far.
We also had a Dragan Bender sighting for the first time in four games. Bender came off the bench to play 23 minutes finishing with 10 points, 2 rebounds, 1 block, on 4 of 9 shooting and going 2 for 4 from beyond the arc. Could this be the new beginning of the youth movement? Time will tell, but we may get a better idea as they play vs Detroit tonight.
*On a side note, rookie Tyler Ulis did not get off the bench for the fourth consecutive game.
The 42 points the Suns allowed by Portland in the first quarter was the highest of the first on the season, eclipsing 30 by Sacramento on opening night. The 39 points the Suns scored in the fourth quarter was their high for the fourth on the season, and their second highest scoring quarter behind their 40 point first quarter against Oklahoma City.
Overall many of the same problems that have plagued them so far this season continued and the lack of Tyson Chandler in the lineup seriously hurt the Suns' defense down low as guards had an all-access pass into the lane. The Suns still out-rebounded Portland 41-35, but in the end were unable to stop the high scoring guards in Damian Lillard and C.J. McCollum who pretty much their way on offense scoring 71 points combinded.
With the loss, the Suns fall to 3-3 on Presidential Election days.
Their previous games were as follows:
November 6, 2008 – Barack Obama defeats John McCain. Suns defeat Milwaukee 104-96.
November 7, 2000 – George W. Bush defeats Al Gore. Suns defeat San Antonio 100-81.
November 5, 1996 – Bill Clinton defeats Bob Dole. Minnesota defeats Suns 98-95.
November 6, 1984 – Ronald Reagan defeats Walter Mondale. Portland defeats Suns 116-99.
November 4, 1980 – Ronald Reagan defeats Jimmy Carter. Suns defeat Indiana 109-108.
Please follow Valley of the Suns on Twitter at @ValleyOfTheSuns and on Facebook at Facebook.com/PhoenixSunsBlog
More from Valley of the Suns
This article originally appeared on