Stephen Curry Owes Nik Stauskas a 3-Point Shootout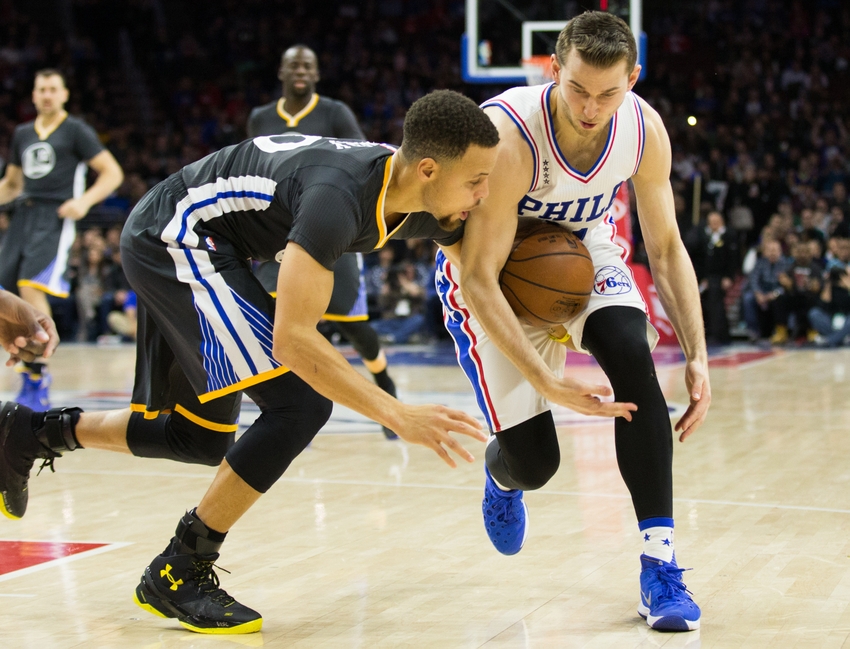 Sharpshooter Stephen Curry owes Philadelphia 76ers guard Nik Stauskas a 3-point shootout from back in the college days of Stauskas.
On the latest episode of the Philadelphia 76ers related podcast hosted by Nik Stauskas, Sauce and Co., Stauskas and his parents talked about how Stephen Curry still owes Nik Stauskas a 3-point shootout.
Over 3 years ago, when Stauskas was still playing for Michigan, he and his father made a YouTube video of him making 70 of 76 3-pointers in the rain on a hoop in Stauskas' backyard back home in Canada. These 3-pointers were from a high-school 3-point line, but nonetheless, the consistency was still impressive.
"I guess Steph Curry had seen [the video] and he replied, asking me to have a 3-point shootout," Nik said in the podcast.
More from The Sixer Sense
The shootout never happened, though, due to rules about what amateurs and pros could and could not do together set by the NCAA.
"So, TSN, which is the ESPN in Canada, they offered to broadcast the whole thing, it was going to take place in my backyard and Steph was going to come to Toronto and there was going to be this whole event. So, TSN had contacted his people, his agency, and everything was on schedule, but at the time I was still a college basketball player, and so there was a process of getting it approved by the NCAA, because you know how the NCAA is with amateurism and rules and everything, and turns out that it was not allowed to actually happen because it was a competition between a professional and an amateur. So, the contest never happened, but now I'm in the NBA, and I would love to get a chance to go to the actual NBA 3-point shootout."
Stauskas' parents asked Nik if the competition took place on his home court who would win, and Stauskas was very confident with his answer.
"I don't wanna stir things up or cause any beef or anything, but I would love to get a chance to go up against him in the NBA 3-point shootout. But I'm just gonna rule this out — if we shoot out in the backyard, there's no chance he beats me."
It would be a pretty cool thing to see. With Curry having blown up over the past few years into an NBA star, I'm sure it would be pretty hard to schedule him to come to Nik's backyard court during the season, but perhaps they would like to try during the offseason. Steph spent a part of his childhood in Toronto near Nik's home because his father, Dell Curry, played for the Toronto Raptors for part of his career.
So, hey, maybe it could be sort of a homecoming competition for Steph, too. Even better, what if we got to see Curry face off against Nik Stauskas and Joel Embiid in the 3-point contest?
This article originally appeared on