Shorthanded Miami Heat fall to Celtics 112-104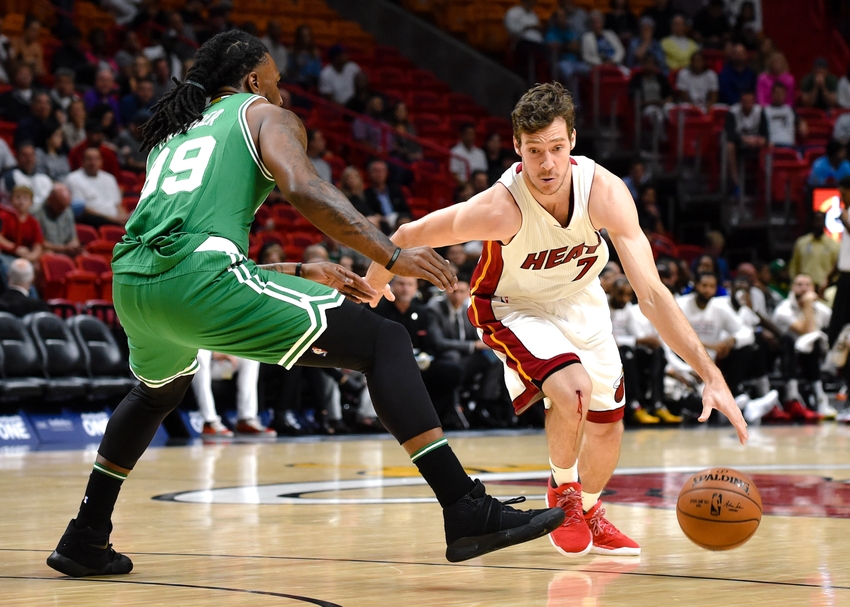 Without three key rotation players, the Miami Heat fell to the Boston Celtics Monday night.

104

112
Despite 27 points and a season-high 17 assists from Goran Dragic, the Miami Heat couldn't overcome its offensive woes once again in a 112-104 home loss to the Boston Celtics, a team Miami has now dropped four straight to. Hassan Whiteside had 25 points and 17 rebounds, but it was not enough for a reeling Heat team that has now lost four out of its last five.
For Boston, Isaiah Thomas scored 25 points and dished out eight assists, most of his scoring coming in an impressive third quarter outburst when Miami was attempting to crawl back in the game. Jae Crowder added 17 and Kelly Olynyk had 14 as the Celtics dropped the Heat to a league-worst 2-7 at home on the year.
Miami began the first half ice-cold, and that proved detrimental later on, as the Heat were held to a season low in points in both a quarter (12) and half (31). Whiteside and Dragic would later find an offensive rhythm in the second, but time had already run its course and the two's valiant efforts proved too little, too late.
Although the Heat would bounce back from an anemic second quarter showing with an impressive third quarter(in which they scored 42 points,) Boston would maintain a double-digit lead heading into the fourth, a lead it would not relinquish as Heat fans headed home with a bitter taste in their mouths.
On a positive note, veteran sharpshooter Wayne Ellington made his Heat debut tonight. Although visibly rusty at first, Ellington would recover to score 9 points on 4-for-9 shooting, including an impressive shot to beat the buzzer at the end of the third. A career 38 percent shooter from deep, Erik Spoelstra and Co. hope the seven-year vet can help solve Miami's main problem: outside shooting.
A familiar headline already, Miami was once again out gained from beyond the arc by its opponent. Boston would finish 11-for-27 from three-point range, good for a solid 41 percent rate. The Heat on the other hand? 6-for-30.
Yikes.
With another season already slipping out of their grasp, it may be time for every single member of the Heat organization to take a good look in the mirror, and reevaluate their roster. Neither Luke Babbitt and Derrick Williams is the answer at Power Forward, and their below-average play of late has definitely backed up that claim.
Granted, Miami was missing defensive wiz Justise Winslow and sixth-man Tyler Johnson, both of whom are large contributors on the offensive end. However, injuries don't excuse poor shooting, and in today's NBA, it is virtually impossible to make it to the postseason without consistent outside shooting, let alone average.
Needless to say, there is much work to be done, and it will be a process all of South Florida must be patient with.
It may be time for Pat Riley to roll up his sleeves and perform some more magic, because a playoff spot is slowly slipping away on the horizon.
Miami (5-12) will travel to Denver for a Wednesday showdown with the Nuggets and 9:00 PM ET.
This article originally appeared on