Schroeder Leads Hawks to Big Win Over Cleveland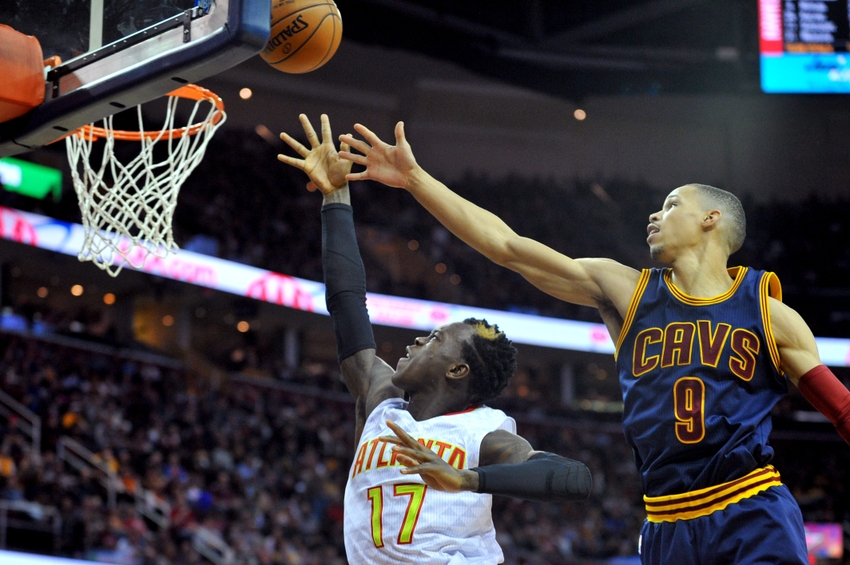 The Atlanta Hawks snapped their 11-game losing streak to the Cleveland Cavaliers last night. Dennis Schroder was the catalyst in the win.
The Atlanta Hawks [5-2] took one small step Tuesday night towards bridging the gap between themselves and the Cleveland Cavaliers [6-1]for Eastern Conference prominence. The Cavs came into the game as the last undefeated team in all of the NBA. The Hawks ended what was an 11 game losing streak to the Cavaliers including last years sweep in the Eastern Conference semi final playoff series last spring.
Dennis Schroder led the charge with a marvelous game, scoring a career high 28 points on 10-of- 16 shooting. He also had six assists and two rebounds in his 32 minutes of action. Schroeder was somewhat of a wildcard in terms of how well he could do as a starter, but over the first two weeks of the season he looks to be as good or better than advertised.
With Kyle Korver missing the trip due to the delivery of his son, he and his wife welcomed Koen Korver to their family, Thabo Sefolosha got the start at small forward. Sefolosha did an outstanding job defensively on LeBron James in the first half, holding him to only 2 points. It was that type of showing that helped Atlanta build a 53-42 lead going into the half time break.
James did not score until he was able to hit a jumper late in the second quarter. He did come on strong to get Cleveland back into the game, filling up the stat sheet with 23 points, nine rebounds and five assists. The Hawks got a gritty and physical presence from Dwight Howard in the middle, who kept Tristan Thompson from becoming a factor at all. Thompson has long been considered a lob dunking, glass eating cyborg during the Hawks long losing streak versus the Cavs, but Howard put a stop to all that.
Howard had to leave the game in the first half to receive 4 stitches to remedy a bloody lip. He would later return to do more dirty work, finishing with a mammoth 17 rebounds and seven points on 3-of-5 shooting. He had a vicious block on a baseline drive by Kevin Love, who appeared to be confident in the floater he attempted before Howard stuck his right paw up and swatted it away.
Kent Bazemore wrapped up the win for the Hawks with about 7 seconds remaining, when he dropped in a step back, long jumper from the right corner to push Atlanta's lead to 110-106 which resulted in the final score. The Hawks in the Mike Budenholzer era have had plenty of trouble finding anyone at all to close games during close contests. To see Bazemore step up and get the job done was a welcome and pleasant siting.
He finished the game with 25 points on 8-13 shooting and made 4-6 three pointers. Kent has started to wiggle loose from his rough start, scoring 20 points in the Hawks last game. This is the kind of performance that was needed with Korver out, as Bazemore logged 33 minutes of playing time. Millsap also did well, scoring 21 points and collecting 5 rebounds on 7 of 16 shooting.
Kyrie Irving led all scorers with 29 points but was only 1-7 from 3 point range. Hawk killer J.R. Smith had a uncharacteristically bad game against Atlanta, connecting on only 2 of his 13 field goal attempts. Despite being cold from the outside, he did continue to fire away with the long ball, finishing only 2-of-10 on three pointers.
More from Soaring Down South
This article originally appeared on