Robert Covington Needed That 4th Quarter Against Miami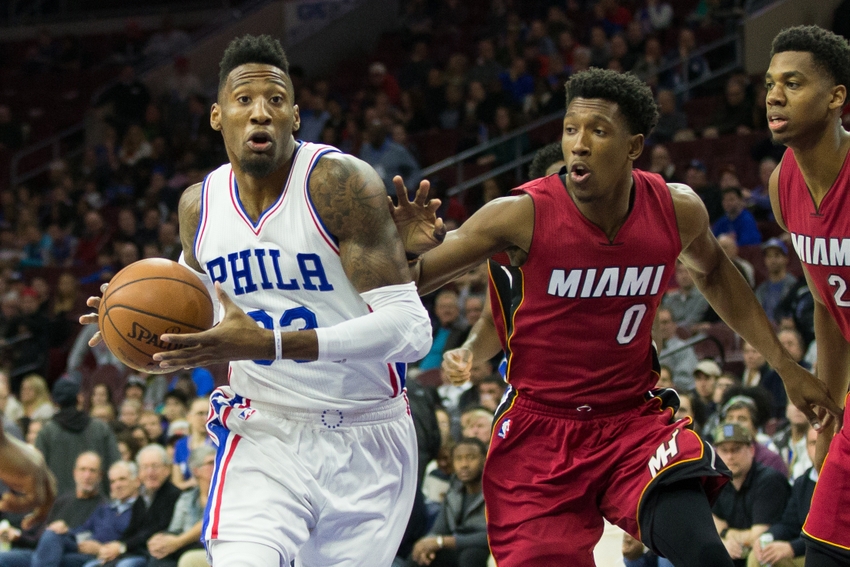 With his season being derailed by a slump thus far, Robert Covington's 4th quarter performance in their win over the Miami Heat was much needed.
Throughout the first three quarters of Monday night's win over Miami, Robert Covington's performance kept par with the season norm — abysmal. He didn't hit a single 3-pointer over the course of the first three-fourths of the game, and the Philadelphia 76ers' starting forward's confidence remained noticeably shaken as boos continued to poor in from the stands around him.
Then, in much needed relief, the 4th quarter happened.
While it wasn't some unprecedented breakout by any means, Covington seemed to finally find his stride to some extent down the stretch. He was able to get into the teeth of the defense, hitting a couple of clutch layups and nailing an open three that left even Covington himself smiling.
As the saying goes, he got some pep back in his step — and it translated the the other side of the ball. While defense was the skill keeping Covington in the rotation to begin with, his effort picked up even more down the stretch. With the spike in confidence, came a clear spike in energy — precisely what he needs to get back on track moving forwards.
Covington hasn't been able to get much of anything to go in his favor this season, so this could prove to be a moment far more pivotal than many realize. The crowd is behind him once again, and he was finally able to end a game on a positive note, both from a personal and team perspective.
Now, with what is ideally a sizable boost in confidence, Covington could fix some of the most pressing issues inhibiting his game through the first 13.75 games.
Covington has had lapses in concentration this season, and his body language has been clearly negative for a good bit of this stretch. He has made errant passes in lieu of missed shots, and at times lost his man on defense due to simple mental errors that can at times plague someone who has been trying to work his way out of a funk.
RoCo is at his best when he's not trying to force the issue and is playing within the flow of the offense rather than trying to play himself into it, something we saw come to undeniable fruition during the fourth quarter last night.
His largest concern, being his shooting efficiency, should also see a significant boost here as well. Covington's form has been noticeably inconsistent at times this year, as he has tended to rush shots and hasn't looked comfortable shooting the ball whatsoever.
A lot of that connects back to the aforementioned issue of confidence. If he's seeing shot after shot clank off the rim, the tendency is going to be to put more focus on aiming the ball. That in turn is going to lead to an alteration in shot form, and mess up the typical rhythm that he may have established prior — a massive hindrance to any perimeter-heavy scorer.
If he's able to step into shots with confidence more so than fear, a lot of those issues will resolve themselves. It may seem elementary, but it simply ties back to the fundamentals of his shot — something that likely got a bit cloudy as he tried to power his way through such a drastic struggle.
While there's no way we can say Covington is back with certainty, the fourth quarter was the type of boost he needs to get himself back on track. Confidence is key, and turning the boos from a dissatisfied home crowd into a standing ovation through some big shots down the stretch is a definite way to obtain that.
More from The Sixer Sense
This article originally appeared on