Richaun Holmes Has Been Improving Rebounding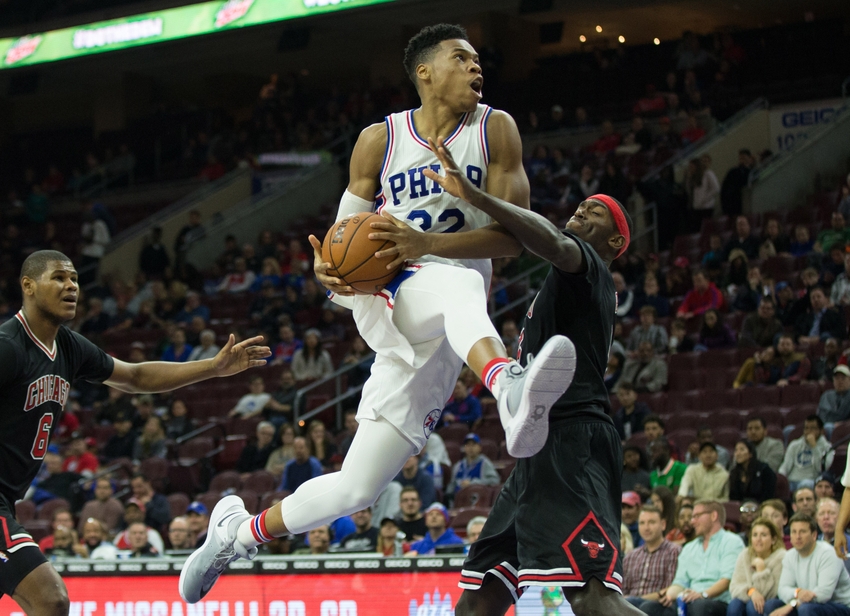 Richaun Holmes of the Philadelphia 76ers has been a stud in almost every area this year when he gets minutes, but his rebounding has been best.
There have been several times this season where plenty of Philadelphia 76ers fans have asked why Richaun Holmes is not getting playing minutes from head coach Brett Brown. After all, he has, in several areas, played better than Jahlil Okafor.
Even Richaun's mother on Twitter brought to attention that her son wasn't getting minutes. She seemed to accept that perhaps Brown knows what he's doing better than she is, though.
Just don't understand this Coach Brown but he's the coach. Maybe I will understand later!

— Dr. Lydecia Holmes (@DrLydecia) November 27, 2016
It's not clear what the reasoning is for keeping Holmes so sheltered on the bench when he comes in and plays with such high energy and puts the stats in to justify more minutes. Per 36 minutes this season, Richaun is averaging 16.0 points, 10.5 rebounds, and 1.9 assists. He's also shooting 54.1 percent from the field and 46.7 percent from the 3-point line (on 15 attempts per game).
More from The Sixer Sense
With those numbers, there's a ton of good stuff I could talk about with Richaun, but by far the best thing he's improved on this season is his rebounding.
Playing in 51 games last season, Richaun pulled in a total of 135 rebounds, which totals at 2.6 rebounds per game. There were some games where the physicality of the NBA was clearly getting to Holmes, and he was struggling to put his body on his opposition in order to get a solid positioning on his man.
So far this season, though, there are more rebounds all around for Richaun, and it's clear that he's put his effort in improving that area of his game. His total rebound percentage has gone up over 5 percent so far this season, with his defensive rebound percentage going up by over 10 percent.
He's grabbing 0.3 more rebounds and 0.2 more rebounds when there are one and two other players contesting him for the rebound, respectively.
He's bringing in 1.3 more rebounds  per game than last season off of missed 2-pointers, 0.6 more on 3-pointers. For some reason, there is quite the dip in contest rate, as he was contested with on over 50 percent of his rebounds last season, with just below 40 percent of his rebounds being contested this year. Maybe that's because Brown has put him in mainly in garbage time, where there's not a whole lot of competition from the opposing teams.
Being a player that can hit 3-pointers at a decent rate for a big man, he is put in an interesting predicament when it comes to rebounding, since he is, at times, placed on the 3-point arc due to the nature of his skills. That should make it harder for him to get rebounds, but there have been numerous occasions where, even from beyond the arc, Holmes has crashed the glass well.
Regardless of Holmes being played in garbage time or not, the eye test has been the main thing showing us that Richaun has been working. His ability to box out has skyrocketed compared to last year, and his dedication to getting a position on his man has been impressive.
On a team where the backup center, Jahlil Okafor, is struggling in a huge way to rebound, it's just a bit strange that Brown isn't quick to put Holmes in the game.
This article originally appeared on