Raptors weakness comes into focus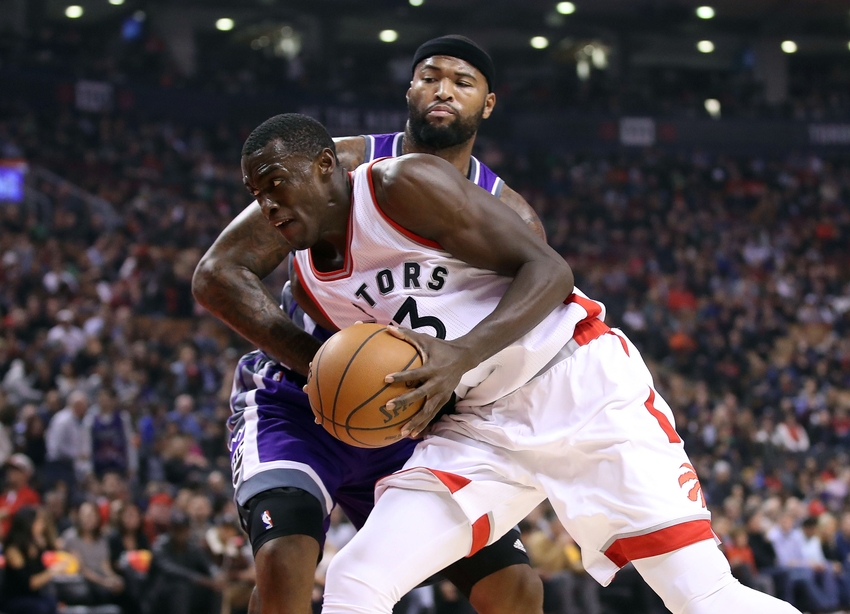 The Raptors shot dreadfully against a pushover opponent and were beaten. Was it just a (really) bad night, or symptom of something worse?
Sunday night's defeat by Sacramento Kings was a most unpleasant reminder of the problem which has ailed the Toronto Raptors so far this season.
Sure, the game-time announcement of Jonas Valanciunas' injury and resulting scratch was problematic. The Sacramento Kings are one of a handful of NBA teams still reliant on a dominating centre, and JV's absence allowed DeMarcus Cousins to rampage. Even so, the Raptors lost because of shabby shooting. I predicted the Kings would score 94 points; they managed 96. This loss can't be pinned on porous defense.
Where is everyone?
No reasonable person could expect DeMar DeRozan to continue the pace of his first five games. Against the Kings, he scored 23 points; that's hardly a disaster. But look at the rest of the team. Kyle Lowry had an off-night, and the others were worse. Perhaps the most galling part was watching how many open looks were allowed by the late-closing Kings defence, and how few of those shots went splash.
Pascal Siakam was the Raptors' third-highest scorer – with 10 points, in his sixth pro game. Houston, we have a problem.
The Raptors secondary scoring has been woeful all season. I've already been on my soapbox about DeMarre Carroll (who was donut for 5 against the Kings). Patrick Patterson better keep up his act as a fierce defender, because his offense is offensive. Terrence Ross continues as the poster boy of inconsistent players.
I'm wondering whether it's time to unleash Norman Powell. He's the only bench man who hasn't had serious minutes so far.
Maybe I'm overreacting to one bad game, of which there are many this time of year. The Lakers beat the Warriors by 20 points last week. What were the odds on that outcome? I'm willing to wager the Dubs won't let it happen again.
The Raptors have departed the friendly confines of the Air Canada Centre, and will be the visitors in eight of their next ten matches. I'm expecting coach Dwane Casey to try a few mad-scientist lineups, because what's happening now is troubling. He's got to find some combinations which will get him some points.
More from Raptors Rapture
This article originally appeared on