Ranking the new NBA hashtags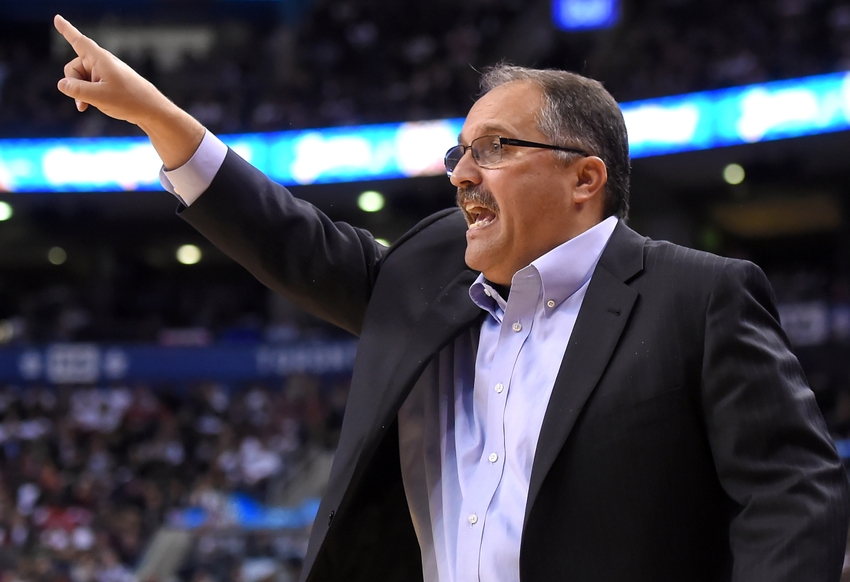 The NBA recently unveiled team hashflags for the 2016-17 season. Here we rank them all.
The NBA announced the new team hashflags for the 2016-17 season.
NBA is kicking off its '16-'17 season hours from now. Support your fave NBA Teams with these team hashflags. #DefendtheLand Source: NBA pic.twitter.com/ty67Jo9e0m

— James Catalonia (@jaamescatalonia) October 25, 2016
How does it work? If you use your team's hashtag, you can unlock the corresponding emoji. It's a great way to show support and an even better way to waste time on Twitter. As you might notice, however, some hashtags are better than others. "#Celtics" can't possibly be on the same level as "#GrindCity", can it? Unsatisfied with this disparity in quality, I have decided to rank each NBA hashtag in an effort to settle the debate and upset as many fanbases as possible in the process.  I will be sure to take into account the accompanying emojis in my analysis. I have separated all 30 hashtags into comprehensive tiers, grouping like with like for your convenience. Without further ado, I give you the 2016-17 hashtags, in order of worst to best.
Tier 5: Just plain terrible
30. #OwnTheFuture
29. #LakeShow
28. #PowerOfThePack
27. #ItTakesEverything
26. #SacramentoProud
I really don't know where to start. If a "terrible hashtag" contest were a thing, these would be the unanimous winners. These are the JaVale McGees of the hashtag world (sorry JaVale, I love you and Shaqtin' A Fool would not be the same without you). I don't have the stomach to go through each and every one of these, but I feel I should pay attention to a couple stand-outs.
First of all, what were the Milwaukee Bucks thinking here? Own the future? What does that even mean? I assume this is a reference to all the young talent Milwaukee has, most notably Giannis Antetokuonmpo, the Greek Freak. But owning the future … isn't that like tanking for three straight seasons and hoarding draft picks for a distant future that never seems to come? (I'm looking at you, Sam Hinkie). Perhaps most concerning here is that #OwnTheFuture beat out #FearTheDeer. Someone seriously needs to get fired over this.
Just slightly less upsetting than #OwnTheFuture is #LakeShow. I still haven't figured out what a Laker is, don't talk to me about lake shows. Maybe I would feel differently if they were back in Minnesota, the "Land of 10,000 Lakes." Ten thousand lakes. Now that would be a lot of lake shows!
#PowerOfThePack makes me feel like I'm watching Baldo: Wolfquest. #ItTakesEverything makes me feel like a bodybuilder trainee under C.T. Fletcher. #SacramentoProud … well let's face it, Sacramento hasn't given its basketball fans much to be proud of for quite some time. Terrible stuff, all this.
Tier 4: F for effort
25. #Pelicans
24. #Let'sGoMagic
23. #DetroitBasketball
22.#GoSpursGo
21. #Knicks
20. #GoPacers
19.#Celtics
Boston, Indiana and New York headline this tier thanks to having emojis that aren't just their team logos. Boston chose to use Lucky the Leprechaun, their mascot, as their emoji. Having Lucky available as an emoji is a wonderful thing. If Boston had put any effort at all into thinking up a more creative hashtag, they would certainly be ranked higher.
Indiana's emoji is also interesting. It's the number 50 written in blue, with an orange basketball hollowing out the middle of the zero. The reason for this is that Indiana is celebrating its 50th season this year. They get points for a good emoji, but "#GoPacers" won't get them out of the hashtag basement.
I'm honestly not sure what the Knicks emoji is. I'll have to get out my magnifying glass and do a more thorough investigation. What I do know is that it's different than their usual logo, and for that they deserve some credit. Like Boston and Indiana, though, their hashtag is sadly lacking.
As for the rest, there is very little that can be said in their defense. Uncreative hashtags and simple team logos just aren't going to cut it. Shameful, really.
Tier 3: The bare minimum
18. #TrueToAtlanta
17. #BullsNation
16. #WeArePHX
15. #Rockets50
14. #ThunderUp
Our middle tier features teams that at least tried to come up with something interesting. They are like the students who don't do the homework, but at least they come to class and are respectful enough to take their headphones out and stay awake. It isn't pretty, but it at least deserves some recognition.
The Houston Rockets, like the Pacers, are celebrating their 50th year in the league, thus the #Rockets50. Better than #GoRockets, at least. I still wish the emoji could could be a beard, although I suppose that would be offensive to the 14 other players on Houston's roster. #SevenSecondsOrLess would also be a fun one, and the emoji could be Mike D'Antoni's face.
#BullsNation copied the homework assignment from #DubNation, but at least they turned something in. #WeArePHX and #TrueToAtlanta are redundant and confusing, respectively. #ThunderUp is easy to type and sounds like something you do before a big game, so I will grudgingly award it the top spot in our middle tier.
But the order here is unimportant, really. None of these hashtags are particularly creative or inspiring , and none of the accompanying emojis are different than the usual team logos. I wonder if there is a hashtag appeal process. If there is enough dislike on social media, will they change it? Stay strong, we're almost at the good ones.
Tier 2: Trying way to hard
13. #BrooklynGrit
12.#TakeNote
11. #MadeInPHILA
10. #DCFamily
9. #HEATIsOn
We have arrived at the second-highest tier, but that doesn't mean it gets much prettier. What do all these hashtags have in common? Answer: they're all way too much. I'm not happy about putting these teams in the second-highest tier, but I can't in good conscience rank any of them below the likes of #WeArePHX either, so here they stay.
My biggest complaint here is #BrooklynGrit. First of all, it feels like plagiarism. All things grit and grind belong to the Grizzlies, and it feels a bit like our friends the Nets are making a subtle move to steal the label. The main problem, however, is that there is nothing gritty about the Brooklyn Nets. In fact, fantasy players stack their lineups with players from the opposing team every time a Brooklyn game is on the slate. But let's give the Nets some credit, they did win their home opener against the Pacers the other night, which put them in the win column after two losses. If they can win 40 games this season, I will issue a public apology and forever retire from hashtag analysis.
Somewhere in Salt Lake City the marketing team held a meeting to decide on a hashtag for the team that was short enough to type quickly and really, really clever. They came up with #TakeNote, which makes use of the double meaning of the word note and alludes to their team name, which happens to be a music genre. They should have just stuck with #Jazz and saved the rest of us the secondhand embarrassment.
Is it good when something is #MadeInPHILA? They made 19 and 18 wins the last two seasons, which was good for lottery picks but can't have been much fun for the fans. Was Sixers General Manger Sam Hinkie's super-tanking strategy #MadeInPHILA too? Let's not be too hard on the Sixers, some good things have come of their losing ways. Most notable is Joel Embiid, who is back at full strength and already showing flashes of greatness.
#HEATIsOn and #DCFamily sit atop this tier due to the simple fact that their hashtags are less bad than the rest. I would say more about it, but on the next slide finally are the good ones and I'm too anxious to get there already.
Tier 1: The good stuff
8. #MileHighBasketball
7. #BuzzCity
6. #MFFL
5. #DefendTheLand
4. #RipCity
3. #GrindCity
2. #WeTheNorth
1. #DubNation
We've suffered through a lot of sub-par hashtags, and now at long last it's time to feast our eyes on the good stuff. There's a little bit of everything here, and to me each is a winner in it's own right. Let's go through all of them, in order, and break down why these are the best of the best.
8. #MileHighBasketball comes away with the 8th spot in our rankings. Denver's nickname is the "Mile-High City" because their elevation is exactly one mile above sea level. #MileHighBasketball is even more appropriate now that head coach Michael Malone has decided to deploy a starting lineup that includes two centers. This team has height!
7. Anything less than #BuzzCity from the Hornets would have been a hashtag catastrophe. They didn't disappoint.
6. #MFFL stands for "Mavs Fan For Life." Dallas has a very loyal fanbase and the Mavs are always relevant in the Western Conference, so their fans always have something to be proud of.
5. In case you missed it last season, here is the link to the Cavs' hype video, "Brick by Brick, Defend the Land." #DefendTheLand is just what LeBron and company did at home against the Warriors in the Finals last season, and this hashtag is even more appropriate this year as Cleveland begins its title defense.
4. #RipCity makes our top tier if nothing else for the story behind the name. Rip City was born during a Lakers-Blazers game after Blazers guard Jim Barnett made an improbable long-distance shot to keep the game alive. Portland play-by-play announcer Bill Schonely famously yelled "Rip City! All Right!" Schonely later admitted to having no idea why he said "Rip City," but now it's synonymous with the Trailblazers and is even an official hashtag!
3. #GrindCity snags a top three spot in our rankings because it just sounds so cool. If you've been watching the Grizzlies for a while you know that they are famous for their "grit and grind" approach to basketball. A Zach Randolph emoji is the only improvement I can possibly think of.
2. #WeTheNorth takes second place due to a fantastic dinosaur emoji and a Game of Thrones Reference. The Raptors have embraced the role of outsiders as the only Canadian team in the NBA, and #WeTheNorth is part of a greater movement to encourage pride in Toronto basketball.
1. #DubNation stands alone as the undisputed champion. It meets all the criteria for a great hashtag: it's short, relevant (Dub is short for the letter W) and unifying. What's more, it comes with by far the best emoji: a yellow hand with the Golden State team logo on the palm, holding up three fingers, signifying a three-pointer.  What more could we ask for?
Now stop reading this, get on Twitter, and start using some hashtags!
More from FanSided
This article originally appeared on