Quin Snyder Gets His Versatile Lineup with Hayward Return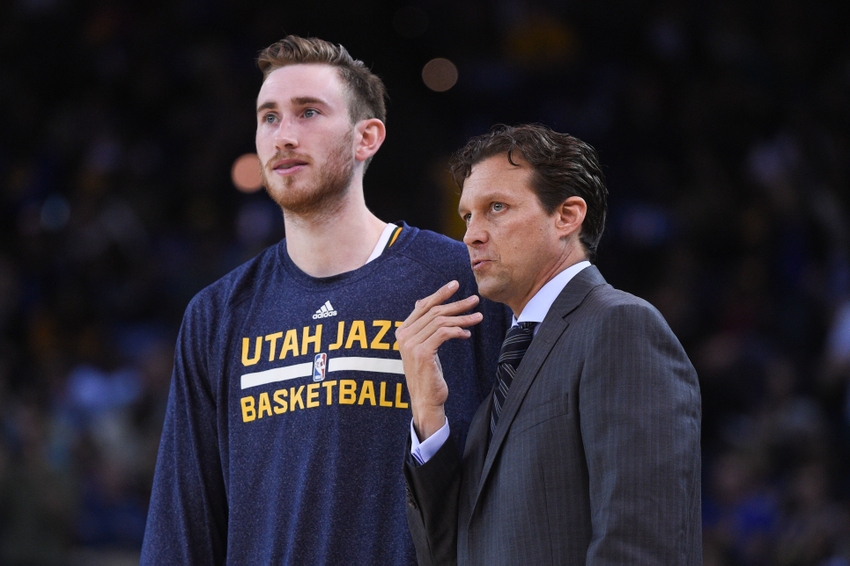 After dealing with injuries to Alec Burks, Derrick Favors and Gordon Hayward, Quin Snyder is finally able to start to experimenting with the versatile lineups that can make this Utah Jazz team so potent.
FINALLY! After thousand of words spent discussing what this new Utah Jazz lineup would look like together, Gordon Hayward has returned. It wasn't the most efficient outing for him, as he began the game shaking the rust off of his jump shot. Nevertheless, he scored 28 points and helped the Jazz get a win against the New York Knicks.
After the win, Hayward was asked about his rehab —
"I wanted to keep my legs — a lot of it was for my legs, my footwork, I wanted to not be winded and not be on a minutes restriction when I came back. And my legs and my wind were great tonight. So for me I think there's going to be a little timing issues, and a little rhythm thing, but I'll get that back in the next couple of games."
That much showed in his return. While he shot poorly out of the gate, he maintained his aggression and attacked Knicks defense at the rim. 14 free throws turned an average day into a great one. The idea Hayward can attack and get to the line at will is titillating.
Guess how many times Gordon got to the line at least 14 times last year? Four times — that's it. If this is the aggression Hayward can play with all year he will earn every penny of the max deal waiting for him this offseason.
The real benefit to Hayward returning strong is the potential that gets unlocked with the remainder of the roster. As Jazz coach Quin Snyder remarked following the game —
"Anytime you add a player of his caliber, everybody gets to do what they're good at a little easier, So there's a trickle-down effect. I think he gives guys on our team confidence. It allows us to play 'small' with more size and more force. When you play Joe Johnson and Rodney Hood with him, that's a 2/3/4 with decent size for a small team. More than anything, guys look to him, He wants that right now and you can see he's comfortable doing that."
The NBA world has spent the better part of two years discussing how horrible it is to defend the "lineup of death" in Golden State. Small ball is the new movement and last year Utah was one of the odd ducks playing big due to roster construction. That was an advantage against some teams, but when Utah needed to get "small," they didn't have the fire power.
This year, Utah will be able to close out games with a lineup up of George Hill, Rodney Hood, Gordon Hayward, Joe Johnson and Rudy Gobert/Derrick Favors. That would mean Snyder can put a "small" lineup with four perimeter players with 6-foot-8 wingspans and Hill/Hood/Johnson all shooting 43 percent or better from three-point range.
I expect Hayward to shoot around 40 percent from three this year as well, but his mid-range/slashing game has always been his strength.
And for the reserves, they add just as much flexibility when it comes to mixing in with the starters.
| | | |
| --- | --- | --- |
| Starters | Height | Wingspan |
| George Hill | 6'3″ | 6'8″ |
| Rodney Hood | 6'8″ | 6'8″ |
| Gordon Hayward | 6'8″ | 6'8″ |
| | | |
| Reserves |   | |
| Joe Johnson | 6'7″ | 6'9″ |
| Dante Exum | 6'6″ | 6'10" |
| Joe Ingles | 6'8″ | 6'10" |
Favors is clearly not right and hasn't playing at his capability. When he does get his legs under him either he or Gobert will be able to patrol the paint and protect the rim if anyone does break down the wing defenders.
And on offense, well…
More from Purple and Blues
Utah will still be able to play their big lineup that was so successful last year. This flexibility is what makes Utah such a unique team this year. There are so many possibilities and Snyder has so far been unable to tinker.
Tinker away my friend. Tinker away…
This article originally appeared on