Preview: Boston Celtics vs Cleveland Cavaliers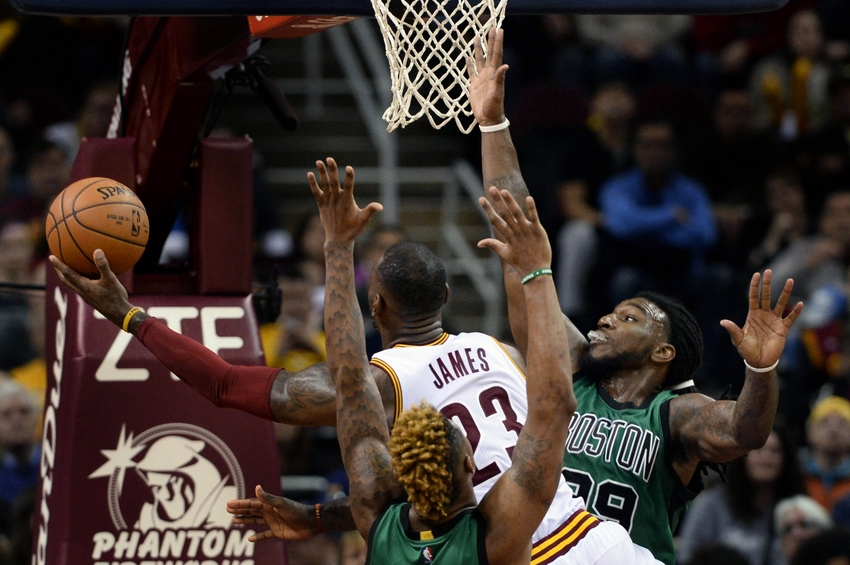 The Boston Celtics get the face the Cleveland Cavaliers without three of their most important players
The Boston Celtics get their biggest test of the season tonight against the Cleveland Cavaliers, but it comes at a time when they have been decimated by injuries. Kelly Olynyk has been out since the beginning of the season, Al Horford suffered a concussion in practice and, most recently, Jae Crowder suffered a sprained ankle. Marcus Smart did return but they will need massive contributions across the board if they are going to stand a chance against the very best the league has to offer.
The biggest problem is that the Celtics lost their only player that stands a chance defending LeBron James. Crowder has proven he can hold his own against the best players in the league, and he would have been the only hope to slow down a James who is just a shade under averaging a triple double for the season.
More from Hardwood Houdini
Smart's versatility will certainly get him on James, but the size difference will be too much to overcome. Smart will be disruptive at time, but James is too smart and he will know exactly how to attack in order to exploit the matchup problem.
There is the off chance that rookie Jaylen Brown could get minutes against James, but that is an impossible task for a rookie. The Celtics could try throwing Amir Johnson or Jonas Jerebko at James, but they will all be overmatched, making it a distinct possibility that James will destroy this game.
The good news is that their back court is at full strength and that will put them in a strong position to slow down Kyrie Irving, who is picking up right where he left off in the Finals last year. Avery Bradley will be his main defender and if they are going to have to accept the fact that James is a force they cannot contend with, it is absolutely vital that they take Irving off his game. The Celtics will have a hard enough time finding a way to counter James' impact, and if Irving is on his game there will be nothing they can do.
Smart will also get some time on Irving and having those multiple options should keep him guessing. The one area the Celtics are at full strength is that back court and their defense has always been their strength, slowing down Irving needs to be the top priority and they can be confident that they can accomplish that.
Kevin Love is another matchup they can feel somewhat comfortable with. The Celtics have a lot more trouble defending big men in the paint and they have the versatile athletes that can defend him on the perimeter. Unfortunately, a depleted front court could leave him with a lot of mis matches. Tyler Zeller would have his hands full and Johnson needs to make sure he can be disruptive.
Offensively, Isaiah Thomas will need to be at his very best, and he should be able to get there. Thomas has increased his scoring and his distributing from a season ago, and anything short of his best game of the season will not be enough to take down the Cavaliers.
With Horford sidelined the Celtics will look to play a lot of small ball, and it gets even smaller without Crowder there to play the four. The Celtics will be using a lot of their three guard lineup and they need to find a way to beat the Cavaliers from beyond the arc.
The Celtics continue to be an inconsistent three point shooting team, but they have been off to a hot start. The Cavaliers have been strong with the seventh best percentage from beyond the arc, but Boston's mark of 40.7 percent is the fourth best in the league. The Celtics need to shoot lights out from three, and that could be enough to generate the kind of offense needed against the Cavaliers.
Of course, that will also be predicated on containing the Cavaliers from distance. This could be a fast paced game with a lot of shots. The good news is that the Celtics are in a much better position to defend on the perimeter. That also means that James could run wild in the paint, but the Celtics need to get their biggest edge shooting the three ball.
The Celtics are coming into this game as the second of back to backs and injuries across the board. With a second unit that has been inconsistent and, at time, terrible, they will need to elevate their game to a level not yet seen this season if they are going to have a chance. Losing Horford and Crowder makes it next to impossible for the Celtics to get an edge with the starters. If there was ever a time for this second unit to finally have a signature game, now would be great.
This article originally appeared on