Prediction: Sacramento Kings' Box Score Game 10 vs Los Angeles Lakers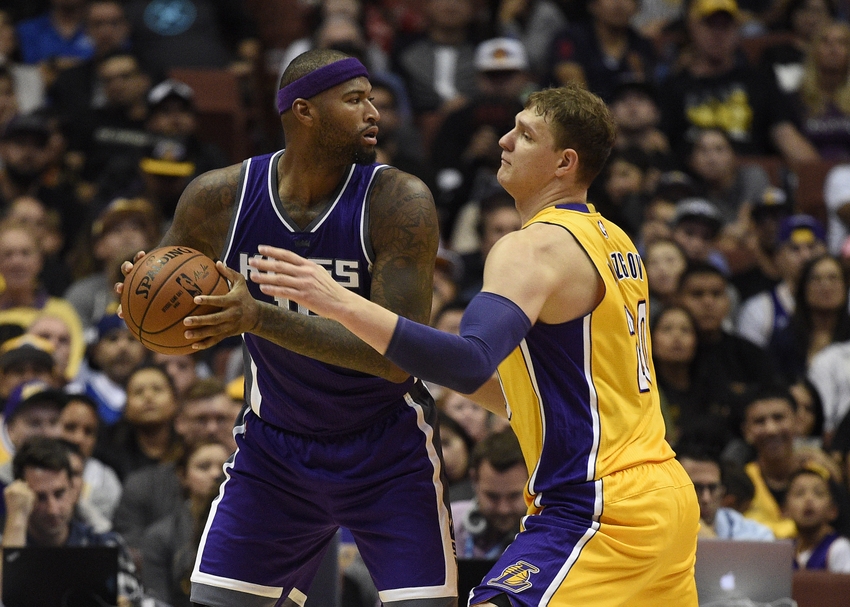 The Sacramento Kings play host to the Los Angeles Lakers on November 10, 2016.  This article predicts the Sacramento Kings' box score for that game.
Tonight, the Sacramento Kings bring to town the Los Angeles Lakers for a division showdown.  These two teams have yet to do battle this regular season but clashed twice this preseason.  They split the preseason series.  On October 13th, the Kings defeated the Lakers in Las Vegas below is a highlight video from that game to refresh your memory.
Without further ado, here is my prediction for the Sacramento Kings' box score tonight against the Los Angeles Lakers.
Box Score Prediction
This box score was a fun one to predict for a plethora of reasons.  I love to deep dive nba.com/stats when putting this column together.  I attempt to get a feel for where the opponent is vulnerable.  The Lakers rate as the 2nd worst NBA team at protecting the rim in this early season.
If you dive slightly deeper into player defensive ratings, D'Angelo Russell is allowing 112.9 points per 100 possessions and fellow starter Nick Young is allowing 113.4.  That doesn't mention starting center Timofey Mozgov who is giving up 111.7 points per 100 possessions.
The struggle is definitely real for the Los Angeles Lakers on the defensive end which allowed me to confidently predict another high score total for the Kings tonight.
DeMarcus Cousins should feast on both Julius Randle and Timofey Mozgov tonight.  I have projected a big 30 point game for the big man and if he can keep the fouls and attitude in check he has a fantastic chance to deliver it.
I projected Darren Collison and Ben McLemore for high scoring outputs as well.  The Lakers do not have much to offer in terms of perimeter defense, in my opinion.  The Kings' guards should be able to score early and often in this match-up.
Summary
There you have it, my projected box score for the Kings' tenth game of the season against the Los Angeles Lakers.  This should be a fun game to watch as the young Lakers play at a fast pace with a ton of energy.  Expect the Kings to come out and try to set the tone early.  I think the Kings have a great chance to walk away victorious tonight, but they need to make the Lakers pay for each and every mistake.
Be sure to check out the game preview and all the great content on A Royal Pain.  Thank you for reading.
This article originally appeared on