Player Grades: New Orleans Pelicans Put on Dominating Performance Against Hawks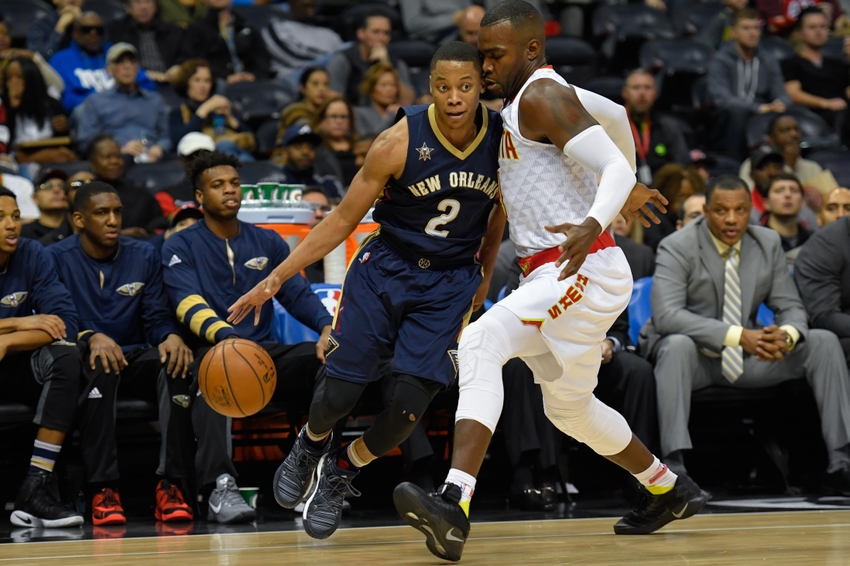 The New Orleans Pelicans took their winning ways onto the road against a good Atlanta Hawks team. New Orleans dominated though to win their third straight.
This "winning" thing is getting kind of fun for the New Orleans Pelicans.
The Pelicans have been playing very well as of late. Winning four of their last six games, the Pelicans seemed to have found their groove.
They proved that again tonight by going on the road and blowing out the Atlanta Hawks 112-94. The Pelicans were in charge from the beginning of the contest.
Hot shooting from Tim Frazier and E'Twaun Moore helped spark a 20-point advantage after the first quarter. The Pelicans ended up leading 34-14 after 12 minutes.
From there, they would lead the rest of the way. The Pelicans dominated this game from the outset and never let up.
The Pelicans continue to top their best games of the season each night out. This one will be hard to top though, since it comes with Anthony Davis missing most of the game.
For awhile, the win looked to be bittersweet. However, Davis would return in the 4th quarter, to ease Pelicans fans heart.
Tim
Frazier
PG,
New Orleans Pelicans
A+
Tim Frazier was fantastic tonight. His production was expected to wane with the return of Jrue Holiday, but he's still contributing every night. As for tonight, he was the catalyst in a big win. Frazier sparked the big run in the first, hitting tough mid-range jump-shots and setting up teammates brilliantly. He brought his hot shooting into the second half, by nailing two big threes to halt any hopes of a Hawks run. Frazier proved again that he belongs in the NBA and his emergence is one of the best stories around the league. Frazier final stat-line was 21 points, 14 assists and five rebounds.
E'twaun
Moore
SG,
New Orleans Pelicans
B+
E'Twaun Moore got it going tonight, after a couple of forgettable outings. He, along with Frazier, sparked the offense in the first quarter to get the big lead. Moore had eight first quarter points and hit two big threes. It was refreshing to see him respond with a big game. He did a good job of creating space behind the arc and knocked them down, when the ball came his way.
Dante
Cunningham
F,
New Orleans Pelicans
B-
Dante Cunningham just finds ways to produce. He has reinvented himself this season. He has gone from a player that was a non-threat from behind the arc, to the Pelicans most consistent three point shooter. Cunningham did a little bit of everything tonight; Nine points (all in the second half), five rebounds and three blocks. His defense tonight was great. He was quick on rotations and did a good job of contesting every shot.
Anthony
Davis
PF/C,
New Orleans Pelicans
INC
Anthony Davis injured himself in the first quarter, when he banged his knee diving for a loose ball in the stands. It nearly shadowed the otherwise great night. Thankfully, he returned in the 4th quarter. That's good news in terms of his availability tomorrow. His alley-oop from Jrue Holiday was ridiculous. Davis also defended Dwight Howard in the post for a few stretches and did an excellent job of denying position. Overall it was refreshing to see the team not collapse after the AD injury and x-rays negatives. So…Yay?
Omer
Asik
C,
New Orleans Pelicans
A
Omer Asik was a pillar tonight. He gave the Hawks superb big-man duo a lot to deal with in the paint. Asik usually came in to guard Dwight Howard and besides one play where he got muscled away, he did a good job. It is no coincidence that Howard was a -25 tonight, while Asik was a +26.
Terrance
Jones
F,
New Orleans Pelicans
B+
Terrence Jones came into this game questionable, so it was not even clear if he was even going to play tonight. Not only did he play, he excelled. Jones got out into transition early in the game and secured two tough and-one's to spark a Pelicans run. Jones flashes elite ability nearly every game. He has been far from perfect, but Jones is a valuable weapon to have off the bench. His play dropped off in the second half, but it didn't matter. The game was already out of hand.
Jrue
Holiday
G,
New Orleans Pelicans
B+
Jrue Holiday had his worst game of the season tonight. He scored 15 points and was a +13 from the field. The difference he has made on both sides of the ball has been phenomenal. Holiday has really matured his game and was still able to control the tempo and offense, despite being guarded by Thabo Sefolasha. Holiday will likely draw each team's best perimeter defender this season, so it will be fun to see how he responds. Tonight, he had a number of lay-ins that left fans in awe. Defensively, he was disrupting passing lanes and using his size masterfully to pester Hawks guards.
Langston
Galloway
New Orleans Pelicans,
G
C
Langston Galloway was unable to follow up on his big game yesterday. Thankfully, his hot shooting was not needed and the game was already a 20-point lead by the time he checked in. Noticeably, Galloway's minutes decreased greatly and that is something to expect to keep up, as Holiday plays more. Still, Galloway's ability to get hot is a good quality to have off the bench.
Anthony
Brown
G/F,
New Orleans Pelicans
INC
Anthony Brown made his Pelicans debut and flashed some nice defensive potential, garnering a block on a Bazemore layup. He also had some good contest, but other than that, he faded into the background.
Buddy
Hield
G,
New Orleans Pelicans
INC
Buddy Hield played only eight minutes and failed to do much of anything. His defensive was terrible in his short time in, as he got blown by twice.
FINAL THOUGHTS: 
Winners of three in a row, the New Orleans Pelicans have seemed to turn a corner. The return of Jrue Holiday has rejuvenated this team and it's fanbase.
The next test will be tomorrow against the Minnesota Timberwolves. Tip is scheduled for 8:30 PM CST.
More from Pelican Debrief
This article originally appeared on