Player Grades: New Orleans Pelicans lose a close one in Portland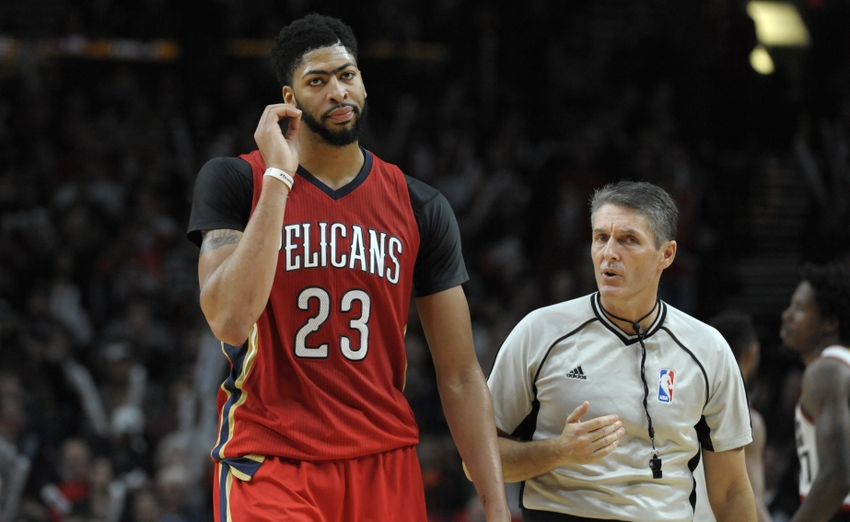 Luck finally caught up to the New Orleans Pelicans on Friday night, as poor rebounding and shooting was enough to decide a closely-contested loss to the Portland Trailblazers.
The New Orleans Pelicans five-game winning streak came to an end tonight. The Pelicans had lost 10 straight in Portland coming into tonight. Their longtime misfortune in Portland continued, as they fell to the Portland Trailblazers. The final scoreline can be misleading though, the Pelicans had their chances and let them slip. New Orleans allowed 12 offensive rebounds and missed 10 free throws tonight. Those two statistics showcase where the Pelicans fell short in a game where both teams shot 47 percent and the Pelicans actually made a higher percentage of three point shots. New Orleans was dominated inside, and it reflected on the scoreboard. Tonight was a missed opportunity, but it wasn't a totally discouraging loss. New Orleans will look to bounce back Sunday against Dallas.
104

119
Tim
Frazier
PG ,
New Orleans Pelicans
D
Tim Frazier admitted that he has these Portland TrailBlazers games circled on the calendar. But unlike a week ago when these teams met in New Orleans, Lillard had the upper hand. Frazier looked out of sorts all night. There was noticeable indecision all night. A frequent example of this is when Frazier would get Damian Lillard out of position defensively and instead of taking an easy floater, hesitate and miss or make a mistake, like traveling. Defensively, Frazier was being run through screens all night and was helpless against dribble penetration. Frazier getting beat so easy on the perimeter allowed the Blazer guards to penetrate and find open shooters all night. This was his worst performance of the year.
E'Twaun
Moore
SG ,
New Orleans Pelicans
B
E'Twaun Moore continues to excel on both ends for the New Orleans Pelicans. Moore got the Pelicans going early, with 6 first quarter points. Moore would finish with 15 points on only 11 shots. He nailed all of his three point attempts. When Moore can find the time to get his feet set, he is a very good spot up shooter. Moore is much more than just an offensive option though. His strong build and good anticipation bothered the excellent Blazers backcourt duo all night. Moore is proving to be a very good two-way player, and looks to be someone who fits seamlessly next to Jrue Holiday.
Solomon
Hill
F,
New Orleans Pelicans
C-
Solomon Hill got the starting nod tonight, filling in for the injured Dante Cunningham. Hill's play tonight did not ease concerns of his ability to be a solid starting small forward in Cunningham's absence. Don't get me wrong, he didn't play horribly badly, but he had a number of instances where he disappeared. On the bright side, Hill knocked down his only three-point attempt and was fairly efficient on his minimal other shot attempts. The issue though is the lack of tries; Hill has to be aggressive on offense and force opponents to at least respect him as a threat. Defensively, he was sound as usual. He also needs to help more on the glass, but he's far from the main culprit.
Anthony
Davis
PF/C,
New Orleans Pelicans
A+
Another game, another dominant Anthony Davis performance. Craziest thing is that his 31 point, 13 rebound, 5 block outing felt quiet. Nuts. Early in the game, it actually appeared AD was off. He wasn't as aggressive as we've become accustomed to seeing, but he became more involved in the second quarter. Davis would dominate the second half, taking advantage of Mason Plumlee and Meyers Leonard. Davis did struggle from the free throw line tonight (by his standards), missing 4 free throws, a problem that plagued the whole team tonight. Davis putting up absurd stat-lines has become a common theme, but don't let that fool you into forgetting how dominant he has been on a game to game basis. To make things even scarier? Anthony Davis nailed two three-pointers tonight. He has been nailing threes at a more efficient rate as of late, so look out.
Omer
Asik
C,
New Orleans Pelicans
C
Omer Asik struggled against the size and speed of Portland. Portland blitzed the Pelicans in the half-court, forcing Asik to help or switch. The result was a number of open shots and second chances with Asik pulled away from the rim. A lot of that started with poor perimeter defense, but Asik struggled on the glass tonight, a rarity from him this year. The Pelicans small lineup didn't fare much better, so its tough to pin the defensive struggles on him. Not a terrible game from him, but certainly not a great one. Asik also may officially have hands. He caught a tough pass from E'Twaun Moore in traffic and laid it up softly.
Jrue
Holiday
G,
New Orleans Pelicans
C
Tonight was the worst game by Jrue Holiday since his return to the team. His finishing and decision making were noticeably off. In the 4th quarter, there were a number of shots that Holiday typically converts but missed. He had a few bad misses at the rim, and they sealed the Pelicans fate at the end of the game. Jrue also wasn't able to find many teammates to pass to. The ball would stick in his hands quite a bit, which led to some costly turnovers. Holiday still flashed his usual moments of brilliance, but two fourth-quarter free throw misses and a missed bunny at the rim summed up his night. Just unable to execute, but don't expect this to be the case often.
Terrence Jones was bad tonight. He was completely overwhelmed inside on both ends by the size of Portland's bigs. Jones found it tough to find any space inside as the Portland bigs disregarded him on the perimeter. The results were some comically bad plays. Defensively, Terrence Jones was a big culprit of the offensive rebounds given up. Jones would leave off his man to try and block a shot, which would leave his guy in position for an offensive rebound. Today was one of the games that highlight the inconstencies that have plagued Jones throughout his career.
Langston
Galloway
G,
New Orleans Pelicans
C+
Langston Galloway didn't attempt a shot until the 4th quarter of the game. That's odd considering he has been far from hesitant to pull the trigger all season. However, he did hit his only three-point attempt to continue his hot shooting. Galloway also gave the Blazers guards fits with his energy on defense. When Galloway was playing next to Holiday or Moore, the switching was beautiful. That's where Galloway can make an impact once his shooting inevitably cools down.
Buddy
Hield
G ,
New Orleans Pelicans
C
Buddy Hield played more minutes against Portland and showed and improvement. Although almost anything would have been improvement, but he came in and played a role without being asked to do to much. He hit one three-pointer and took advantage of poor defense to get a blow-by layup. For now this is how Buddy will have to play. He needs to accept a role and let the offense come to him. That should ease the pressure a bit, until he becomes comfortable in the NBA. Overall though this was a good game for him. Buddy got decent minutes, and played not horribly.
Anthony
Brown
G/F,
New Orleans Pelicans
INC
Anthony Brown played a bit in the 4th quarter to help spark a run. He didn't make a shot, missing his only attempt but finished with the the highest +/- of any Pelican, so yay?
More from Pelican Debrief
This article originally appeared on