Phoenix Suns: No Cause For Alarm In Devin Booker's Slow Start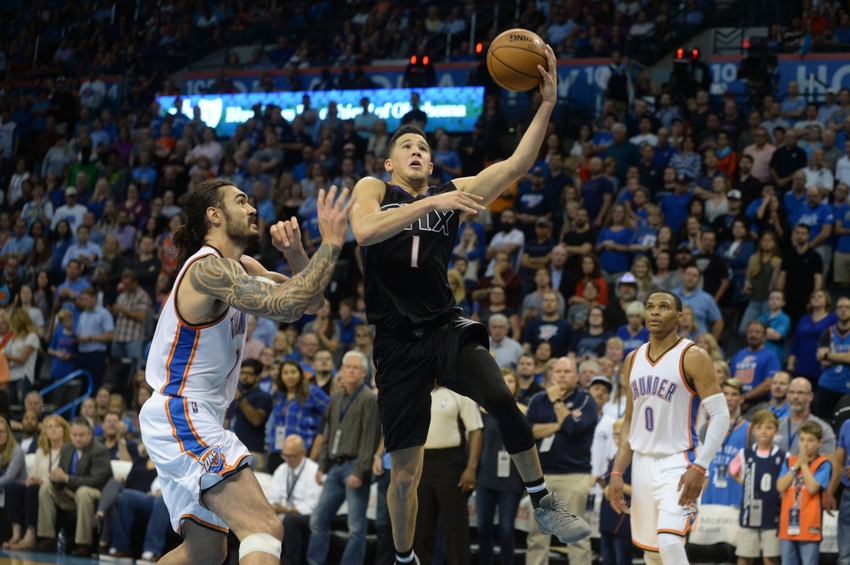 Phoenix Suns phenom Devin Booker has struggled early in the 2016-17 NBA season, but here's why it's too soon to be worrying about a sophomore slump.
The Phoenix Suns are off to an 0-4 start, but they're pretty much living up to expectations with such a young roster coming off a 23-win season. What has felt a little underwhelming during the exceedingly small sample size, however, has been the play of second-year shooting guard Devin Booker.
Dubbed as the new cornerstone of the franchise, the newly turned 20-year-old Booker has averaged 15.3 points, 2.7 rebounds and 2.0 assists per game so far in 2016-17 — decent enough numbers for any second-year player.
Unfortunately, those numbers have come on 19-of-49 shooting from the field (38.8 percent), 3-of-15 shooting from deep (20 percent) and 5-of-10 shooting from the foul line. He's pressed the issue a bit more than we saw last year and he's committed seven turnovers in three games as well.
In the season opener against the Sacramento Kings, most of Booker's production came near the tail-end of the game, when the result had already been decided. He was unable to stem the early tide when the Kings went on their run, and was quiet for most of the first three quarters.
Against the Oklahoma City Thunder Friday night, Booker was pressing on the offensive end. He finished the game 8-for-25 from the field (32 percent) and missed six of his eight three-pointers. His struggles were a big part of the reason Phoenix was unable to sustain its early lead as the game wore on.
Booker reached his lowest point of the week with a seven-point, 3-for-12 outing against the Golden State Warriors on Sunday. In a winnable home game against a Dubs team still trying to find its chemistry and rhythm, Booker's struggles fueled the Suns' inability to seize momentum and take control of the contest.
However, anyone worried about a sophomore slump should definitely pump the brakes, and not just because three games is a microscopic sample size.
For starters, while Booker has largely underwhelmed through his first three games, he's still managed to present plenty of reasons for optimism. Though is best game came in a blowout, Booker tallied 18 points on an efficient 8-of-12 shooting in the season opener while mostly coasting.
Booker's three-point shot hasn't been falling, but there isn't anything wrong with his mechanics; it's still one fluid motion, but the shots just haven't been going down. Quite a few of Booker's missed threes have lipped in and out, and even though his three-point efficiency dipped to 30.2 percent in 51 games as a starter last year, this 20-year-old's stroke is too pure to be a cause for concern just yet.
Speaking of which, there's another, blatantly obvious reason to not worry about Booker's uninspired start to the 2016-17 campaign: He's still 20 freaking years old. To this point, everything he's accomplished should be celebrated, while everything he needs to work on comes with the understanding that he has plenty of time to do so.
Devin Booker turns 20 today. He's scored 1,087 points, sixth most in NBA history for a teenager. The other 5: Dwight, KD, Melo, Kobe, LeBron

— Gerald Bourguet (@GeraldBourguet) October 30, 2016
There's also an important tidbit to remember that was revealed just before tipoff against the Warriors on Sunday: Booker isn't 100 percent.
Though he was listed as active and played 28 minutes against the Dubs, Booker has been dealing with a great right toe sprain on and off over the past few weeks. Booker said he first felt the injury about two weeks ago and that it went away for awhile before returning in the OKC game.
"He's been playing through the injury," head coach Earl Watson said after the Warriors loss. "Devin's tough. If you watch him he's been limping around a lot. He has no excuses for anything. He goes out there and plays. As his coach, I understand how much we need him to be efficient, and he has to be healthy to be efficient."
It's an injury Booker has never dealt with before, and though he and Watson made it sound like he would continue to play through it, Booker went to the locker room early in Sunday's game to have it looked at before returning.
"Yeah, in the morning I didn't know if I was going to be able to play," Booker said. "It was tough to walk but we have the best training staff in the NBA. I went through a lot of treatment so it felt a lot better once it got near game time, but I was still restricted in some movements."
Coming off that disappointing seven-point performance, Booker missed Phoenix's Monday night game against the Los Angeles Clippers on the second night of a back-to-back.
Watson talked about trying to get his star shooting guard better looks rather than just feeding him the ball and letting him go iso, but most of the focus was simply on getting him and P.J. Tucker healthy again.
Booker, on the other hand, said the toe wasn't the problem.
"I can't make no excuses, I'm just missing shots," he said. "I'm gonna catch my rhythm. It's a long season, it's early in the year. I'm kind of anxious on a lot of my shots but I'm gonna let the game come to me and I'll be fine."
With all the focus on Booker as the new franchise cornerstone, it's really been T.J. Warren who's stolen the spotlight early on.
Averaging 21.3 points, 6.0 rebounds and 1.8 steals per game on .507/.300/.824 shooting splits, Warren's career-high 30 points kept Phoenix in the game against the Thunder and his 26 points led the Suns against the Warriors.
"He's a great scorer," Booker said. "I don't think a lot of people in the NBA know that, but they're figuring it out really quick. If I can get on the same page with him and we can both get it going, I think we're gonna be really dangerous."
On the plus side, Booker has come to life late in games against quality competition. Against OKC, he scored an easy midrange bucket in the post to tie the game at 102 with 1:10 left in the fourth quarter — despite having been 5-for-20 from the field before that shot.
Booker scored eight straight points for the Suns during a crucial fourth quarter/overtime stretch, including the game-tying bucket and Phoenix's first six points in the extra period. He provided the Suns with a four-point cushion and scored six of the team's eight points in OT.
With the Suns trailing by one, Booker's layup attempt was blocked (with quite a bit of contact) by Andre Roberson with three seconds left.
The Thunder extended the lead to three at the foul line, and Booker got one last look at a game-tying three at the buzzer, but it hit the back of the iron.
So far, Booker's struggles have mirrored where the Suns are as a team: Plenty of young, tantalizing talent, but falling just short against superior competition.
"Our young guys, Devin Booker last game had a chance to win the game, T.J. Warren had a chance to cut us to two," Watson said after the Warriors game. "These guys have to learn how to win games, and they need an opportunity to fail in order to be great. So we love the position that we're in, we have a chance every night, and eventually those Ls will turn into Ws."
This article originally appeared on