Philadelphia 76ers Rumors: Joel Embiid May Play Back to Backs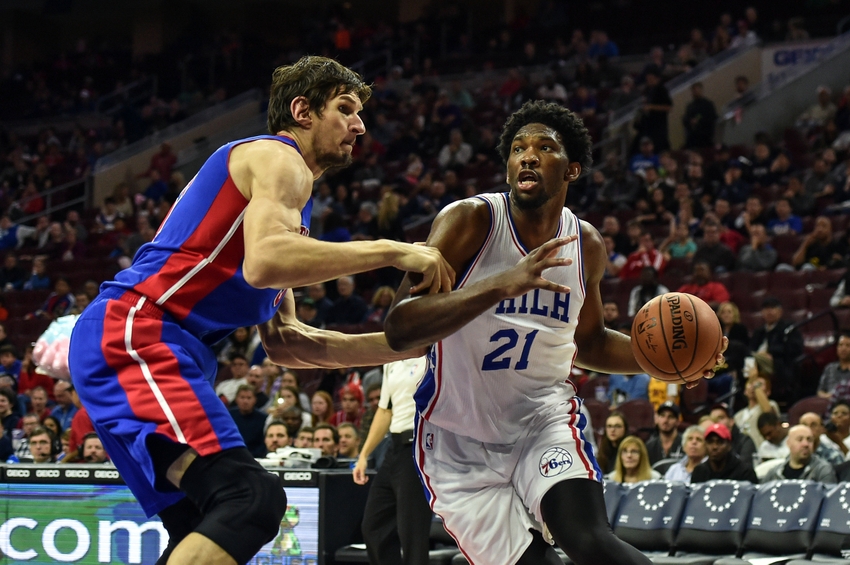 It was ruled out before, but recent comments from Brett Brown indicate that Philadelphia 76ers center Joel Embiid may play some back-to-backs this year.
Early on leading up to the debut season of Joel Embiid, the Philadelphia 76ers shut down the idea of the big man taking on too much of a workload. Coming off of two full seasons where he sat out due to injury, that wasn't a huge surprise. He had a past of injuries, and the Sixers needed to do all they could to avoid that in his rookie season, which is finally here.
Bryan Colangelo and Brett Brown both shut down the idea of Joel Embiid playing in any back-to-back game nights this upcoming season. The team taking a calculated approach to his playing time indicated that we would really see them be as careful as they said they would throughout the season.
But as games went on in the preseason, the Sixers gave Embiid more and more minutes. The things he did with those minutes were impressive, and he was showing little to no signs of injuries as he was on the court.
The Sixers were clearly impressed, and following the Sixers' final preseason game on their home court, Brett Brown revealed that there's a chance Embiid might play on back-to-back nights now.
Brett Brown looking ahead to regular season for Joel Embiid: "It's progressed from "no back-to-backs" to "we're looking at it."

— charlie widdoes (@charliewiddoes) October 15, 2016
That's right, we might see Embiid have less restrictions this season than we initially thought. This is truly exciting.
It's exciting not only because it means we get to see more Embiid, but more so that the team is so confident in what Embiid can do and that he won't re-injure his foot moving forward. The team is in close contact with the medical staff, so it's clear that we're not just seeing good development on the floor, there's good development all over.
We also should support the team being careful with him as the season goes on. Embiid has shown us everything we could have asked for and more, but we must remember that he is coming off of two years of being out of basketball due to injury, and making sure he stays healthy for a long period of time now is important.
Whatever the case is in the long run as far as Embiid and back-to-backs, we should be pleased with what we've seen from Embiid so far.
More from The Sixer Sense
This article originally appeared on