Orlando Magic needs Serge Ibaka to play like every team is Oklahoma City Thunder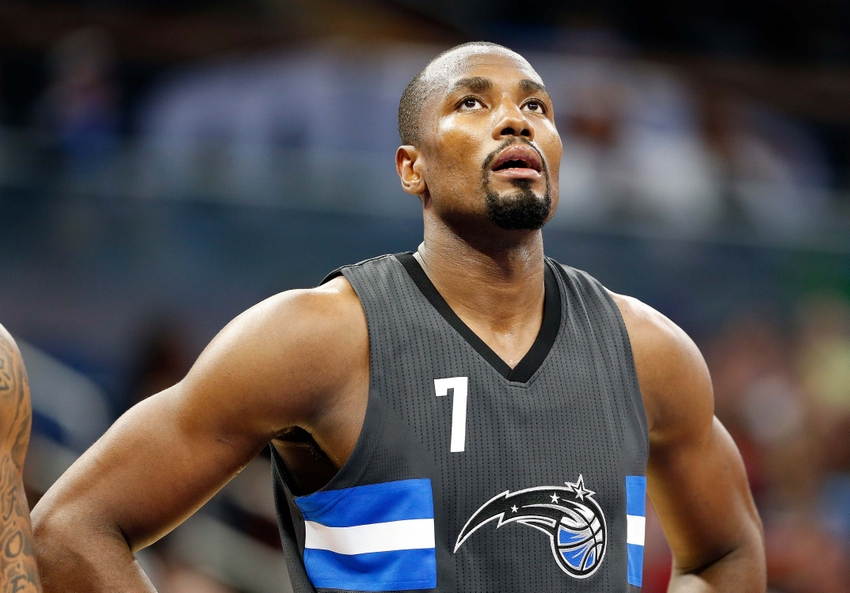 The Orlando Magic need Serge Ibaka to produce like he did against his former Oklahoma City Thunder team to be successful.
At the beginning of the season, the Orlando Magic had high hopes to make the postseason. Those hopes have turned into doubt as the Magic dropped their seventh loss of this early season.
One bright spot for the Magic is Serge Ibaka, who dropped 31 points, nine rebounds and four blocks against the Oklahoma City Thunder on Sunday night. It was an outlier career game for Ibaka, but showed everything the Magic believed he could be — active and terrorizing defensively in the paint with a sweet jumper and heady plays around the basket on offense.
He does not need to score 31 points every night, but the Magic may need Ibaka to produce on this level if they still plan on making the playoffs in 2017.
Now of course that does not mean Ibaka will have to average more than 30 points per game. But it does mean he needs to step up offensively and be consistent for a team lacking offensive prowess.
That may be a tall task to ask from a player who never has had a lot of plays drawn up for him, but it is a task Ibaka has embraced.  He set the bar pretty high while laying out the blueprint against his former teammates in the Oklahoma City Thunder.
The performance Sunday proved Ibaka can put up descent numbers if fed the ball consistently, registering a career-high 31 points. He was engaged and active and the Magic turned to him specifically, especially on that final play.
Ibaka said this game meant a lot to him and it should have. But every game should mean a lot with a team this anemic offensively.
Not only did Ibaka put up elite numbers from the power forward position, he also lit a match in some of his teammate specifically Elfrid Payton and Evan Fournier.
Elfrid Payton seemed to lead by Ibaka's example during the contest. Payton had more confidence on both sides of the ball during this particular game, and a lot of that was because of the energy Ibaka brought throughout the game. Ibaka's energy was infectious.
Payton finished the game one point shy of his career high, with 23 points, seven rebounds and nine assists. Fournier also finished with 21 points.
Fournier and Payton have been a bright spots for the Magic as they have slightly improved their scoring averages from last year. They have needed that boost with Nikola Vucevic, last year's scoring leader, seeing his numbers drop.
Ibaka has had to pick up that slack and has sometimes struggled. Sunday's game showed that it can work.
The younger players need to see a veteran take charge, thus the reason why the organization brought six veterans to the squad in the offseason.
But when it comes to Ibaka, who is clearly the key veteran and the best player on this young team, this is a situation he dreamed about as a member of the Oklahoma City Thunder. Orlando relies upon Ibaka similarly to how the Thunder relied upon Kevin Durant or Russell Westbrook to make contributions on both sides of the ball.
The Magic do not need Ibaka to be a high-usage player (his usage rate has crept to better than 20 percent for the first time in his career). But they need him to be key to their offense and especially their defense.
Although he may have dreamt about being a focal point on offense in Orlando, having seven losses before December has to be a nightmare for the unicorn-type player who was traded from a championship contender.
Ibaka had to know what he was getting himself into as he was traded to a team that has not had a playoff berth in four years. He might have thought Nikola Vucevic would be more of a dominant force on the offensive end with his arrival with an additional year to mature, but that has not transpired yet.
So the Magic need more from Ibaka on a night to-night basis, especially on the offensive end. He is currently averaging 13.5 points per game and shooting a career-worst 45.8 percent shooting.
Orlando Magic Grades: Indiana Pacers 88, Orlando Magic 69
Defensively, Ibaka has had his struggles too. He is posting a -1.8 defensive box plus minus and 1.3 blocks per game, both career lows. He had four blocks in the first quarter against the Thunder and looked more active and engaged defending the basket.
Orlando needs this Ibaka too. The team needs the Ibaka that terrorizes on defense but also scores on offense at a higher rate.
Monday the Magic only scored 69 points against the Indiana Pacers. That is only 38 more points than Ibaka's career high from Sunday. Ibaka only scored six points in 28 minutes of run time, making just 3 of his 13 shots. Vucevic only scored two points and Jeff Green only scored thre. That is only 11 points from three starters whom the Magic are expecting to put up decent numbers.
It was a symbol of the team's overall offensive struggles.
This is just one of the reasons why the Magic need Ibaka to step up offensively and be consistent throughout the year like he was against the Thunder. Going from his stellar shooting night Sunday to an abysmal one Monday is part of the growth and consistency Ibaka needs to gain as a key player offensively.
When the Magic acquired Ibaka on Draft Night, the Magic figured they were trading for a top-10 power forward.  On Sunday he played like a top-5 power forward.
And this is the Ibaka the Magic need on both ends to succeed.
More from Orlando Magic Daily
This article originally appeared on