Orlando Magic Grades: Orlando Magic 95, Dallas Mavericks 87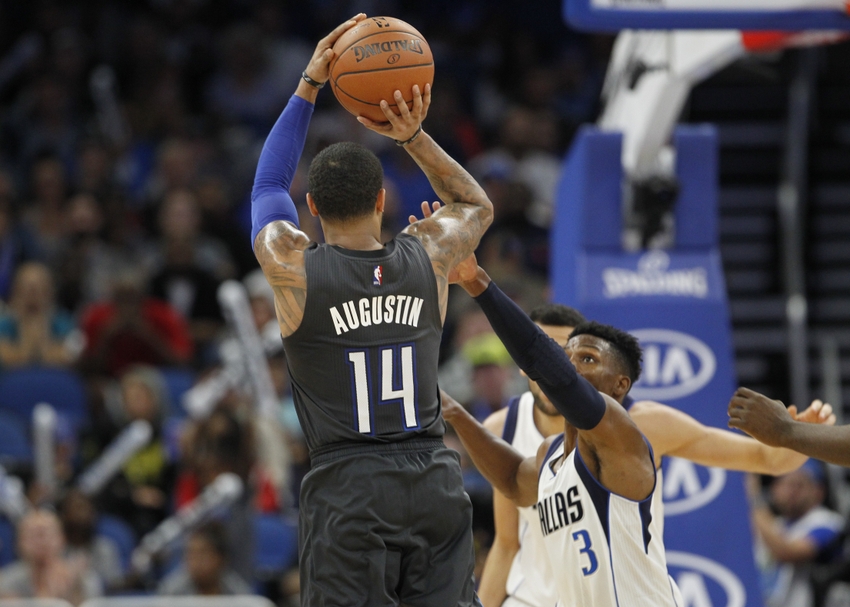 The Orlando Magic again struggled to score, but their defense and their offense stepped up in a big way in the fourth quarter, scoring a second straight win.
VS.
| | | | | | |
| --- | --- | --- | --- | --- | --- |
| | 1 | 2 | 3 | 4 | T |
| Mavericks | 16 | 29 | 24 | 18 | 87 |
| Magic | 17 | 27 | 22 | 29 | 95 |
It was another ugly, grit-and-grind game from the Orlando Magic when they faced the injury-riddled Dallas Mavericks at Amway Center on Saturday. The Magic's defense clicked in as they found a way to sneak in a 95-87 win on Saturday night.
The Magic's offense has struggled so far this season, but the Magic's bench once again came to rescue tonight as D.J. Augustin and Bismack Biyombo were a huge part of Magic's win tonight.
Augustin scored 10 of his 18 points in the final quarter and dished out four of his six assists. He hit two 3-pointers midway through the quarter that gave the Magic the lead for good and found Jeff Green for a monster slam over Andrew Bogut to give the Magic an insurmountable eight-point lead.
Augustin found the spark of offensive aggression the Magic were missing for much of the game.
"[Vogel] told me to shoot the ball when I'm open and just be aggressive," Augustin said. "He needs me to do that every night. That's what he told me. Having your coach's confidence like that is a great feeling."
Augustin and others rewarded that confidence late in the game.
Evan Fournier once again knocked down a key 3-pointer late in the game to give the Magic some cushion against the relentless Mavericks team. Fournier struggled throughout the night (3-for-13 shooting). But he delivered with a big shot when it mattered most, making it a seven-point lead with about two minutes to play.
The Mavericks were without Deron Williams, J.J. Barea, Devin Harris and the future Hall of Famer Dirk Nowitzki. Those key players absences were a big part to the Magic's win.
The Magic's offense still looked very stagnant. But their defense continued to shine bright, just like it has the last five games.
"A win is a win in this league" said Augustin said to FOX Sports Florida's Dante Marchitelli after the game. "My job is to bring energy from the bench and make sure I do whatever it takes to help us win."
The Orlando Magic started the game very rusty, as they only scored 17 points in the first quarter. The Mavericks are one of the worst teams in the league at getting to the free throw line, however, tonight they were aggressive as they shot 27 free throws tonight.
The Mavericks offense looked lost at times as it could be seen they clearly missed their veteran stars. Their scoring leader tonight was Jonathan Gibson, who scored 26 points on 8-for-16 shooting, including five 3-pointers in his second career game.
Bismack
Biyombo
C,
Orlando Magic
A
Bismack Biyombo had his best game of the season as he scored a season-high 13 points on an efficient 4-for-6 shooting from the field. He tied his season-high with three blocks. He got to the free throw line seven times and knocked down five, another very encouraging sign for the Magic.
Biyombo is known as a defensive specialist. Whatever he contributes to the Magic on the offensive end is a bonus. He rebounded and boxed out Andrew Bogut really well, as Biyombo collected 10 rebounds tonight.
Biyombo's role is very simple, he needs to bring energy off the bench and play great defense. Biyombo was great throughout the night as he recorded three offensive rebounds, giving the Magic a few second opportunities at the offensive end.
It was a great game from Biyombo, and the Magic simply do not pick up the win tonight if it were not for Biyombo's great energy-filled effort on both ends.
Nikola
Vucevic
C,
Orlando Magic
C-
Nikola Vucevic
's offensive woes continued against Dallas, as he shot 5 for 16 from the field. Vucevic is the Magic's best scorer as he has showcased for the last four years. But Vucevic is sort of a one-dimensional player. When his offense is not clicking he likely will not see many minutes.
The only positive sign tonight from Vucevic's game was the 12 rebounds he collected. Vucevic has been a great rebounder so far this season and throughout his career.
Nikola Vucevic has to be better on the offensive end for him to have an impact on the game and receive big minutes. Coach Frank Vogel has not been shy to bench Vucevic after his slow offensive starts the past few games, as his minutes have declined as a result of his poor performance.
His confidence does not seem to be there, but the Magic have to keep trusting him and hope that this slump is in Vucevic's past as soon as possible.
D.J.
Augustin
PG,
Orlando Magic
A
D.J. Augustin did exactly what he is asked to do by Magic coach Frank Vogel on a nightly basis. He is a force on the offensive end, he knocks down 3-pointers, which helps spread the floor for the Magic, and he involves his teammates offensively.
Augustin ended with 18 points on 6-for-11 shooting from the field in 30 minutes. Augustin saw more minutes than he is accustomed to this season (18 minutes per game entering the season). That was due to him catching fire early in the game, and Vogel riding the hot hand from his veteran point guard. Augustin played the final 17.5 minutes of the game and delivered with a big fourth quarter and some timely shots and assists to deliver the win.
Augustin had six assists, which is an encouraging sign to see him involving teammates as opposed to only scoring the ball.
Dallas
Mavericks
2-10,
15th West
B
The Dallas Mavericks put up a great fight. They were undermanned and were playing guys that are not accustomed to seeing big minutes in the league. Players like, Jonathan Gibson and
Seth Curry
stepped up and knocked down big shots, which is an encouraging sign for the Mavericks season onward. But their veteran scorers,
Harrison Barnes
and
Wesley Matthews
, struggled scoring as they combined to shoot 8 for 23 from the field.
The positive sign, even with an injury-riddled start to their season is they entered tonight's game seventh best in opponent's points allowed per game. This is encouraging to see for Mavericks fans, as the defensive habits are there even when they are struggling on offense, where they are ranked 30th in the league entering tonight.
But the bad news for the Mavericks is that they are now 2 for 10 for the regular season so far. Even when their all stars, Dirk Nowitzki, Deron Williams and Devin Harris along with Barea return, they will have a long road ahead of them to get back into the playoff race in a competitive Western Conference.
More from Orlando Magic Daily
This article originally appeared on