OKC Thunder: Player Grades from Monday's Miami Mauling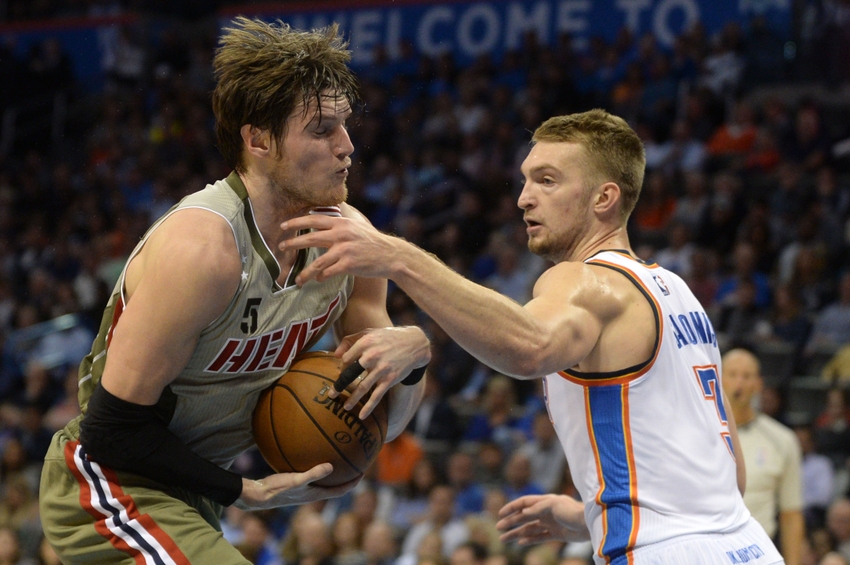 Tonight was a statement game for the OKC Thunder, defeating the Miami Heat 97-85. This game wasn't even that close.
Wow…I think we underestimated the OKC Thunder. Another night, another win. That's 6-1 if you're counting at home.
Tonight was all about Domantas Sabonis. The rookie had his first double-double of his career, posting 15 points and 10 rebounds on the night. But this game was more than just Domas. Let's take a look at who played well and who was only average tonight.
Alex
Abrines
Shooting Guard,
OKC Thunder
B-
Ughhhhhhhhhhhh today could have been the Abrines breakout game. The Spaniard sharpshooter let loose seven threes on the night (he shot 9 going into the game) but was only able to connect on one. Alex came in and scored five points in his first two minutes; he missed his last seven shots. On the bright side he's already showing improvement on the defensive end. Abrines has all the physical tools to be an above-average perimeter defender, it's just a matter of reading his opponent a little quicker. There's an interesting dynamic brewing between Abrines and Sabonis. The rookies can cause problems for opponents because of their shooting ability. Both have high basketball IQ's so more time together will hopefully conjoin the two into one international pick & pop conundrum.
Steven
Adams
Center,
OKC Thunder
A-
Steven Adams is going to average two steals a year at the center position. A center hasn't done that since David Robinson. The guy before him? Hakeem Olajuwon. Adams was a large part of the center combination who basically shut down Hassan Whiteside tonight. His hands are always so active he's bound to tip a few passes a game. The Big Kiwi also added two blocks tonight, including one on Dion Waiters that was eerily similar to pro players blocking little kids at their basketball camps. I'm not kidding. The only thing knocking Adams tonight was the offensive end, but he was also being guarded by a DPOY candidate in Whiteside. What Adams was able to do though was keep Whiteside active all night, ensuring lanes for the rest of his teammates. He finished the night with six points on 3-5 shooting.
Semaj
Christon
Point Guard,
OKC Thunder
C+
Semaj's stat line was decent tonight: 2 points, 6 assists and 4 rebounds in only 21 minutes of play. The rookie was his usual jitterbug self, penetrating through holes in the defense and dishing it to his open teammates. I love Christon's penetration, but sometimes it comes at the cost of a better option. The problem with the second-unit is the offense tends to stagnant if they don't get out in transition. As the 1 it's Christon's job to get them in an offense but Semaj tends to attack. There's a reason OKC only scored 14 minutes in the fourth quarter with Semaj running the show. I do like when Christon plays alongside Russ a lot though. Playing with Russ frees space for Christon to penetrate while also keeping him off the ball most possessions. Remember though, Christon's minutes will be taken by Cameron Payne soon.
Jerami
Grant
Small Forward,
OKC Thunder
B-
Jerami's not going to be on Sportscenter's Top 10 Plays today so that's kind of a bummer. BUT HE DID HIT A THREE AND THAT'S EVEN BETTER NEWS FOR THE THUNDER!! If Grant can be even a formidable corner three point threat it would do wonders for his game and the Thunder. The newest Thunder acquisition recorded four points, a rebound and a block in his fewest minutes since joining the team. Grant hit 1-4 from the field…so how did he get a B-?!?! So maybe I'm a little bias with this kid, but his defense was fantastic again tonight. Even with his slender frame, Grant is able to eat bigger opponents' strength and bounce back to affect a shot at the rim. It's truly remarkable. Once he puts on more weight (he's only 22) Grant is going to be one of the more versatile defenders in the league.
Enes
Kanter
Center,
OKC Thunder
A+
Two straight 20-and-10's and we all remember why Enes Kanter is still on this team. Kanter finished the night with 24 points and 10 rebounds on 10-12 shooting AND a block. Oh and he only played 21 minutes. The thing that I don't understand with Enes is how he can have impeccable footwork on offense and mediocre footwork on the other end. He has made improvements though (see Karl-Anthony Towns block and play on Hassan Whiteside tonight). It's obvious that Kanter is putting the work in, but he still has a lot more work to do before Billy can trust him in crunch time against top-tier teams. IF he can improve quick enough, maybe Enes can take himself off the trading block. It's what we all want anyways.
Joffrey
Lauvergne
Center,
OKC Thunder
B-
I swear Sam Presti is the most under-the-radar genius in the NBA. Lauvergne has come in and do nothing but impress me every time he steps on the court. King Joffrey is very agile for his size; he can guards perimeter players out past the three point line while also being able to handle Hassan Whiteside down low. Joffrey finished with 5 points, 2 rebounds 1 block and a steal in his 16 minutes of play. Sadly for Lauvergne his offensive performance did not match his play on the defensive end. The Frenchman finished 2-9 from the field and only connected on one of his four three balls. Lauvergne has yet to find his stroke this season, but once he does he'll be deadly off the bench.
Victor
Oladipo
Shooting Guard,
OKC Thunder
A
This is the Victor Oladipo we all have been waiting for. Victor only took 9 shots tonight but he scored 17 points, 2 points above his average going into the night. The difference? All nine came within the offense. He hit six of those nine, including one of two from deep and all four from the free throw line. You can see a connection between Oladipo and Russ starting to form. They connected on a half-court alley-oop layup for the second time in as many games; pretty soon those are going to be rim-shattering dunks. Mr. Feathery was oh so smooth on the defensive end as well, holding Dion Waiters to 1-9 shooting in his homecoming. The only tick is a fourth quarter in which Donovan put in Oladipo to get some run in at point guard. As mentioned earlier, OKC only scored 14 points in the quarter. Oladipo finished with two assists and I want to see a couple more from the young guard. Yeah I'm going to be hard on him! I just see the potential for something great.
Andre
Roberson
Small Forward,
OKC Thunder
A-
And the lowkey MVP strikes again. It's the typical Roberson stat line: 5 points, 5 rebounds, 2 assists and 3 steals in 30 minutes. It seems like every game we say the same thing about Roberson and that's because we say the same thing about Roberson every game. He's a top-three perimeter defender, and he shut down a struggling Justice Winslow down as expected. Winslow finished the night with 6 points on 2-13 shooting, in large part to the human octopus. On offense Andre had a nice little euro in transition; he needs to use that more because there aren't many people who can defend his length/athleticism combination.
Domantas
Sabonis
Power Forward,
OKC Thunder
A
It's no mistake that my favorite Young Thug song came on shuffle as I started writing this. Tonight was a beautiful night for Sabonis, just like Webbie is a beautiful song. The rookie finished his first career double-double (15 points and 10 rebounds) with a Thunder rookie record 4 made threes on 7 attempts. Sabonis played really well against natural small forward Luke Babbitt tonight; his only mistake came at the end of the game when Babbitt got Domas on the pump fake. The rookie was so angry at himself I can guarantee you that he never makes that mistake again. On offense Sabonis looked comfortable taking 13 shots: that's big. Sabonis has the skill to average 12-15 a game right now, he just needs the confidence to pull the trigger. The more he plays the better he gets. How did he fall to 11 again?
Kyle
Singler
Small Forward,
OKC Thunder
A+
So you're probably yelling "But Kyle Singler didn't play tonight!!!!" Exactly.
Russell
Westbrook
Point Guard,
OKC Thunder
B
Tonight was the worst game of Russ' season and he's never been happier. Tonight the Thunder proved to themselves that they don't need Russ to put up superstar numbers every night in order to win. Sure Westbrook had a double with 14 points and 11 assists. Sure they outscored Miami with him on the court. A lot of that had to do with the massive amount of attention Erik Spoelstra's gameplan had assigned. Spo wanted the Thunder's role players to beat him tonight and that's what happened. My guy Darian Hutchins at Welcome to Loud City pointed out that Russ has played 27 and 28 minutes in the last two games respectively, both blowout wins. This is good people. Really good.
Next up for the OKC Thunder is a wonderful date with the Toronto Raptors. This will be the THunder's first big test on their homecourt this season. Will they be able to defend the Peake? We'll find out Wednesday at 7 central time.
More from Thunderous Intentions
This article originally appeared on