New York Knicks: Kristaps Porzingis Realizing Value Of Size Advantage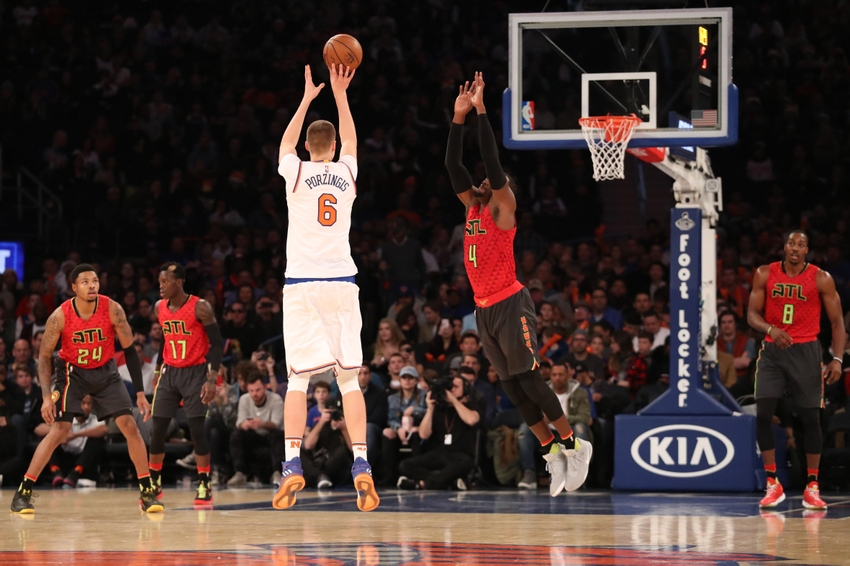 New York Knicks star Kristaps Porzingis holds a size advantage over a vast majority of NBA players. He's beginning to understand the value of that.
---
New York Knicks star Kristaps Porzingis is the very definition of a basketball anomaly. He's a 7'3″ power forward with uncanny coordination, wing-like athleticism, borderline elite proficiency from 3-point range, throwback versatility in the post, and unprecedented defensive potential.
Though he hasn't always put his size advantage to use, Porzingis is beginning to understand how valuable his height and length can be.
Porzingis continued what's been an outstanding string of games by posting 31 points and nine rebounds during the Knicks' 107-103 victory over the Portland Trail Blazers. It was the eighth time this season that Porzingis has scored at least 20 points and his second game above 30.
One post-game quote summarized the No. 1 factor in Porzingis' development into an All-Star level player.
It's as simple that.
Porzingis is a 7'3″ Goliath with a near 7'5″ wingspan and a release point that no player can consistently reach. Even if his shot occasionally gets blocked, it's rare that he'll have reason to worry about that possibility, let alone leave his feet.
Backup point guard and primary facilitator Brandon Jennings is challenging Porzingis to embrace his potential for dominance.
For those who can't see the video, Jennings' interview included the following tidbit:
"KP's 7'3″. He can go for 30 every night. I told him before the game, I said, 'I wanna see 30 points tonight.' He said, 'All right.'"
Porzingis finished with 31.
Since being held to three points by the Houston Rockets in the fourth game of the 2016-17 regular season, Porzingis has been on an absolute tear. Over the past 10 games, he's averaged 23.6 points on an efficient slash line of .526/.393/.821.
Though some may argue to the contrary, that combination of scoring volume and efficiency is entirely sustainable for a player with his size and fundamental polish.
Brandon Jennings, as well as New York Knicks fans around the world, are encouraging Kristaps Porzingis to embrace his size and realize how simple the game can be.
It seems as though Porzingis is beginning to understand it.
This article originally appeared on