New York Knicks: Jeff Hornacek Happy With Phil Jackson's Input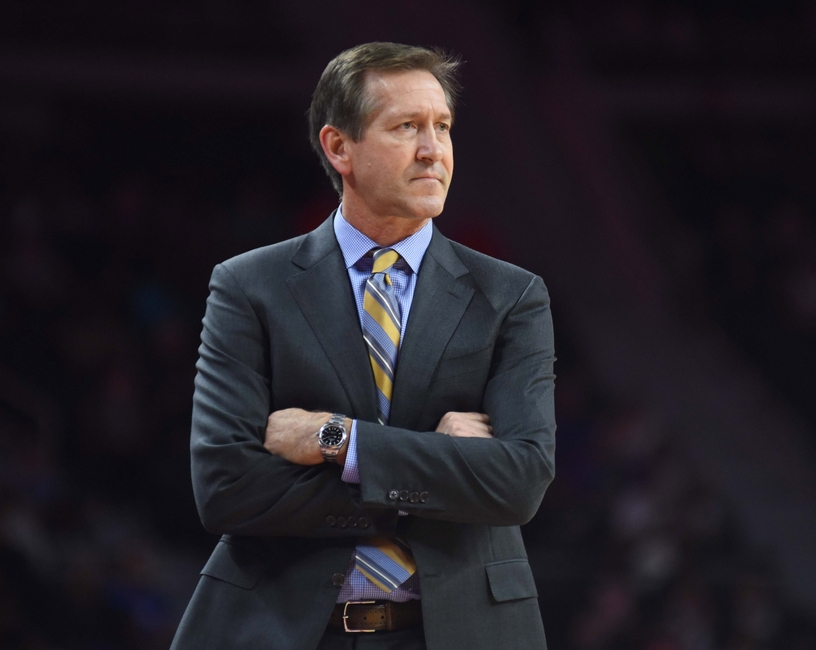 New York Knicks head coach Jeff Hornacek isn't taking the opportunity to learn from 11-time NBA champion Phil Jackson for granted.
---
A recent report created a sense of panic that ultimately birthed a dark cloud hanging above the heads of New York Knicks fans. The report stated that team president Phil Jackson is unhappy with the limited use of the triangle offense.
Knicks head coach Jeff Hornacek is embracing everything that Jackson has to say—and ignoring what he hasn't said directly to him.
It's possible that Jackson truly is unhappy, but he hasn't made that clear to Hornacek. That's hardly surprising when one considers the fact the Knicks have been running a Top 15 offense with a new-look roster that's still developing chemistry.
According to Ian Begley of ESPN New York, coach Hornacek isn't worried about the rumors; he's just happy to have Jackson's input.
Perhaps the rumors of Jackson being unhappy with the Knicks' offense were unfounded.
Regardless of how Jackson may feel about the offense, it's clear that Hornacek isn't taking this opportunity for granted. Some may have soured on Jackson, but he won 11 NBA championships as a head coach.
Talk about the talent all you want, but coaches don't luck into 11—not one or two, or even five or six, but 11—NBA championships.
The proof is in the fact that no other coach has won 11 championships—or in the fact that no other coach has won a single title with Kobe Bryant or Michael Jordan on their team.
Regardless of how you feel about Jackson, the key to a successful team is, as he would call it, sympatico. There are exceptions—Jackson and Jerry Krause—but having a coach and front office executive on the same page eliminates the potential for an unnecessary distraction.
Hornacek is valuing Jackson's advice and running the team how he personally sees fit.
At least for the time being, the rumors appear to be much ado about nothing.
This article originally appeared on