New York Knicks: Derrick Rose, Kristaps Porzingis Developing Chemistry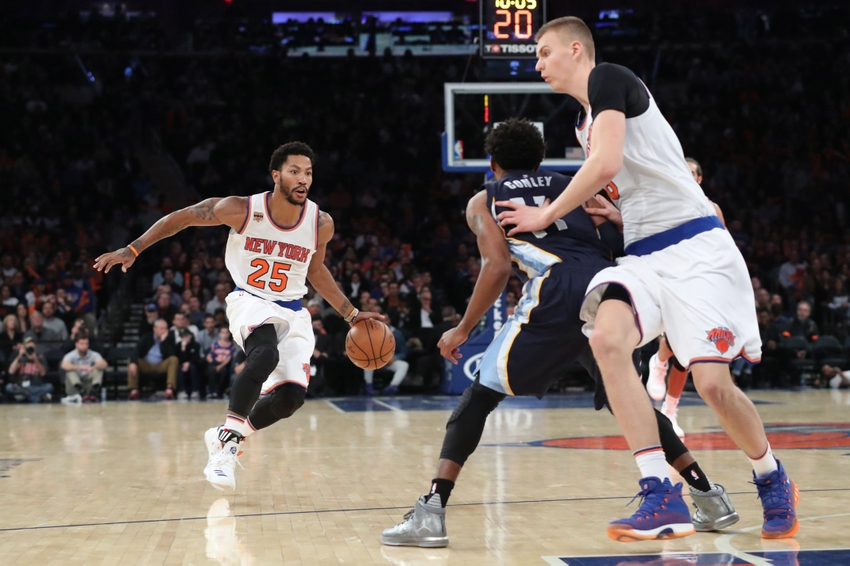 The New York Knicks are hoping Derrick Rose and Kristaps Porzingis can lead the offense. Chemistry has been an issue, but Jeff Hornacek isn't worried.
---
The New York Knicks have the potential to run one of the most dynamic pick and roll games in the NBA. Derrick Rose is as quick as he's ever been and Kristaps Porzingis is developing into an all-around offensive star.
Though instant results are expected in New York City, it's hardly surprising that Rose and Porzingis have run into early chemistry issues.
Porzingis is in his second NBA season after being selected by the Knicks at No. 4 in the 2015 NBA Draft. Rose is in his eighth season and ninth year in the Association, having spent his first seven seasons and eight years with the Chicago Bulls.
According to Ian Begley of ESPN New York, head coach Jeff Hornacek isn't worried about whether or not Porzingis and Rose will be able to develop chemistry.
"They're getting to learn each other and where their games are," Hornacek said. "So Derrick, he'll get the chemistry with KP. Right now, I think he's trying to figure out all of these plays, all of these new teammates, he's just new to it. Hopefully not too far into the season, these guys are familiar [with each other]."
When two players are as eager to win as Rose and Porzingis, one can't help but feel as though they'll find a way to make it work.
Rose is having a significant impact on the Knicks early in the 2016-17 season. New York has made 10 shots from 20-to-24 feet on 50.0 percent shooting with Rose on the floor, but sits at two makes on 14.3 percent shooting without him.
Porzingis, however, has a slash line of .556/.500/.600 when Rose is on the bench and .467/.400/.667 when Rose is on the floor.
Most concerning of all is that New York is a +2 with Porzingis on the floor and Rose on the bench, and a -9 when both are on the floor together.
Having said all of this, it's only been two games and this project will take longer than a pair of outings. Porzingis and Rose are two players who are better with the ball in their hands, which means they'll need time to understand one another's tendencies when working without it.
By simply giving this duo time to develop, the Knicks could right the wrongs that may exist.
Give it more than two games before burning the front office down.
Note: All stats provided by NBA.com.
This article originally appeared on