New York Knicks: Brandon Jennings Explains Old School Loyalty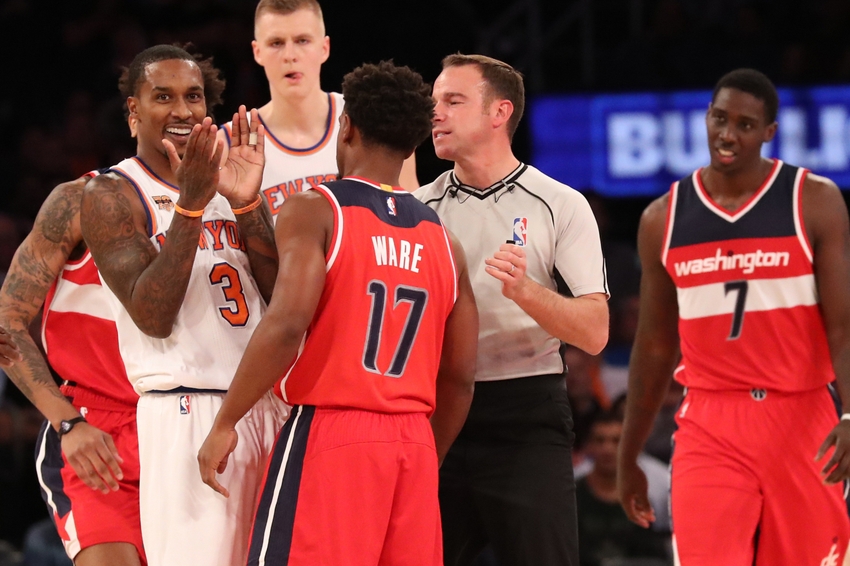 New York Knicks point guard Brandon Jennings didn't let center Willy Hernangomez help an opponent up. He explained his old school loyalty.
---
The New York Knicks signed Brandon Jennings to fill the role of sixth man. Whether team president Phil Jackson knew it or not, he was adding more than just a crafty and capable veteran who would add a new dynamic offensively.
Throughout the preseason and early weeks of the 2016-17 NBA regular season, Jennings has looked the part of a throwback to the famed Knicks teams of the 1990s.
Jennings has been a positive force for the Knicks through his first seven appearances. It was against the Brooklyn Nets that his impact was truly felt, however, as he dished out 11 assists and didn't allow one of his teammates to help an opponent up off the hardwood.
For those who missed it, Jennings did the following:
According to Marc Berman of The New York Post, Jennings explained why he didn't allow rookie Willy Hernangomez to give a Nets player a hand.
"When we're between the lines and you have a New York Knick jersey on, that's what we should be worried about,'' Jennings said after Thursday's practice. "Would they help us up? I wouldn't want an opponent to help me up. That's showing too much respect. If you don't have a Knick jersey on, you don't mean nothing to me.'''

"Just knowing from the '90s and '80s, you help your own teammate up,'' Jennings said. "I'm not saying you go out purposely trying to hurt anybody. If it's a foul and he falls, it's on him. Get up on your own.''
Head coach Jeff Hornacek approved of Jennings' actions.
"I kind of like what Brandon did,'' Hornacek said. "Most of the time, in a heat-of-battle collision, you're not helping a guy up. It's part of the battle. You got to play with that mentality.''
In many eyes, the 1980s and 1990s were the golden era in NBA history.
Jennings, a Compton, California native, is in his eighth NBA season and ninth year as a professional basketball player. He played in Italy during the 2008-09 campaign and has since played for the Milwaukee Bucks, Detroit Pistons, Orlando Magic, and Knicks.
During his 467 NBA games, Jennings has accumulated averages of 15.4 points, 5.9 assists, 3.1 rebounds, 1.3 steals, and 1.8 3-point field goals made in 32.1 minutes.
Thus far in 2016-17, he's averaging 7.3 points, 4.9 assists, 2.7 rebounds, 0.6 steals, and 1.0 3-point field goals made in 20.6 minutes. Those numbers translate to 12.7 points, 8.5 assists, 4.7 rebounds, 1.0 steal, and 1.7 3-point field goals made per 36 minutes.
Beyond the numbers, Jennings has provided an invaluable spark off the bench.
Jennings brings an immeasurable energy to Madison Square Garden. Whether he's shimmying after a jump shot, crossing up a quality defender, or talking trash to an opponent, Jennings knows how to fire his teammates and home crowd up.
This was yet another example of him doing so.
As Carmelo Anthony put it: "Brandon is Brandon…You can't change it and I wouldn't want to." Keep being you, Brandon Jennings.
More from Daily Knicks
This article originally appeared on