New Orleans Pelicans: Matchup with Philadelphia 76ers magnifies team-building failures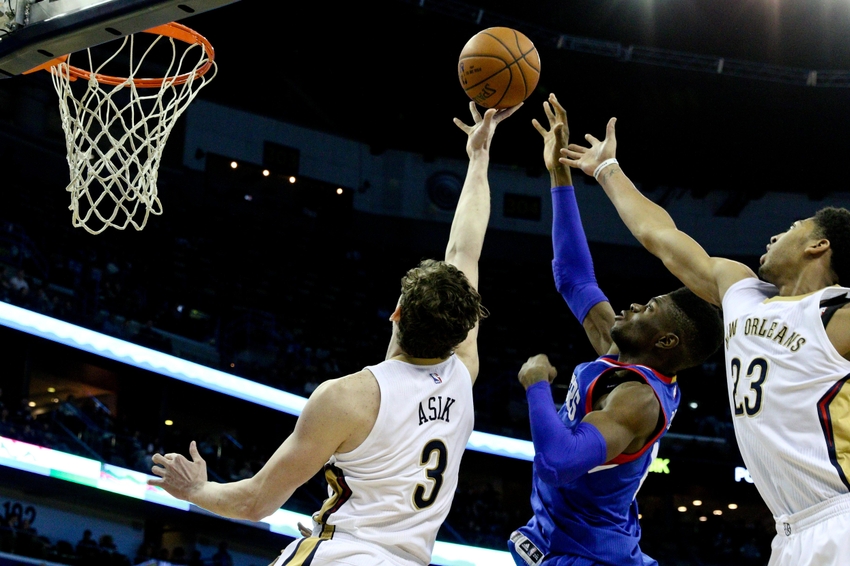 Tomorrow night, the stark contrast between two building teams will be on full display as the Philadelphia 76ers take on the New Orleans Pelicans.
Dell Demps has constructed a losing team. There's no way around that: In the last three seasons (really two and a quarter), starting with Anthony Davis's magical 30-plus PER season and the beginning of his prime, the New Orleans Pelicans have a winning percentage of .441. In those two-plus years, New Orleans has seen two coaches, 38 players, and something called a Special Advisor. Really, the only constants have been a few players (Anthony Davis, Jrue Holiday, Tyreke Evans, Quincy Pondexter, and Omer Asik) and two guys in the front office, Mickey Loomis and Dell Demps. 
While we shouldn't ignore the measurable impact that the team's poor injury luck (318 missed games from that five-man group over three seasons) has had on the team, the lack of success overall brings into question the decisions of the Demps-Loomis braintrust. The duo was blessed with being bad at the right time, slipping on a banana peel and ending up with Anthony Davis. Since then, they've struggled to cobble together a winning team.
The two have operated under the pressure of a small market, trying to lock up players who have positive impact as soon as they can. They have also aimed specifically for younger veterans, guys coming off their first contracts looking for larger roles. In total, it seems like a sound strategy; hungry after the thrill of the Chris Paul experience and disappointed after his departure, it makes sense that the fans were ready to hunt for another championship as soon as they got their next star.
They knew they couldn't stay bad after winning the prize so many teams spend years trying to acquire, so they moved forward. The top of the roster became an entire lake of albatross deals, while the bottom of the roster cycled through guys who represented good value. If the top guys perform, those rotation fillers look mighty nice. Problem is, the top hasn't performed, or stayed healthy.
As the Philadelphia 76ers head south to the Bayou for tomorrow night's game, so too comes their story: The Process, Hinkie, and hope of life after death. Joel Embiid, in all senses the figurehead of The Process' afterlife, will probably match up with Anthony Davis for his nightly 28 minutes. He will be flanked by a half-decade's worth of draft picks, all on the court for this fruitful post-Hinkie rebirth. Dario Saric, Nik Stauskas, and Jahlil Okafor will be staring down Solomon Hill, Omer Asik, and E'Twaun Moore, their teams' rebuilding strategies never more starkly contrasted.
There's probably no right and wrong in this case, no matter what the Sixers have wobbled through over the past several seasons. In all respects, it's a crapshoot. Regardless of the chosen technique or style, being bad for a long time is a drag. Just like the Pelicans have hurt their relationships with fans and players by struggling to put a healthy and productive team on the court, so too have the Sixers alienated agents and officials throughout the league by refusing to do the same. Getting that first star on the court is almost a given when you draft that high or that consistently; putting talent around him is what's harder.
But boy does it look bad when these opposite strategies are pitted against each other when things get rough for one side. Tomorrow night, the 4-18 Philadelphia 76ers will have a legitimate chance to beat the 7-15 New Orleans Pelicans. Three of their wins have come in games where Embiid plays (he is currently restricted to not playing back-to-backs, but will play tomorrow after an off-day today) and word is not yet out on the injury status of a variety of Pelicans players.
The Sixers are the team with the most hype, the most hope. The Process may not have ended with a parade (yet), and they haven't even been as successful this season as the Pelicans. Both teams have a star big man to sell to their fans and players. Don't panic, or worry, we don't know anything yet.
Watch tomorrow night's game, though, and tell me you wouldn't rather have it the other way.
More from Pelican Debrief
This article originally appeared on