New Orleans Pelicans: Jrue Holiday to Miss Start of Season Due to Family Illness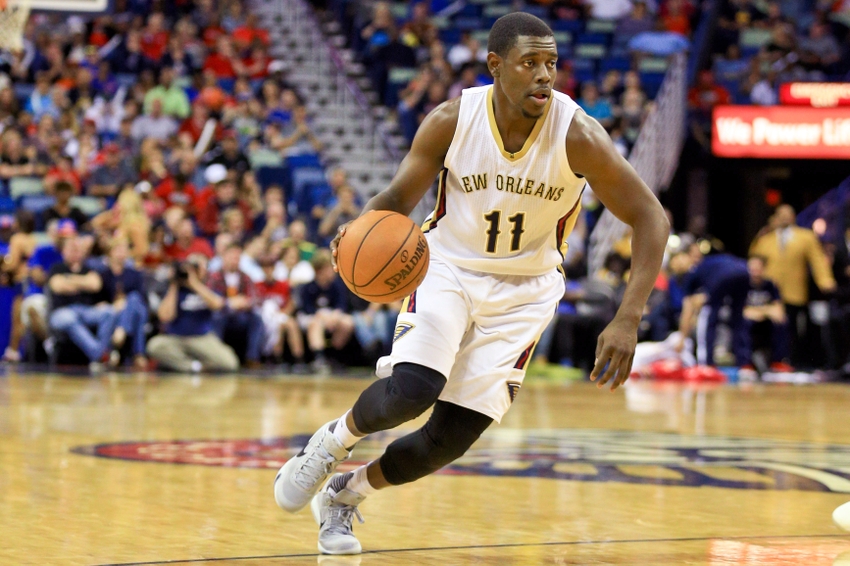 New Orleans Pelicans point guard Jrue Holiday is expected to miss the start of the 2016-17 season with the news that his wife — Olympic gold medalist Lauren Holiday — was diagnosed with a brain tumor, as she is expecting the couple's first child.
Sunday morning, the New Orleans Pelicans made a tragic and devastating announcement: Lauren Holiday, two-time Olympic gold medalist for the women's national soccer team and wife of Pelicans point guard Jrue Holiday, was diagnosed with a benign brain tumor in late June.
Complicating matters, Lauren is pregnant with her and Jrue's first child. The brain tumor is operable and doctors expect Lauren to make a full recovery, but her procedure will have to wait until after the baby is born in mid-October.
The due date of Jrue and Lauren's daughter, along with the timetable for Lauren's surgery and recovery (Lauren will undergo brain surgery about six weeks after the child's birth) means that Jrue will miss the start of the NBA season.
Jrue has already met with General Manager Dell Demps and Head Coach Alvin Gentry, and has the full support of both. "The Pelicans have been great," Jrue said to Nola.com, "there wasn't any pressure to be with the team or to choose between my team and my wife. They told me to be a husband first. I don't think they know how much their support means to me and my family."
This news comes as Holiday was poised to make a comeback in New Orleans. After three injury-riddled seasons, Holiday was finally back to full health and ready to assume his role as starting point guard and running mate to franchise star Anthony Davis.
Holiday slowly worked his way back into the rotation in 2015-16, due to a Gentry-imposed minutes restriction and managed to post 16.8 points per game along with 6.0 assists. Holiday was expected to lead a revamped Pelicans backcourt that included new additions E'Twaun Moore, Langston Galloway, and sixth overall draft pick Buddy Hield, along with the returns of Tyreke Evans and Tim Frazier.
The Pelicans front office, players, and fans seem to be rallying around the Holiday family. He has the full support of Demps and Gentry, and all of us here at Pelican Debrief acknowledge that family comes first. We wish Lauren a healthy childbirth and surgery and a speedy recovery.
More from Pelican Debrief
This article originally appeared on