NBA: Who Will Snag The Second Seed Out West, Spurs Or Clippers?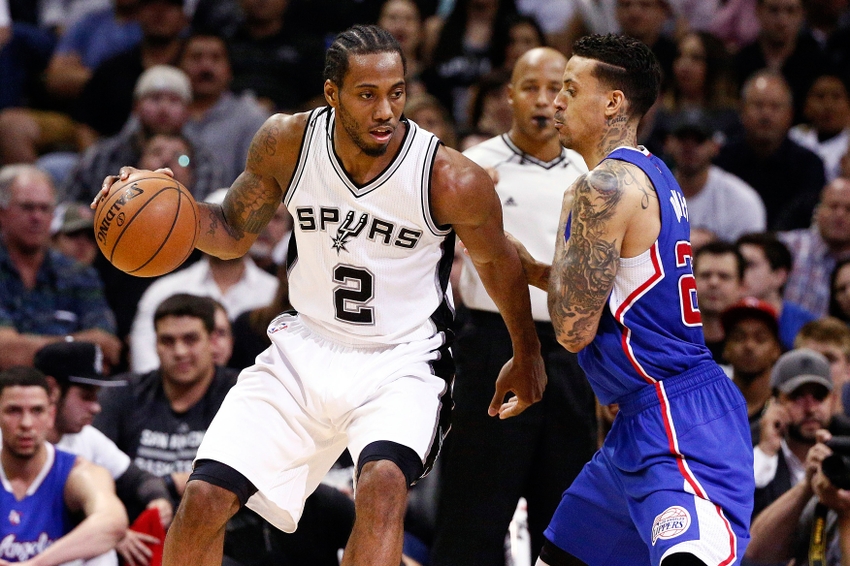 Although the Warriors seem to have first place locked up in the NBA's West, the San Antonio Spurs and LA Clippers should fight hard for second place
When the Golden State Warriors signed Kevin Durant, they immediately obliterated the Oklahoma City Thunder as a playoff threat against them. But they also did more than that – by adding a generational talent, they also removed the San Antonio Spurs and Los Angeles Clippers from serious title contention.
In one move, the Warriors destroyed the title hopes of three separate teams.
That seems crazy to say. The Spurs were historically great last season, and shouldn't be too much worse this time around. The Clippers are also fantastic: they have trotted out the same lineup for several years, but it's a really good one, and they have a level of roster continuity that most teams can only dream of.
Although it seems that each team's ceiling is a second place finish in the West (and the Western Conference Finals), each one has a great case for getting to that point.
More from Sir Charles In Charge
For the Spurs, the reasons to expect a second-place finish are obvious. This is Gregg Popovich's team after all, and (even without Tim Duncan), this is a deeply talented roster. San Antonio was utterly amazing last year, and shouldn't fall too far even with aging players and some roster turnover.
Kawhi Leonard should be as dominant as ever, and the offense should thrive with Pau Gasol and talented role players. There are legitimate concerns about the defense taking a step back now, but few expect this team to take a steep dive from their performance on both ends of the court last year.
The Clippers are obviously very good as well. Chris Paul and Blake Griffin have been terrorizing the league for years, and DeAndre Jordan and J.J. Redick are deeply talented, too. Los Angeles gets a lot of flack for their (admittedly) bad playoff collapses, but the ceiling will always be incredibly high with this much talent.
Beyond the sheer talent that they can throw at teams, the Clippers also have a lot of roster continuity. These players have been playing with one another for years now, and their collective veteran experience is impressive. Fans don't need to hear the reasons why Paul and Griffin are good, or the reasons why their partnership has brought so many wins to LA.
Anyone who has followed the league for any length of time simply knows at this point: The Clippers have some of the best players in the NBA.
Ultimately, the Spurs seem like the safer prediction to finish in second-place during the regular season. Their 67 wins from last year give them the status of favorite, and even lopping a few wins off that total should still leave San Antonio in good position to finish ahead of Los Angeles.
In a playoff series, though, the picture is less clear. The Clippers won a fantastic playoff matchup in 2015, and any defensive drop off that the Spurs experience this season would be a much bigger problem in the playoffs than it would in the regular season.
If both teams are healthy, then, the Clippers probably have a slight edge here (due to the sheer talent of their starters).
After that, the winner will have to finally face the Warriors. That matchup looks almost impossible from any angle, and it would take multiple injuries or trades to sway that projection.
These teams shouldn't be weighed based on their ability to compete with Golden State, though. These are two very talented squads that have ruled the league for several years, and, if they face each other in a playoff series, it should be a joy to watch.
This article originally appeared on