NBA: Kristaps Porzingis Is The Player To Start A Franchise With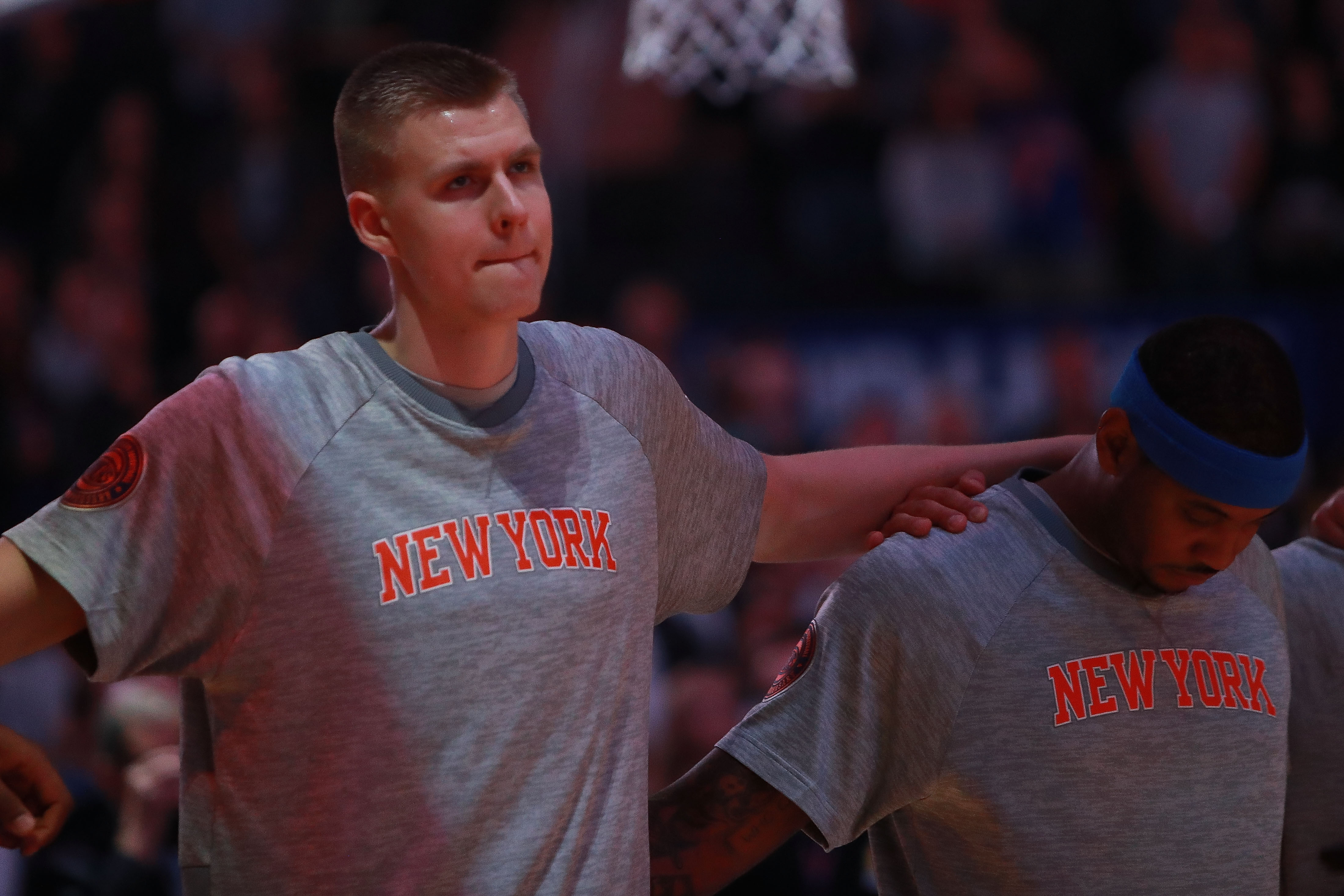 The NBA GM survey has caused a bit of buzz surrounding a variety of topics. One such topic is the "what player would you want to start a franchise with" question.
For NBA die-hards, this is the most wonderful time of the year. The predictions and anticipations run high with fans, writers, bloggers, and analysts alike. Even if you are still wrapped up in football season, you still keep tabs on your favorite team and their quest for a championship.
Before the season officially gets rolling, the GM's take a survey and answer a variety of questions. One question that always peaks my personal interest is: What player would you want to start a franchise with?
Last season, Anthony Davis became the player to start a franchise with. This season, the lucky player is Karl-Anthony Towns with 48% of the vote. Kevin Durant came in second with 21% and LeBron James is third with 17% .
It's easy to see why GM's would select Towns. In his rookie season, he averaged a double-double with 18 points and 10 rebounds. What's even more impressive is he shot 54% from the floor, 34% from three, and 81% from the free throw line.
Think about that for just a second, this dude flirted with the 50-40-90 club in his rookie season. This season he'll have Tom Thibodeau coaching him and his team to even bigger heights. The Timberwolves should definitely make the playoffs this season with that combination.
I believe that picking one player to start a franchise with is a fun way to see who GM's are really high on this season. There's a ton of talent in the NBA young and old. Players of all skill levels could easily be picked to start a franchise with.
Some would pick Stephen Curry because of his shooting. Others would pick Russell Westbrook because of his loyalty to the Thunder. The one player I would start a franchise with is Kristaps Porzingis.
Not many players get booed roundly when they become an NBA player, but Porzingis did. He also likely saw the epic video of Stephen A Smith from ESPN voicing his disgust for the pick and Phil Jackson. Knick fans took to social media and blogs across the country and voiced their opinion on Porzingis.
Then Porzingis started playing, and everyone quickly changed their minds. This kid can really ball. Last season he averaged 17 points a game with seven rebounds. He posted a player efficiency rating of 17.80. Porzingis can stretch the floor, shoot the mid-range jumper and has a ton of upside. He'll have to improve his shooting percentage this season, as he shot 42% from the floor and 33% from three.
Playing with Carmelo Anthony is also an added bonus. Anthony can teach him how to be a superstar in this league. It's no secret that Melo is coming to the twilight of his career and the torch in New York will likely be passed to Porzingis. This doesn't seem to bother Porzingis as his rookie season was filled with pressure. He responded to that pressure by having an outstanding season.
Porzingis is a likable player because of his honesty. When asked how he learned to speak English, he credited worldstarhiphop.com. He said he wanted to play for the Knicks before the draft and now he's living the dream. The 21-year-old Latvia star will continue to grow as a player in the Big Apple. Plus, there is something to say about a 7′ 3″ player who can shoot from the outside.
Porzingis will definitely bring in fans for the Knicks, whose attendance has held strong at just over 19,000 per game for the last few seasons. His versatility will pay off as he continues to grow in his role as the budding star in New York.
This article originally appeared on