Myles Turner Poised for a Breakout Season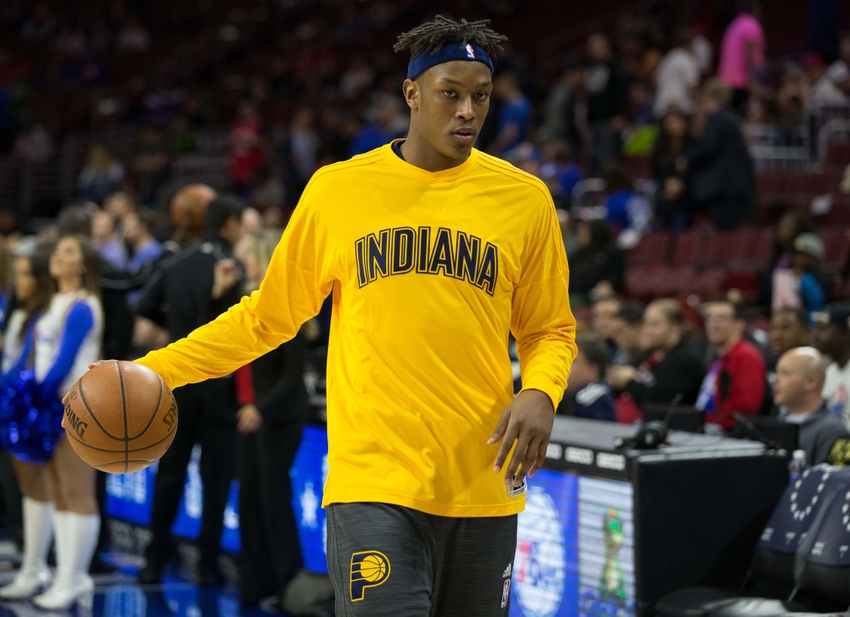 CBS Sports Predicts Indiana Pacers' Myles Turner for Breakout Season 
Myles Turner had an exciting — if up and down — rookie year for the Indiana Pacers. Turner averaged 10.3 points and 1.4 blocks per game and a half en route to starting 30 games (and 4 post season contests) for the Pacers.
Ananth Pandian of CBS Sports recently released a list of eight second-year players poised for a breakout season, and it was no surprise to see Myles Turner listed in the top half of the list.
Pandian had this to say on the topic:
"With Ian Mahinmi gone, the Pacers' starting center position solely belongs to Myles Turner now, allowing him to continue to build off a solid rookie year.

Turner's rookie year was derailed for a bit due to injury but he ended up starting 30 games and finished with averages of 10.3 points, 5.6 rebounds and 1.4 blocks. He also played well in the postseason, emerging as an effective rim protector and averaged 3.3 blocks in Indiana's seven-game, first-round exit.

Turner is a versatile big man, able to play the four or five and can even knock down elbow jumpers while also showing a nice touch around the rim. His offensive game may even be helped by the addition of Al Jefferson, who will surely use his veteran guile to tutor Turner and help him improve his post game. Turner, just 20 years old, was just beginning to scratch the surface last season as to how good he truly can be as a player. Expect Turner to continue blossoming in an expanded role next season."
While everyone rightfully expects a big leap for Turner, there are reasons to expect some bumpss in the road for the second-year big man out of Texas University.
For one, Turner only started 30 games last year. And he spent most of his time playing power forward alongside Ian Mahinmi.
Turner will play center almost exclusively in 2016-17. The adjustment won't be overwhelming — he'll be playing under a new coach anyway, so there will be changes regardless — but it also won't be seamless.
As Pandian noted, Myles Turner also broke his hand early on in the season and missed 20 straight games during what should've been a key point in his development. At his age, losing six weeks does matter.
Still, the word is that he is working incredibly dutifully this offseason to get better. And he as one of the most talented 20-year-olds alive. So even with some minor hurdles to overcome, the sky is the limited for Myles Turner.
More from 8 Points, 9 Seconds
This article originally appeared on