Milwaukee Bucks: The Pitfalls Of Greg Monroe's Player Option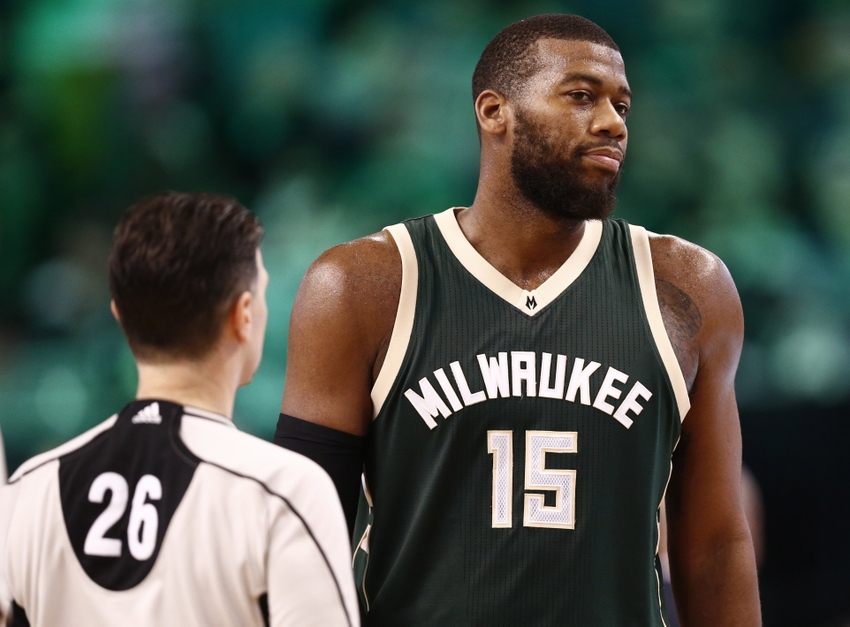 As the Milwaukee Bucks prepare to enter what could be the final year of Greg Monroe's contract with the team, the threat of a player option lingers.
It took some time, but it appears as if we've finally reached a point where almost all parties agree that things just aren't going to work out between the Milwaukee Bucks and Greg Monroe. Or at least they won't work out in a way that can keep both sides happy.
It's been a whirlwind fall from grace for team and player alike. Both were lauded and pumped up with expectation upon agreeing to the deal in the summer of 2015, but now most observers are left scratching their heads at what the Bucks and Monroe are supposed to be.
With the soundbites from Bucks coach Jason Kidd, as well as the snapshots of preseason action, indicating that Monroe will enter the new season in a bench role, the questions surrounding the former Georgetown Hoya's future are more relevant than ever.
It seems clear that if a suitable option had presented itself, the Bucks would have shown no hesitation in trading Monroe, but the trade market for big men is almost non-existent at present.
After a summer that saw a whole host of capable centers hit the open market as free agents, demand would be low for centers as is, but the changing dynamic of the position has only amplified that effect even further. With Monroe's game centered around an old-fashioned low-post offense and very little defense, there aren't many players likely feeling the impact of declining value greater than Monroe either.
With that in mind, the structure of the contract that Monroe and his agent David Falk agreed with the Bucks in the summer of 2015 has become increasingly more interesting by the day. Or from the Bucks' point of view, it's growing more and more worrisome.
The Louisiana native's contract was structured with the first two years guaranteed for a combined $33.5 million, and the final year coming as a player option worth $17.9 million. When the deal was negotiated that option was viewed as a means for Monroe to be able to opt out and renegotiate at a point in time where the NBA's salary situation would be at its most lucrative, and at least hypothetically, his value would be at its peak too.
With a poor fit in Milwaukee and a failure to buck the trends that presented challenges for him in his time in Detroit, the picture has now changed significantly for the 26-year-old. All of a sudden, the idea of just under $18 million and another season to help rebuild his value must sound very appealing to the man known as Moose.
Judging by a report from ESPN's Zach Lowe, it would seem the Bucks have started to prepare for that eventuality now too:
"By the way: Milwaukee is already preparing for the possibility Monroe opts into his deal for 2017-18, league sources say."
Although it would seem as if a Monroe decision to opt in could be leveraged positively by Milwaukee, they may not be afforded the chance to do so if the player is content with keeping his cards close to his chest.
With the assurance that he would opt in for one more season, Monroe instantly becomes a more intriguing trade proposal for teams around the league. All of a sudden you're not all in on a one-year restoration project, and instead have two years to not only help Monroe to turn his game around, but also to convince him to stay beyond that.
Unless Monroe's situation becomes untenable in Milwaukee and he grows determined to force his way out, there's no real motivation for Monroe to share that desire though. Instead, he'd seem likely to back himself and take the decisions as they come down the road.
For the Bucks, even Monroe thriving in a bench role isn't guaranteed to benefit the team longer team. If Kidd and his assistants find a way in which Monroe can contribute positively, becoming a key cog and spurring the team on, it'd only increase the chances that they'd have to find a new plan next summer upon Monroe opting out of his deal.
On the flip side, another disastrous year could render them stuck with $18 million of dead money in a season where they'd hope their young group could start kicking on.
The Bucks and Monroe are in a state of limbo, but it's the player who currently holds the upper hand. That was the plan for Monroe from the day the deal was signed, he just would have been hoping that it would have been a different kind of leverage in his favor.
More from Behind the Buck Pass
This article originally appeared on