Milwaukee Bucks: The Perils Of Being A Jump-Shooting Team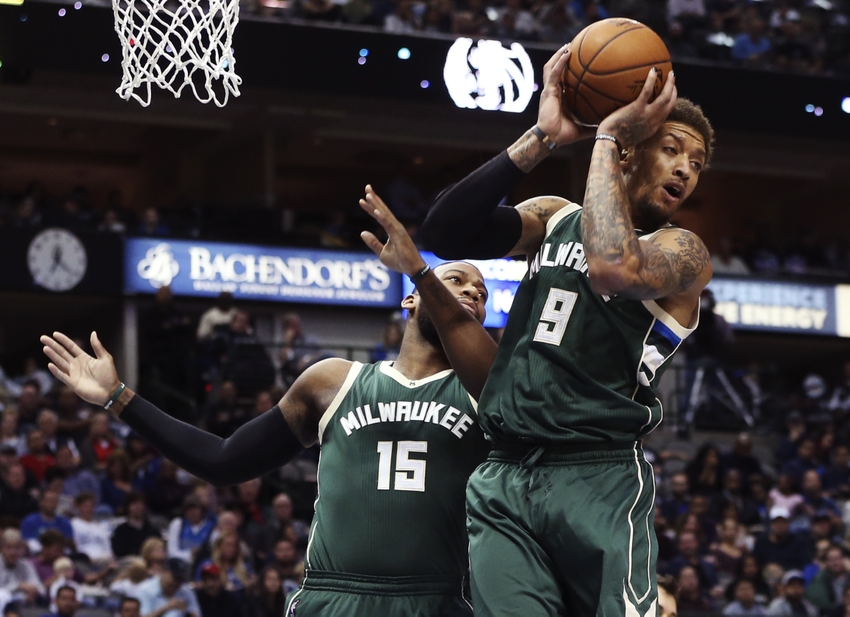 The Milwaukee Bucks have become a jump-shooting team, but are they good enough at it to win games?
The Golden State Warriors changed everything about the NBA. Although they obviously weren't the first championship team to take advantage of the three-point line, the Warriors' love for taking tons and tons of threes made their championship stand out.
Charles Barkley, often the enemy of reason and common sense, declared that jump-shooting teams aren't capable of staying hot from outside long enough to win four straight series. Those Warriors proved Barkley wrong, but what if they truly are the exception, not the rule?
The Cleveland Cavaliers took a lot of threes in both the playoffs and regular season in their championship campaign last year, hovering around 30 attempted threes per game. But in the NBA Finals, the Cavs took just 24 threes per game as LeBron James went to work on getting to the basket.
This matters for the Milwaukee Bucks because the Bucks have played like a jump-shooting team for the first seven games of the 2016-17 NBA season, and they've seen firsthand why Chuck didn't think a team reliant on jumpers could win a title.
In Milwaukee's four wins, they've shot 36.4 percent from three against Brooklyn, 31.3 percent against New Orleans, 44.4 percent against Indiana and 42.4 percent against Sacramento.
In their three losses, the Bucks shot 18.8 percent from deep against Charlotte, 23.5 percent against Detroit and 20.7 percent against Dallas. Can those failings be attributed to tough defense by the latter three teams, or is relying on shooting just a risky proposition?
Detroit has been effective at limiting teams from long-range–opponents have shot 31.1 percent against the Pistons from three-point territory, which is the fifth-best mark in the NBA.
The Hornets have allowed opposing teams to make 34.2 percent of their threes though, which is 17th in the NBA. The Mavericks have been even worse. Even when factoring Milwaukee making just 20.7 percent of their threes against Dallas, the Mavs have still allowed a three-point percentage of 39.5, which is worst in the NBA.
Jump-shooting teams just go cold sometimes. The really good ones, like the Warriors, circumvent cold spells in two ways. The first is that the shooters on the team are so damn good they just don't all cool down at the same time often. Kevin Durant, Stephen Curry and Klay Thompson are all extraordinarily gifted shooters.
And even when the Dubs do go cold for part of a game, if they catch fire again they can be so accurate and efficient from the field to make up for their lapses. No lead is safe against Golden State–not then Thompson can score 37 points in a quarter by himself, with 27 of them coming from beyond the arc.
The Bucks just aren't on that level. Jabari Parker adding a three-point shot to his repertoire helps for sure, and his 38.5 percent rate of sinking threes thus far has been good news.
Unfortunately, Jabari is one of only four rotation Bucks making over 30 percent of their threes. Mirza Teletovic, Rashad Vaughn and Matthew Dellavedova make up the other three, and they've all been good from deep this season.
Unfortunately, other Bucks who were supposed to be shooters have not been good in the early going. Malcolm Brogdon, Tony Snell, Jason Terry and Michael Beasley are all shooting 23.1 percent or worse from three-point territory, as is Giannis Antetokounmpo.
The Warriors are actually having similar struggles this season. Golden State only has three rotation players making more than 30 percent of their threes this season, which likely has a lot to do with the most star-studded team in the NBA starting off with two losses in their first six games.
The Bucks don't have Stephen Curry and Kevin Durant to rely on, and as good as Giannis Antetokounmpo and Jabari Parker have been they can't buoy a team that wants to win based on outside shooting.
The Bucks might be right to adopt a more modern approach on offense, but it will cost them on some nights. When the shots aren't falling from downtown, Milwaukee is essentially handing possessions back to the opposing team.
More from Behind the Buck Pass
It's important to remember that three-point shooting is only more efficient than two-point shooting if the team in question is actually making the threes. The Bucks have had no problems scoring inside, and are currently sixth in the NBA with a two-point percentage of 51.3.
That's significantly better than their three-point ranking. Milwaukee has made 32.4 percent of their threes as a team, which is 19th in the NBA. Those threes are important, even if they don't always fall, because they open up space to make the inside shots much easier for the Bucks.
So it's not as easy as simply not shooting as much to become more efficient–that two-point percentage would drop if the Bucks weren't spacing the floor and forcing defenses to account for their shooters.
Losses like the one on Sunday evening, where the shots simply aren't falling, will happen this year. That's the peril of shooting so many threes. But it's a price worth paying, especially when the team catches fire and lights up opposing defenses.
This article originally appeared on