Milwaukee Bucks: The Bucks Currently Have An Open Roster Spot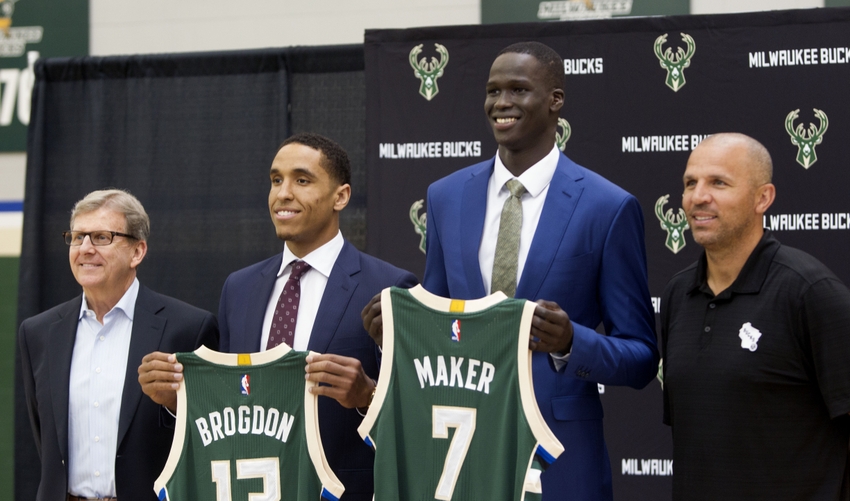 The Milwaukee Bucks have an empty roster spot heading into training camp. That could mean nothing, but it could indicate the Bucks are looking to make further moves to replace Khris Middleton.
The Milwaukee Bucks have 15 guaranteed contracts for the 2016-17 NBA season right now, but they also have a roster spot. How does that work?
Well, it works because much like the NFL, the NBA allows teams to expand their rosters during the offseason. NBA clubs can have up to 20 players under contract until October 24th, when they must set their opening day rosters and cut down to 15.
The Milwaukee Bucks have 19 players on their training camp roster. It's easy to dismiss that as a coincidence–maybe Milwaukee simply couldn't find a 20th man they liked enough to add to the roster.
Except they did. The Bucks had Xavier Henry signed on a non-guaranteed deal to join them in training camp, and waived him as part of their adding other players. That's..unusual.
Henry wasn't waved to facilitate the Michael Beasley/Tyler Ennis swap–it was a one-for-one deal meaning it would've worked even if the Bucks had 20 players on their training camp roster. He wasn't owed any real money either–pretty much all training camp deals are non-guaranteed.
So then why cut him, especially when Milwaukee is in such desperate need for wing players? Henry was cut before the Middleton news announced–he was waived Tuesday, and the Middleton story broke on Wednesday night.
Given that Middleton was at Giannis Antetokounmpo's extension press conference on Tuesday and there was no sign of any injury there, it's likely he got hurt either Tuesday night or Wednesday during the day, meaning the Bucks waived Henry before Middleton's injury.
That in itself in interesting. Despite him being sidelined for essentially the entire season, Middleton still will take up a roster spot just as before the injury. Even before knowing he'd be out, Milwaukee chose to keep a spot open on the roster heading into training camp.
It seems unlikely that Henry failed to live up to any expectations so quickly, seeing as training camp hasn't even begun yet. That means the most likely reason for his release is Milwaukee eyeing up someone else.
That someone else could be a free agent, some of which are left available even now in late September.
Or the Bucks could be looking to make a trade. The team has $42 million currently dedicated to three centers, none of whom can help fill in for Middleton this season.
More from Behind the Buck Pass
If it was important to swap one of those three out for a better roster fit before, it's imperative now. Miles Plumlee won't be moved, for now at least–the team can't trade anybody who was recently signed until December.
Greg Monroe and John Henson enjoy no such protection. Either could be swapped out at any time. With an extra roster spot open, Milwaukee could get two players in return for one that they send out.
The Bucks could also use that spot to facilitate a deal between a few other teams, although that seems unlikely considering Milwaukee's cap situation.
The extra roster spot could just be a coincidence. There's a chance it's nothing more than the Bucks not liking Henry much, or not seeing a real chance for him to make the team.
There's a chance it matters though, especially in these troubling times for the Milwaukee Bucks.
This article originally appeared on