Milwaukee Bucks Game Preview: Nov. 12 vs Memphis Grizzlies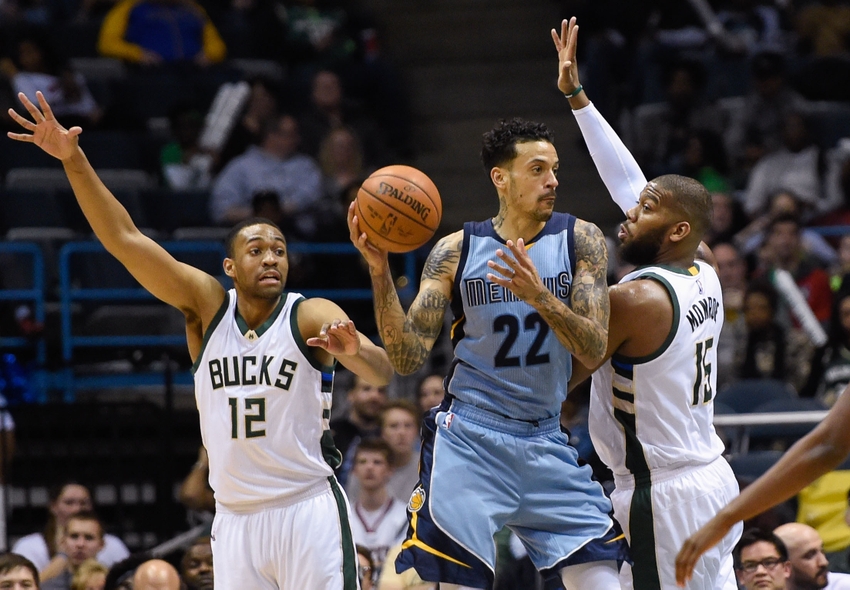 The Milwaukee Bucks need a win to avoid a three-game losing streak. Will the Memphis Grizzlies be too much for Milwaukee?
The Milwaukee Bucks may not be such a good basketball team without Khris Middleton after all. It was hard for fans and writers alike to not get excited when Milwaukee's record sat at 4-2, but now the Bucks are 4-4 and looking to avoid dropping below .500 for the first time since they were 1-2.
The Memphis Grizzlies spent a boatload of money last summer–even more than Milwaukee did!–so the expectation is that Memphis will be good. They've stuggled somewhat early, but most of that has come down to injury concerns.
The Grizzlies are 4-4, despite not having new small forward Chandler Parsons healthy at all yet. Parsons has played two games, but he's not been himself in either of them. Hopefully his breakout game as a Grizzly doesn't come against the Bucks!
This game could probably go either way, but if the Grizzlies are clicking they can be a tough team to beat. Can the Bucks overcome their Grit n Grind mentality?
We'll go through the major keys to victory for both teams, look at a player to watch in this one, and then finally make our predictions!
Major Key For Milwaukee: Watch Out For Marc
Marc Gasol is really, really good. Mike Conley is the guy getting paid in Memphis, but the Grizzlies decided to run contrary to popular trends and build a big team for a reason. Memphis knows they have a fantastic man in the middle to build around.
With Parsons banged up, the Grizzlies don't have many top-notch scoring options left outside of Conley. JaMychal Green is a fine player, but he's scoring 8.6 points per game. The only Grizzly besides Conley and Gasol to break double-digit scoring figures per game is James Ennis, at 10.6 points per game.
Conley will have a good game even if his scoring totals aren't high–he can run an offense like few others can. If the Bucks can slow down Gasol, they should be able to dismantle a lot of what the Grizzlies like to do. He's shooting threes now, so that comes to more than just being ready for him banging down low.
Miles Plumlee probably should not start opposite from Gasol. He got absolutely silenced by Anthony Davis in the Bucks last game, and any athleticism advantage AD has is just about neutralized by Gasol's savvy and experience. With the way Plumlee is playing, he probably won't do much of anything while matched up with Gasol.
Major Key For Memphis: Get The Hurt Guys Healthy
Both Chandler Parsons and Tony Allen are dealing with injuries to start the season. Both of them have played, but neither of them have exactly looked themselves yet. Obviously there's no reason to push either one of them hard to get ready for this random game, but either one of them could snap back into mid-season form any day now.
Parsons is the more integral piece for this team. They finally have the floor-stretching wing player the Grizzlies have lusted after ever since they traded for Jeff Green a few seasons ago. Here's a hint, NBA teams: Jeff Green is never, ever the missing piece.
Parsons just might be though. He's had injury troubles cloud the perception of him, but he's a very good player who compliments the rest of the Grizzlies exceptionally well.
Don't sleep on Tony Allen either. The self-proclaimed First-Team All-Defense caliber defender is a complete game-changer. If he hasn't lost too much speed, he can still frustrate literally any scorer in the NBA. He's the heart and soul of the Grizzlies, and he's not afraid to get in anybody's face.
Player To Watch: Chandler Parsons
He might only be the third-best player on the Grizzlies, but if Chandler Parsons gets into the swing of things we'll see a Grizzlies team we've never seen before. Zach Randolph is on the bench now, and in addition to always having a low-post brute on the floor the Grizzlies can also shoot now.
Parsons has been the missing key in Memphis for a while, and it will be very interesting to see what new head coach David Fizdale can unlock with Parsons healthy. Hopefully this isn't the game where that starts happening!
It should take a few games at least with Parsons healthy for Memphis to really figure out how to best use all of their toys, but even before they start gelling they'll be a much better team with Parsons around. He should still be on a minutes restriction as well, which limits the chance he can get rolling.
Marc Gasol is the focal point, but Parsons makes everything run smoother. He's a major upgrade over every other wing on the Grizzlies roster, and he plays better defense than most people tend to remember. Memphis will have an effective Gasol either way–getting an effective Parsons too makes this an entirely different game.
Finale
The Bucks have played like a younger team than they really are lately. One staple of young teams is playing to the level of their competition. If a team sucks, a young team will play worse and thus it will still be a close game. The opposite is true too.
The Bucks offense should've rolled all over both Dallas and New Orleans, but they played down to those two teams' levels. Hopefully that means Milwaukee will play up to the Grizzlies, who are a serious playoff team in the Western Conference.
If they don't, the chances of Memphis punching the Bucks in the mouth is high. The Grizzlies, even with more shooting added, are still a physical team. That's just part of Memphis' identity at this point.
Milwaukee can win this game, but they'll need to play both hard and smart. If Jason Kidd can get his young Bucks rolling, they'll have a shot at the very least.
Predictions and Leaderboard:
Ti Windisch: Bucks by 7 — 6-2, 73 point differential
Lukas Harkins: Grizzlies by 8 — 5-3, 87 point differential
Jordan Treske: Bucks by 8 — 5-3, 101 point differential
Adam McGee: Bucks by 5 — 5-3, 108 point differential
Tim Wray: Grizzlies by 5 — 4-4, 97 point differential
Tom Pheister: Bucks by 7 — 4-4, 115 point differential
Adam Coffman: Grizzlies by 1 — 5-2, 93 point differential
Rohan Katti: Bucks by 2 — 4-3, 105 point differential
The game is on Saturday night at 7:30 p.m. CT, and will be televised on Fox Sports Wisconsin.
This article originally appeared on