LeBron James A Future NBA General Manager?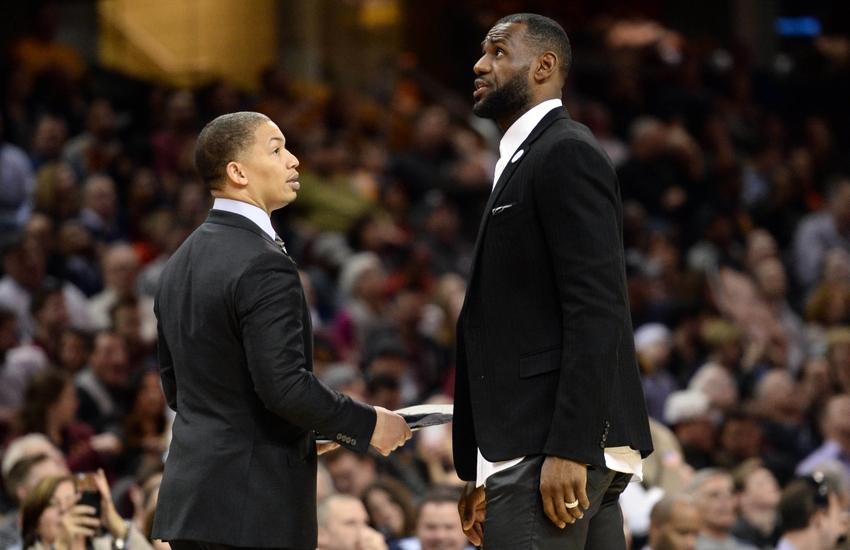 LeBron James has given a clue to what his future job could be, a NBA general manager.
Many have wondered about what LeBron James will do after his long and storied basketball career. Maybe he'll own a team, commit to acting, get involved in politics.
However, James has given a clue to what his future job in the NBA could be, if he wanted to join the front office rather than the sidelines as coach. While James may actually be a good coaching candidate, it's far less stable of a job position.
While many great NBA minds go on to be an on-air analyst or start their career as an assistant coach, James seems too busy to be a head coach. His sons are growing up and displaying big-time basketball abilities of their own. James has a great basketball mind with his ability to memorize defenses, moments, anything of importance or the not-so-important.
He's a student of the game who truly knows his place in history. He knows now, after a collegiate-like experience in Miami, the type of players he needs around him to be most successful. There are similarities between Kyrie Irving and Dwyane Wade, between Kevin Love and Chris Bosh. He has his shooters. He has guys that will do the dirty work and be enforcers.
James has been to six straight NBA finals and went 3-3 in the last six years. Of those three losses, James carried his team to and almost through the finish line with a mix of uncanny intelligence, sheer will power, and natural talent.
It's his grandiose figure in the sport of basketball and his renowned basketball mind that led him to be asked his opinion of Philadelphia 76ers center Joel Embiid. Embiid, who missed the first two years of his pro career with injuries and thus is a rookie, has developed a multifaceted game that's puts him in the echelon of players such as Anthony Davis and DeMarcus Cousins.
While coy with reporters when asked about his assessment of Embiid, James gave a short and contrite answer that gave praise to the Philly big man.
He's a huge body, can shoot the three, great footwork. It's just good to see him out on the floor for the 76ers' franchise. – LeBron James on Joel Embiid
James, not mentioning Embiid's counters, ability to shoot from all over the court or his athleticism (or his tendency to have tunnel vision and be turnover prone and be a bit too physical trying to get position inside) didn't give much "analysis" on Embiid. What he did do is allude to a potential career he could have in an NBA front office.
But I don't know, I'm no GM … I'm not a GM. They picked him for a reason. But I don't get paid right now to scout guys right now. Maybe a few years when I'm done. – LeBron James
While analysts' analyses don't matter much in terms of effecting a team's decision-making and coaches opinions on the upcoming draft class or players around the league don't always result in a team taking action or taking their opinion into consideration, being a general manager does seem right up James' alley.
James has influenced two franchises to draft a point guard of his liking and his opinion definitely matters to the Cavs.
He seems to genuinely love team building as he talks about "the process" more than Embiid and Sam Hinkie combined.
James as general manager?
Seems like a great deal, really.
As a former basketball legend turned general manager, James would have a particular sway when courting and signing free agent players.
The biggest question is what team would he work for? Would he want to continue his work in Cleveland by becoming a general manager? Would he go to Los Angeles and take control of the Lakers future fortunes? Would he go to Philadelphia where Embiid and protegé Ben Simmons are going to be cornerstone players for years to come?
The tentative answer to all these questions is yes.
While David Griffin may be too respected by James for James to have Griffin re-assigned to a different team, there are no obstacles for James in the City Angels or the City of Brotherly Love.
The jury is still out on James' two point guard "selections", University of Connecticut alum Shabazz Napier and former Oakland University star Kay Felder.
Before the draft this is what James had to say about Napier.
As Felder, the King gave the rook his praise back in 2015 as he visited a game with lifelong friend and current Cavs scout, Brandon weems.
Napier, who is in his third season, plays well during the preseason but has, understandably, found it hard to get minutes while playing behind Goran Dragic, Elfrid Payton and Damian Lillard. Felder, who is entering his rookie season, played well for the Cleveland Cavaliers this preseason and was slotted to start the season as the backup point guard before a concussion before the start of the season derailed his playing time.
Nonetheless, Cleveland is the only place James' influence extended past the draft and all of his midseason acquisitions for the Cavs have worked out. His lone free agent target from an outside team, Joe Johnson, has tore it up for the Miami Heat and Utah Jazz since being bought out of his contract with the Brooklyn Nets.
The evidence of James' ability to construct a roster worthy of championship performance is seen in his six straight trips to the NBA Finals.
Sure, some part of he success is in no small part due to the fact he's a future Hall-of-Famer and most dominant point-forward in NBA history.
However, James also knows how to fit the right players around him and make them better. That will be the type of player James pegs as his franchise centerpiece and superstar.
Of course, who James chooses to be on his team and what superstar he wants to build around, James will also pick the head coach. Perhaps the most interesting dynamic of James' career is his relationship with his head coaches. For a legendary player, James hasn't been coached by legendary figures from either the collegiate or professional ranks.
If James can get personal favorite John Calipari to leave the University of Kentucky, a program that's been a factory for top NBA talent, he would have his dream head coaching candidate. If not, James has been around young coaches such as Erik Spoelstra and Tyronn Lue and will be able to spot a good young coach when he sees one.
All of this isn't to say James is infallible, just that he'd probably be a great NBA GM.
Whether James ever becomes a general manager remains to be seen but if he does he has a great chance to take his franchise to new heights. Rather than doing it in an NBA uniform, James would do it a perfectly tailored European-cut suit.
How do you think LeBron James would fare as an NBA GM? Let us know in the comments section or Twitter @KJG_NBA.
More from King James Gospel
This article originally appeared on