Lakers vs New Orleans Pelicans Preview and Prediction: Stop Anthony Davis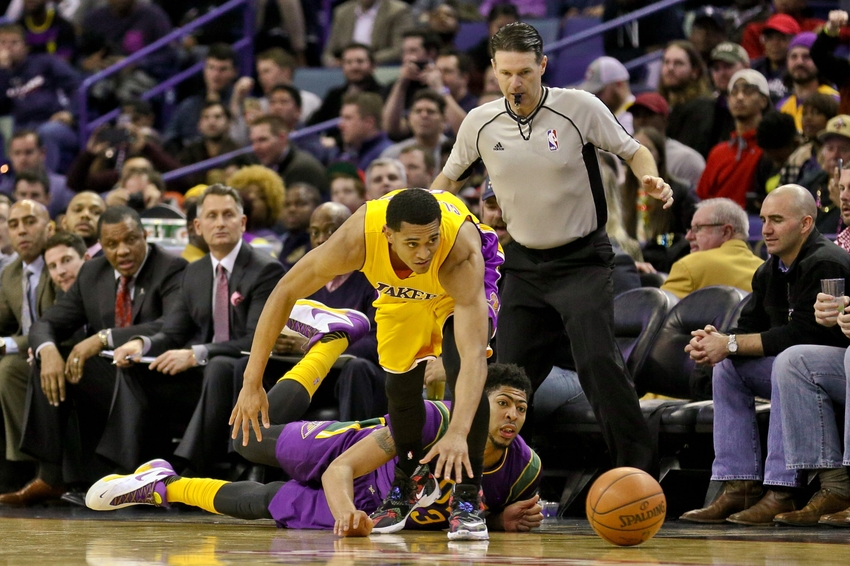 The Lakers play the one-win New Orleans Pelicans at the funniest sounding arena in the NBA.
You think Timofey Mozgov's contract is bad? The New Orleans Pelicans signed Omer Asik to a five-year, $58 million contract last summer and yeah, it hasn't gone too well.
Asik averaged 4 points and 6.1 rebounds per game last season in17.3 minutes for the Pels last season. He made $11.6 million for putting up Ryan Kelly numbers.
However, it's not all sob stories in New Orleans. They have a guy on the team named Anthony Davis and he's pretty good at basketball. How good?
He became the first player ever to put up 45+ points, 15+ rebounds, 5+ assists and 5+ steal in an NBA game. Oh, and he's only 23 years old.
Davis is averaging 31 points and 11 rebounds per game for New Orleans this season, which is the second most in the NBA. Unfortunately, his team hasn't been as super fantastic.
The Pelicans won their lone game of the season against the Milwaukee Bucks 112-106 Thursday night. Davis put up 30 points in 41 minutes and added 8 reobunds. This team will only go as far as he takes them.
Los Angeles Lakers at New Orleans Pelicans
Date: Saturday, Nov. 12
Start Time: 4 p.m. PT
Location:  New Orleans, Louisiana 
Arena: Smoothie King Arena
TV Info: Spectrum Sportsnet
Live Stream: NBA League Pass
Radio: Here
Injury Report
Los Angeles Lakers: Ivica Zubac (back)
New Orleans Pelicans: Jrue Holiday (personal), Tyreke Evans (knee), Quincy Pondexter (knee)
Prediction
Tell me if you've heard this one before, but I think the Lakers are getting the win tonight. Why? Because for the first time in a few years, the Lakers have given me no reason to think otherwise.
There hasn't been a game the Lakers weren't in this season, with a chance to win in the 4th, 5 wins is surprising but also 4 "good" losses

— Eric Pincus (@EricPincus) November 11, 2016
The primary source for my optimism has been how well Timofey Mozgov has played this season. Despite taking endless elbows to the face, Mozgov has been solid.
He had the almost unrealistic task of guarding DeMarcus Cousins Thursday night, which is a tough matchup for anyone, let alone a 7'1, 30-year-old center. Mozgov will have another tough matchup in Anthony Davis tonight, followed by Brook Lopez and Karl-Anthony Towns the new few games.
Add that to the fact that the Pelicans are without some of their best players due to injuries, and the Lakers almost certainly have this win in the bag.
78-4, 4ever.
Make sure to ollow @TheLakeShowLife on Twitter for the best Lakers commentary in the NBA and gems like this one.
https://twitter.com/TheLakeShowLife/status/796964361818382336
This article originally appeared on