Lakers Steamrolled by Warriors 149-106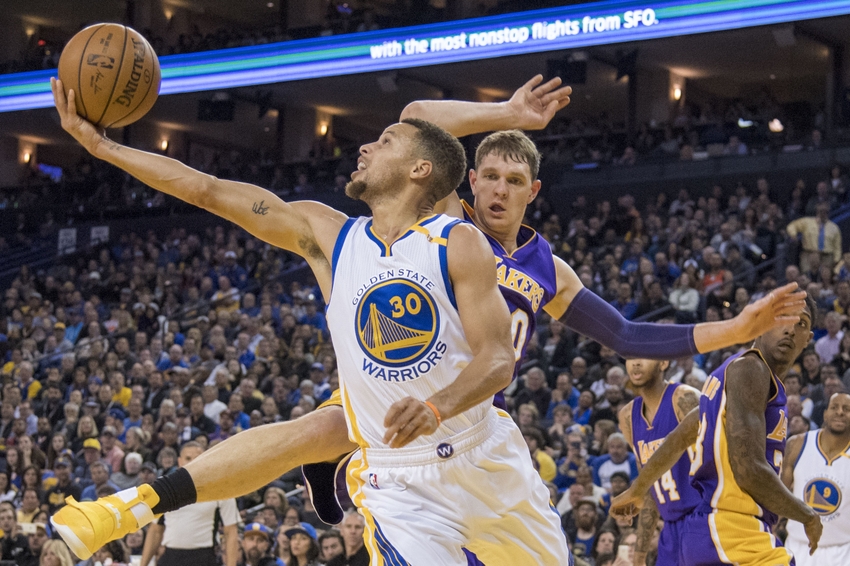 The Lakers, minus D'Angelo Russell and Julius Randle, were boat raced 149-106 by the Warriors in Oakland, behind a 3-point barrage from Steph Curry and Klay Thompson.
Hey, what'd you expect? Without Russell and Big Ju, the Lakers would've needed an early Christmas miracle to beat the Dubs for the second time this season. The realistic hope for any Purple and Gold fan heading into the matchup would've been for the team to hang tough and cover the 17 point spread. They, uh, didn't do that.
Julius Randle (hip pointer) is out tonight. Not a surprise, as it really bothered him last night.

— Mike Trudell (@LakersReporter) November 24, 2016
Remember when the Lakers snapped Curry's 157 game streak with at least one 3-pointer earlier this month? Apparently Steph remembered, as he went full scorched-earth on LA in the first half, hitting six triples on his way to a 31 point, nine assist night.
He had plenty of help, though, as the Lakers looked like human traffic cones on defense — giving up 80 (!) points in the first half. Kevin Durant poured in 28 points of his own on better than 70 percent shooting, while OC native Thompson added 26 points in only 24 minutes of action.
There was a point in time where it wasn't a massacre, though. The Lakers were only down 57-45 with five minutes to go in the second quarter, thanks to quick starts from Jose Calderon and Nick Young, but a 23-4 GSW run to end the half ended any delusions of an LA upset.
The biggest positive for the Lakers was the performance of their 19-year-old rookie. Brandon Ingram totaled 16 points on 6-12 FG in his first career start, and showed flashes of the star he's capable of becoming. After being pulled by coach Walton early in the first quarter following two turnovers, Ingram played with his usual poise upon returning. His turnaround jumper in the post in the first half, as well as his jab-step and jumper in the fourth, were two plays in particular that show he's polished beyond his years. Coupled with the immediate impact he's made on the defensive end this season, it's clear he's going to be stud.
The Lakers will host the Warriors when they return to action at Staples Center on Friday — cross your fingers Randle will be back and the Warriors will suffer a worse turkey hangover than the Lakers.
Game Notes
Thomas Robinson needs to adopt the DeAndre Jordan strategy of rebounding and only attempting dunks, because even his layups are an adventure. He's understandably trying to carve out more playing time for himself, but his best route is by staying in his lane and playing his ass off on defense and the glass.
Take a bow if you had Metta World Peace being the first sub off the bench for the Lakers tonight. MWP came in early for Ingram, and even hit two 3s on the night.
Luol Deng Cooked Meter: "Medium." Despite shooting only 3-9, Deng actually looked better than usual on offense — he missed a few bunnies at the rim but also had a couple nice drives and pulled down seven rebounds.
Jose Calderon starting while D'Angelo Russell nurses his knee injury isn't ideal, but he's shown the past two games why he's at least a minor upgrade over Marcelo Huertas with his ability to spread the floor.
This article originally appeared on