Lakers: Early Season Progress Reports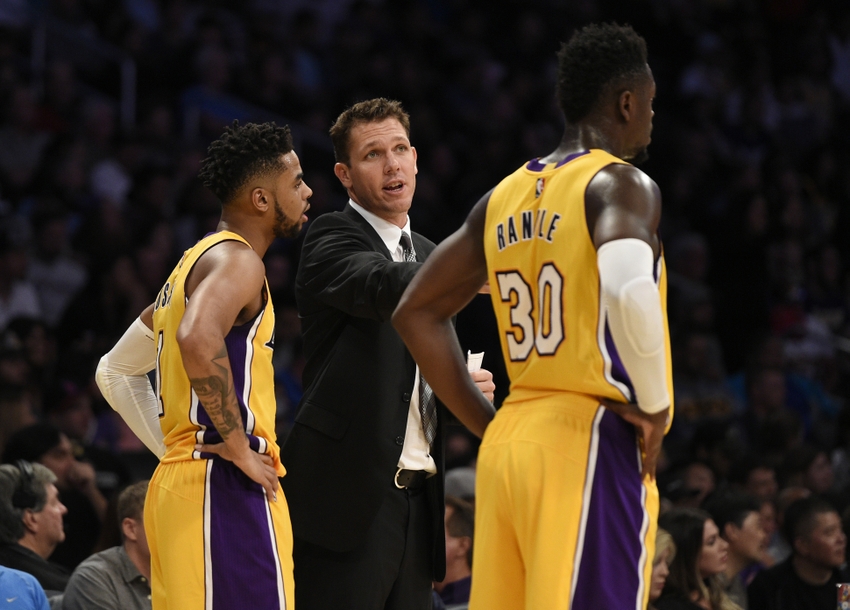 Just a handful of games into the season, we're handing out early progress reports for all 15 players on the Lakers' roster.
For many students across the country, semester grades are just around the corner. Months of staying up late and/or sleeping in and busting out a four-page essay in less than an hour will finally have purpose.
We felt the players on the Lakers also deserved a grade of some sort around this time. Is it still early in the season? Yes, but many of these players upward or downwards trends aren't likely to change any time soon.
Like any classroom, the Lakers have their class clown (Nick Young), their foreign exchange student (Timofey Mozgov), their popular kid (D'Angelo Russell) and their new kid (Brandon Ingram).
They also have the kids that dropped early in the semester because the class was a lot harder than they anticipated (Yi Jianlian).
However, this progress report is for the 15 players that stuck around for better or for worse. Some are shining, honor roll students, while others might struggle to stick around past this semester.
Ivica Zubac: N/A
2016-17 Per-Game stats: N/A
You can't make say anything bad about Ivica Zubac. You can't. He's just a boy!
But seriously, Zubac is going to need some time, and the Lakers are giving him that by assigning him to their D-League affiliate team, the D-Fenders.
Metta World Peace: F
2016-17 Per-Game stats: 1.3 PTS, 0.8 REB, 0.4 AST, 0.3 STL, 0.1 BLK
Don't let Metta World Peace's stats fool you. He is actually much worse than what the numbers show.
The Lakers cut their 32nd pick in the 2015 NBA Draft, Anthony Brown, to make room for Metta World Peace. The idea is that he will continue to be a solid veteran presence in the locker room for a young team that needs it.
However, Luke Walton has shown a willingness to play World Peace in a real, competitive NBA basketball game. This is a problem.
The days of World Peace being a pesky, lockdown defender are far behind him. He sticks out like a sore thumb when he's on the floor with players nearly half his age.
Fun fact: Brandon Ingram was seven years old at the time of World Peace's infamous "Malice at the Palace" game.
If World Peace was signed to be a locker room guy, that is all he should be. Unless he continues to produce gems like this on the court. Then play him every game.
Marcelo Huertas: D
2016-17 Per-Game stats: 1.4 PTS, 1 REB, 2.7 AST, 0.3 STL, 0.1 BLK
Oh, Marcelo. Our sweet Brazilian prince. How did we get here?
Huertas, aka "The Catalyst," has played his way out of the Lakers' rotation. The fact that he was re-signed was shocking to begin with.
The Lakers front office made a fantastic move this summer to acquire Jose Calderon and two future second-round picks while giving up nothing (more on him in just a second). Despite this, the Lakers inked Huertas to a two-year deal.
Huertas has yet to find his way into coach Luke Walton's rotation, and it doesn't look like he is going to any time soon. He is a liability on defense and he doesn't offer a ton on offense either.
Expect his tenure with the Lakers to end at the end of the season, if not sooner.
Thomas Robinson: C-
2016-17 Per-Game stats: 2.4 PTS, 3.2 REB, 0.2 AST, 0.2 STL, 0.2 BLK
Thomas Robinson earned his spot on the Lakers' roster. Now what?
In his defense, Robinson has only averaged 3.6 minutes per game this season making it hard for him, or anyone to put up any meaningful numbers, but the same could be said for any of the aforementioned players.
Even when Robinson has stepped on the floor this season, he has looked completely lost in Walton's system. Only flashes of his relentless hustle have shown up, and usually in garbage time.
He's never going to live up the hype of being the No. 5 pick in the 2012 Draft, but if he wants to be in the NBA next season, he needs to be more than a preseason stand out.
Jose Calderon: B-
2016-17 Per-Game stats: 4.8 PTS, 2.1 REB, 2.4 AST, 0.4 STL, 0.1 BLK
The most shocking stat from Jose Calderon this season? 0.1 blocks! Who did Calderon block and is he okay?
In all seriousness, Calderon has been an absolute pro for Los Angeles. He's gone from back-to-back DNPs to starting and guarding some of the leagues best point guards.
At 35 years old, Calderon's best days are behind him defensively. He actually has the worst plus/minus on the team at -8. But even if he is a step slow, Calderon can still shoot the ball.
Calderon is leading his team in 3-point percentage, shooting 50 percent from behind the arc. His playing time will remain in flux all season with injuries, but Calderon has established himself as someone Walton can turn to when things get bad.
Jordan Clarkson: B-
2016-17 Per-Game stats: 14.8 PTS, 2.8 REB, 2.2 AST, 1.7 STL, 0.1 BLK
Jordan Clarkson has been great for the Lakers this season. Instead of whining about being demoted to the bench, he has stepped up and given the Lakers the spark they need off the bench.He also worked on becoming a more willing defender this summer, making it difficult for any second string guard to keep up with him.
One thing Clarkson has lacked this season is 3-point shooting. Clarkson is shooting 35 percent from deep this season, which is above his career average, however worked all summer to become a threat from outside this season. No one is scared of someone shooting 35 percent from 3.
That poor shooting is probably why Walton decided to go with Nick Young in the starting lineup. Young can play defense, sometimes, and is a better shooter than Clarkson. Regardless of Clarkson's role with the team, he's with the Purple and Gold for another four years.
He's young and he can play. And unlike a lot of the contracts signed this summer, Clarkson's contract is reasonable.
Larry Nance Jr.: B+
2016-17 Per-Game stats: 7.6 PTS, 5.8 REB, 1.3 AST, 1.2 STL, 0.4 BLK
Larry Nance Jr. is giving the original "Larry Legend" a run for his money. Who knew the guy the Lakers picked up with the No. 27 pick in the 2015 NBA Draft would end up being a fan favorite?
It's easy to see why though. Nance's energy on the court is invaluable, both on the defensive end:
and the offensive end:
Need I say more? Probably, but moving on.
Lou Williams: A+
2016-17 Per-Game stats: 17.5 PTS, 2.2 REB, 3.4 AST, 1.3 STL, 0.1 BLK
Oh how wrong I was about Lou Williams. Earlier this season, I wrote a pretty lengthy article on why I thought the Lakers would be better off without the former Sixth Man of the Year. While I still think there is an argument to be made there, it's not nearly as strong as it used to be.
Coming off of a 40-point game against the Memphis Grizzlies, Williams has done his nickname "Sweet Lou" justice. While averaging just 24.2 minutes per game, Williams is putting up a career-high 17.5 points per game coming off of the bench. In other words, he's been great this season.
Whether or not the Lakers want to dangle his ever growing trade value in front of other teams is completely up to them, but while LA has his him he is almost guaranteed to get buckets.
Brandon Ingram: B
2016-17 Per-Game stats: 8.1 PTS, 3.8 REB, 1.8 AST, 0.6 STL, 0.5 BLK
Brandon Ingram is longer than a CVS Pharmacy receipt. In the Lakers' game against the Memphis Grizzlies, Ingram posted a career-high 3 blocks in one quarter. The kid is long.
Defense has been the area he has been most impressive this season. For someone his age, the way he reads the game is impressive and it will only get better as time goes on. His offensive game is a work in progress.
While the Lakers drafted Ingram for his sweet shooting. he has struggled a bit shooting from the field (37.1 percent). However, with each game Ingram looks more and more comfortable.
His mentor, Jerry Stackhouse, expects Ingram to breakout by Christmas. We're all hoping for the same.
Tarik Black: B+
2016-17 Per-Game stats: 5.8 PTS, 5.2 REB, 0.6 AST, 0.3 STL, 0.6 BLK
Tarik Black has the fourth best box plus-minus on the team at 0.5., which puts him in the top 20 overall bigs coming off of the bench in the plus-minus category. Just slightly worse than Marreese Speights, and miles better than Enes Kanter, Al Jefferson and Bismack Biyombo.
Aside from Lou Williams, Black has been the heart and soul of the Lakers' now famous bench mob. The only alarming thing about Black this season is his field goal percentage.
While his free throw percentage sky rocketed from a sad 42.2 percent last season to an impressive 80 percent, Black is shooting a career-low 49.5 percent from the field.
Since Black isn't a stretch big, most of his shots are coming from right around the rim. Translation: there's no reason his field goal percentage should be so low.
D'Angelo Russell
2016-17 Per-Game stats: 16.1 PTS, 3.4 REB, 4.8 AST, 1.3 STL, 0.3 BLK
If fans weren't convinced D'Angelo Russell was the real deal before, watching Jose Calderon man the point since Russell's injury should turn doubters into believers.
Coming into his sophomore season, Russell had an uphill battle both on and off the court. Fans hated him because of the infamous Nick Young incident and critics weren't pleased with the No. 2 picks performance on the court his rookie season. And then Summer League happened.
Russell looked primed for a breakout season with the Lakers under young head coach Luke Walton. Unfortunately, things haven't gone exactly to plan.
While Russell is posting career-highs in nearly every statistical category, he's also putting up career-high turnovers per game. His 3.1 turnovers per game leads all sophomores, with the exception of Emmanuel Mudiay who also has 3.1. Most of his turnovers are unforced, mental turnovers.
However, aside from that, Russell is slowly separating himself from the rest of his draft class. Among all guards drafted in 2015, Russell leads in 3 pointers made, assists per game, and steals. He only trails Phoenix Suns' Devin Booker for points per game.
Russell is currently sidelined with a knee injury, but his return could not come soon enough. The Lakers fell two games below .500 with a loss to the Grizzlies on Saturday, and the only guy that can get them back on track is the ice man himself. Hurry back. D'Lo.
Nick Young: A
2016-17 Per-Game stats: 14.8 PTS, 2.8 REB, 2.2 AST, 1.7 STL, 0.1 BLK
You're not going to believe this, but Nick Young has been one of the Lakers' best players this season. How did we get here?
Well first, the Lakers tried trading him this summer. That didn't work, so he went through training camp with no guarantee that he'd make the roster. Not only did he make roster, but he's a starter now. On an actual NBA basketball team. WHAT?!
Hold on, this where things get real weird. Nick Young is shooting better from deep than Kyrie Irving while attempting virtually the same amount of shots. You may now lose your mind.
I can't say enough about Young's resurgence with the team this year. Uncle P has made Swaggy P look like more of a distant second cousin that no one likes to talk about.
There is still plenty of time for Young to screw this up, but something tells me he only gets better. Here's to hoping I'm right.
Luol Deng: D
2016-17 Per-Game stats: 6.9 PTS, 5.2 REB, 1.3 AST, 0.9 STL, 0.2 BLK
Raise your hand if you feel personally victimized by Luol Deng. Me too pal, me too.
Luol Deng has been almost unwatchable this season. No one was expecting him to return his All-Star level of play, but he was supposed to be a solid pickup. He has been, how do I say … not that.
He is barely playing at the level of a fringe rotation player at this point. Almost all of his 3-point attempts are hitting the front of the rim, represented by his 28.8 percent shooting from deep, and his overall field goal percentage is not much better (34.3 percent).
If the Lakers find a suitor for Deng, they should pull the trigger. Even if it's for a half eaten bag of cool ranch Doritos, it's a good deal. In fact, the Lakers would probably still win that trade.
Seriously, I hope this guy gets traded.
Julius Randle: B+
2016-17 Per-Game stats: 12.6 PTS, 8.7 REB, 3.5 AST, 0.7 STL, 0.5 BLK
Pop Quiz: How many players under the age of 25 have a triple double this season? Two.
One of them is an alien sent down from space – or Greece, whichever you choose to believe – to punish NBA players with normal sounding names, and the other with the No. 7 pick in the 2014 NBA Draft.
Julius Randle has been good this season. Per 36 minutes, Randle is averaging a double-double, which is good for anyone, let alone a guy who has spent only two years in the NBA.
His defense is still a work in progress, and while his playmaking ability has been spot on sometimes, other times it has been brutal.
The season is still young, but Julius Randle looks like he's going 100 miles per hour in the right direction. Any power forward that can grab rebounds and take the ball up the court is a good player in my book.
P.S. I miss Lamar Odom
Timofey Mozgov: C
2016-17 Per-Game stats: 8.3 PTS, 4.7 REB, 1.1 AST, 0.2 STL, 0.6 BLK
And last but certainly not least (refer to salary), Timofey Mozgov. To my surprise, he hasn't done anything to make me scream obscenities in Russian at my TV, so I guess you can say things are going alright.
He only trails Larry Nance Jr. in team field goal percentage (57.5) and his defense on some nights has been borderline elite. However, one thing he does need to work on his rebounding. At 7 feet and 1 inch, Mozgov should be swallowing boards, yet he is doing so at a less than ideal rate.
It's still early in the season, but Mozgov may be doing enough to silence his critics. This season.
What do you think of the grades? Too harsh? Too nice? Let us know in the comments below or join the conversation on Twitter (@TheLakeShowLife).
This article originally appeared on