Lakers Comeback Topples Kings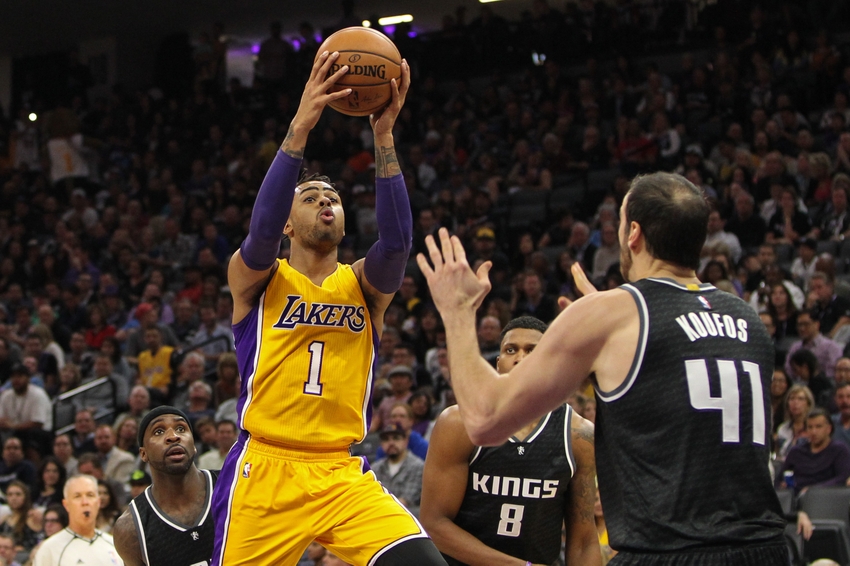 Galvanized by another dynamic performance from its bench, the Lakers erased a 19 point first half deficit to defeat the Kings 101-91 in Sacramento.
Seriously, it's nice to have Larry Nance Jr. back after his concussion. I'm starting to think this dude could run for mayor of LA and win in a landslide at this point.
His energy often isn't reflected in the boxscore, to use the cliche, but one play in particular tonight illustrated the tide turning in the game: with LA holding the Kings scoreless for four straight minutes late in the third quarter, Nance stole the ball at midcourt, had the presence of mind to find Tarik Black running past the center circle, who in turn found Jordan Clarkson in the corner for a 3-pointer to cap off a 7-0 Lakers run.
LA would keep it rolling in the fourth quarter, with Timofey Mozgov throwing down his second vicious left handed alley-oop of the week off a dish from Brandon Ingram. In the moment, a picture of Mozzy's jam should've immediately replaced whatever is on Russia's equivalent of the $1 bill, as far as I was concerned.
Mozgov throws it down left handed!! pic.twitter.com/fRTJiGFbmZ

— Eric (@EricElizondo8) November 11, 2016
Kudos to Luke Walton for breaking his rotation and rolling the dice in the second half, too. Despite D'Angelo Russell finally getting his shot to fall (17 points on 7-12 shooting), coach Walton sat the young point guard for the final 15 minutes of the game. But it worked out, with Lou Williams leading the offensive charge in the second half, netting 13 of his team-high 21 points in the final 24 minutes.
Much of this was due to the bench's ability to continue the defensive stops the starters were getting at the beginning of the second half — the second unit of Clarkson, Black, Nance, Williams and Ingram were able to exploit their length while switching on defense and make life hell for Sacramento, holding them to a mere 36 points.
And I would be remiss to forget the — what is now becoming a game-by-game occurrence — Nick "Noodles" Young resurrection. His 3-pointer with under four minutes to play pushed the Lakers lead to double digits and effectively put the game on ice (followed by the usual Swaggy Uncle P strutting). Is it too soon to give Walton a lifetime extension?
Nick Young was a plus player with two good coaches and a cancer with a horrible coach.

— Nate Jones (@JonesOnTheNBA) November 11, 2016
This Lil Lakers squad comes at you in waves. It's what allowed them to shrug off a dreadful first half, where they gave up 55 points and coughed the ball up 12 times. DeMarcus Cousins shredded the Lakers inside in the first half, putting up 18 points on 7-14 from the field. But he only managed to hit three of his 11 shots in the second half, stifled by the Lakers' bigs and Julius Randle getting under his skin.
The win pushed the Lakers back above .500, and they'll now head to New Orleans to take on Anthony Davis and the rotating sushi platter of players the Pelicans have surrounded him with. See you guys back here on Saturday.
Game Notes
So that $72 million contract for Luol Deng is looking a little, uh, pricey so far. He only managed two points tonight on 1-5 shooting, and it wasn't even that pretty. He missed a bunny layup in the first half and followed it up with a 3-point attempt that clanked off the side of the backboard. Yikes. Since we both have British citizenship I'll continue to keep my hopes up he'll snap out of his early season slump, but he's looking cooked so far.
Reggie Miller continues to make an art form out of bad commentating. Late in the game he said "we are seeing a young team — the Los Angeles Lakers — grow up in front of our eyes." The Lakers had three guys (Young, Mozgov, Williams) older than 30 on the floor at the time. Never change, Reggie.
Randle continued his stellar all-around play, with 15 points, eight rebounds and five assists on the night. But his most impressive moment of the night was his willingness to mix it up with Boogie Cousins. Boogie Cousins! Julius might be crazy, but I love him for it.
We're all Brandon Ingram. pic.twitter.com/fzqkJUIpHC

— Lake Show Life (@TheLakeShowLife) November 11, 2016
This article originally appeared on