LA Clippers have rough night against Thunder, Russell Westbrook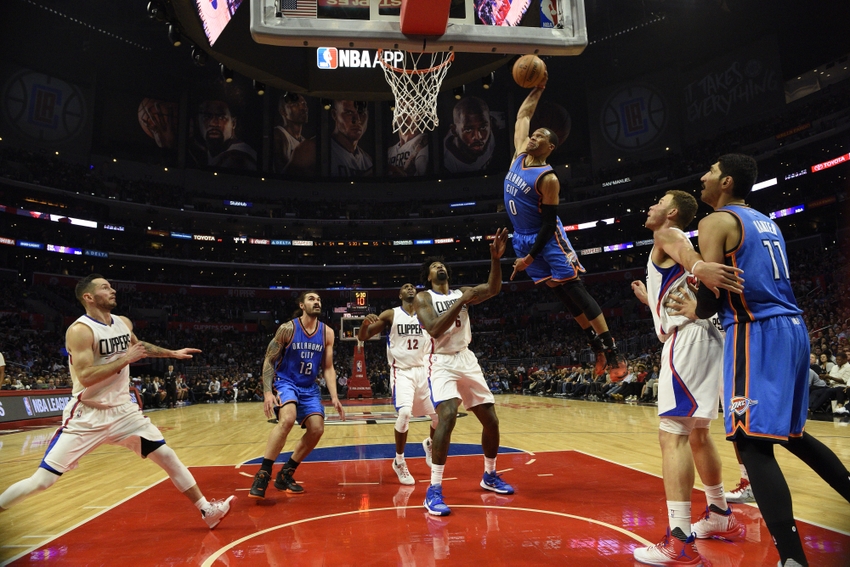 In a tough defensive battle, Blake Griffin and the LA Clippers' offense stumbled as they lost to the Oklahoma City Thunder 85-83.
On a night the LA Clippers held their opponent, the Oklahoma City Thunder, to only 40.5 percent shooting, they were held to an even worse 39 percent. The Clippers' defense kept them in the game, but the offense let the bottom fall out as Blake Griffin and most players across the roster struggled to find their shot. The Clippers held advantages when it came to creating turnovers and moving the ball, but they lost the rebounding battle 52-41 and struggled to score down the stretch, totalling only 17 points in the fourth quarter.
The Clippers' defense played fairly well, but head coach Doc Rivers and Marreese Speights both mentioned after the game that losing 50/50 balls was an issue, and it just being a weird game overall.
Rivers kept it simple, saying "they made more plays than us."
Russell Westbrook was the only Thunder player to score in double figures with 35 points, and didn't actually have a triple-double this time with six rebounds and five assists. His 0-of-7 shooting from three-point range is something else that could have given the Clippers an edge if they could have scored more efficiently, not to mention his 10 turnovers.
The Clippers' second unit showed some promise again and helped defensively. While all the starters recorded a negative plus-minus for the game, five of six bench players were a plus, with Brandon Bass, Jamal Crawford and Speights recording a +6 or higher.
Raymond Felton found some success when driving to the basket, finishing with seven points in his 16 minutes thanks to a sudden burst of scoring in the second quarter.
Speights played only 16 minutes, but was very effective with 6-of-9 shooting for 14 points.
The bench had moments in the second quarter where the ball movement was dead on. It's something the starters will need to figure out (and figure out soon) to their typically high standard as the season goes on.
The offense really struggled late in the game, although when Griffin is shooting 7-of-21 (a mere 1-of-9 outside the paint) and 0-of-3 from the line, not to mention J.J. Redick hitting just three of his 12 shots, it's always going to be hard to win.
Even for Chris Paul, who led the team in points (15), rebounds (11), assists (9) and steals (6), shooting was subpar after he finished 4-of-11 from the field.
Want your voice heard? Join the Clipperholics team!
The LA Clippers will look to continue their defensive efforts and find some shooting form as they visit the Memphis Grizzlies on Friday.
This article originally appeared on