LA Clippers finally have their shooting center in Marreese Speights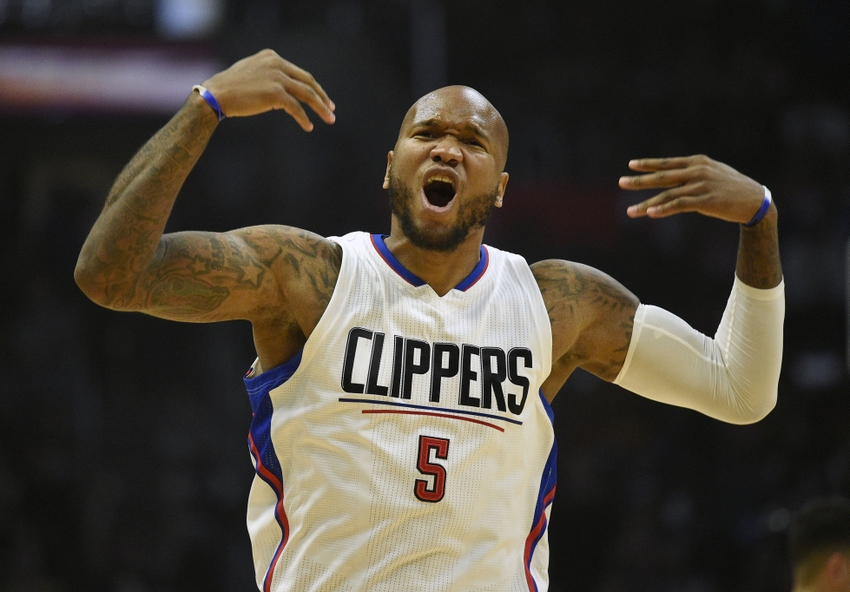 When the LA Clippers needed Mo' Buckets, they knew who they had to call. Marreese Speights has shown up in large ways for the team this season.
Throughout the past five seasons, the LA Clippers, time and time again, have tried to find big men that could stretch the floor for them off the bench. This asset, in today's NBA, is a dime a dozen, but that doesn't necessarily mean there's much talent when it comes down to it. Conversely, when a team does find "THE" player, it will most certainly change the dynamic of a team as a whole.
The Clippers have tested out many different players in the hopes of finding that one answer, who would bring out the offensive prowess of a forward, yet the dynamic intensity of a center. In the past, the team has taken shots in the dark and hoped Byron Mullins, Spencer Hawes, or Josh Smith would become that guy.
However, after all of these attempts were unsuccessful, there was only one thing left to do.
With the complementary assets of Jamal Crawford and Austin Rivers, and the newly added Raymond Felton, there was a large void in the middle that one player would perfectly fill.
When the Clippers needed some Mo' Buckets, they knew who they had to call. One player could be the solution to the bench woes that have been tormenting them for years.
Quite possibly the value pick of free agency, Marreese Speights, signed to the Clippers on a one-year deal for the veteran's minimum.
Last year, he did have his shining moments, but he wasn't the same player that everyone saw during the Golden State Warriors' championship year in 2015. That might have been due, in part, to his weight, and terrible defense, but he worked harder than most guys on the court to stay healthy. Throughout the year, Speights got back into NBA shape by losing thirty pounds and bringing back his typical self.
Mo has the ability to be on any championship caliber team that he wants thanks to his instant offense and perimeter threat, yet he isn't only looking for a ring. The deciding factor in signing with the Clippers for Speights was that he was going to have a more consistent and larger role. That has been a true statement in all 15 games that the Clippers have played this season.
Throughout his first 15 games in L.A., Speights is averaging 9.1 points and 4.3 rebounds in just 15.3 minutes per game. In today's NBA, it is essential to have spacing in all successful lineups. Speights excels at this, and provides an open floor plan for the likes of Crawford, Rivers, and Felton to attack inside or kick out to him in pick-and-pop plays.
Since Mo is a player that prefers being away from the basket, people would expect his rebounding numbers to suffer, especially on the offensive end. However, he is still averaging 1.1 offensive rebounds per game (2.5 per 36 minutes), 9.9 total boards per 36 minutes, and has been ferocious in his own right.
This is solid for a player coming off the bench, and the Clippers have always needed rebounding help since ranking 25th in boards per game last season. The defensive drop off from Cole Aldrich at backup center isn't as noticeable if Speights keeps working on the glass.
Speights was a large part, in many different aspects, of the Clippers' comeback against the Chicago Bulls and showed everyone his true potential in the 102-95 win.
Mo' Buckets has been a ferocious add for the LA Clippers and is proving to everyone why he was such a valuable asset to the Warriors' championship run. He provides the depth and ability to elevate the bench to that next level. Having someone, a shooting center in particular, who can provide a quick flurry of 10 or 15 points here and there has real value.
Crawford has always been known as the offensive spark plug on the bench, but he has some hefty competition in that accord now. He also is one of those great locker room guys that everyone wants on their team, because of his passion for the game.
Speights' offensive bursts and energy are exactly what the Clippers have needed for years. He provides much needed relief for the starters (including free throw support behind DeAndre Jordan at center), which has been a problem in the past. This will help later on in the playoffs, when Blake Griffin and Jordan will be more fresh than years past.
Want your voice heard? Join the Clipperholics team!
There's no doubt Speights will win the team some games this year. And on top of that, his scoring ability plays a large part in the Clippers' improved depth to help them make a deep playoff run.
This article originally appeared on